There are a few common events in military fitness tests. For the longest time, you could get away with focusing only on running and calisthenics exercises like push-ups, sit-ups and pull-ups. However, in the last decade, testing for military fitness and readiness has evolved to include many other exercises that involve elements of fitness such as strength, power, speed, agility, grip, flexibility and mobility as well as the standard muscle stamina and cardio endurance. The testing of the tactical athlete has produced some interesting and diverse tests across the military branches and the special-ops side of the house as well.
The physical fitness tests of all branches of the military and other special units have differing exercises, standards and distances in runs and swims. This article is a one-stop location for answers to the many different fitness tests in our Defense Department.
Army
Navy
Air Force
Marine Corps
Coast Guard
Army Physical Fitness Test
The test that has been in existence for the Army since the early 1980s (push-ups, sit-ups, two-mile run) is being replaced officially sometime during 2022. However, the April 1, 2022, rollout has been delayed for a variety of reasons, but practicing the events of the Army Combat Fitness Test should be considered regardless. These exercises in the new ACFT will help the soldier of today and tomorrow be a more well-rounded tactical athlete, complete with all the elements of fitness needed to perform physically demanding jobs. The new ACFT exercises are the following:
Deadlift: hex bar three-rep max (3RM)
Standing power throw (overhead medicine ball throw)
Hand-release push-up (lift hands off floor during each rep in down position)
Sprint, drag and carry (run, drag sled, carry 40-pound kettlebells each hand, run 2 x 25-meter distances of each)
Leg tuck: Hanging knee up from pull-up bar (knees to elbows)
Two-mile run   
There is a difference between going to Ranger School and becoming a Ranger at the Ranger Battalion. Ranger School is considered an advanced infantry leadership school, and a Ranger shoulder tab is given for the uniform, but you do not become a Ranger by attending Ranger School. The following is the Ranger school training standards for soldiers (and other military branches) to attend Ranger School and earn the tab:  
| Ranger PFT | Minimum Scores | Recommended Scores |
| --- | --- | --- |
| Push-ups in 2:00 | 49 | 80 |
| Sit-ups in 2:00 | 59 | 80 |
| Pull-ups | 6 | 12 |
| Two-mile run | 15:12 | Sub 13:00 |
| 5 Mile run | 40:00 | 35:00 |
| 16-mile hike w/65-pound pack | 5 hours 20 minutes | 4-5 hours |
| 15-meter swim with gear | P/F | P/F |
However, to become an Army Ranger and wear the brown beret, the standards and selection training are much more difficult. In fact, the Ranger Physical Assessment Test (RPAT) events are the following:
Conduct a three-mile-long combat conditioning course in less than an hour, wearing tactical gear/helmet, by starting off with a two-mile run, then a rope climb, body drag 100 yards, caving ladder climb up/down, full sprint for 2 x 100-yard runs, wall climb and finish with a one-mile run. Then, during the assessment phase, you also have to pass the Ranger Athlete Warrior (RAW) Physical Assessment Protocol the Ranger candidates have to pass:
Broad jump
5-10-5: Measures speed and agility. Sprint 5 yards, touch the ground, sprint back 10 yards, touch the ground, then sprint back 5 yards to finish.
Pull-ups: Chin over bar and full arm extension.
Three-rep max deadlift
Metronome push-up: One second down, pause, one second up, pause until fail.
300-yard sprint/shuttle run
Heel clap: Hang from pull-up bar, raise your legs and heels over the bar.
Related articles:
For Army Special Forces Assessment and Selection Course (SFAS), it is recommended to score a minimum of 260 on the Army PFT for 17- to 21-year-old males. This three-week course requires you to fast-march many miles a day by utilizing land navigation skills and climb obstacle courses. If you can do the recommended scores for Army Ranger, you should be well-prepared for SFAS. Also see the Army's Special Forces Guidelines PDF for more information on Special Forces training.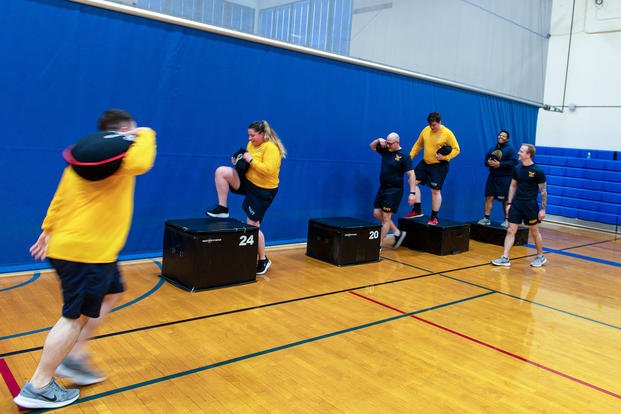 Navy Physical Fitness Test
Navy physical readiness tests, with associated height/weight/body-fat measurements, are conducted twice each fiscal year. The test is designed to measure flexibility, muscular endurance and aerobic capacity. The Navy physical fitness test consists of a 1.5-mile run, sit-ups and push-ups. (The plank pose replaced sit-ups in 2021.) Also swimming 500 meters for time is an option for the 1.5-mile run. This is a standard PT test used by other branches and many law enforcement agencies across the United States.
The Navy SEALs, Navy SWCC, divers and SAR swimmers naturally have more water-based fitness tests and training. See the following links on the standards and information about the schools:
Air Force Physical Fitness Test
During initial entry processing, everyone is required to pass a physical fitness test that measures cardiovascular endurance, muscular strength and endurance, and mobility. The test consists of the 1.5-mile run, push-ups and sit-ups. In addition to initial entry physical fitness requirements, the Air Force has an annual fitness test requiring a passing score with a unique testing option. Airmen can select the exercises and events that they are tested once they are in the Air Force. The new options are the following:
Cardio fitness can be a choice between the 1.5-mile timed run and the beep test, which is a 20-meter shuttle run done with shortened rest periods as the total laps increase.
Strength is tested with the option of doing regular push-ups or hand-release push-ups, like the Army now tests.
Core stability/strength is tested with traditional sit-ups, cross-leg reverse crunches or the plank pose.
The Air Force Special Warfare units are the Pararescue (PJ), Combat Control (CCT), Special Reconnaissance (SR), Tactical Air Control Party (TACP), Special Tactics Officer (STO), Combat Rescue Officer (CRO) and Tactical Air Control Party Officer (TACPO) operators. The tests in this training are the Air Force Special Warfare PAST and the Operator Fitness Test (OFT).
Marine Corps Physical Fitness Test
The USMC Physical Fitness Test (PFT) has made some recent changes as well to include standards within the different age groups. The changes are the following with options for some of the events:
Cardio is still the three-mile timed run -- the longest timed run in regular military branches.
Pull-ups: The flexed arm hang is out, but Marines can opt to do push-ups for two minutes. However, if they select push-ups, they can no longer max the test, as the points for push-ups do not meet the pull-up standards.
Crunches: The two-minute crunch test can be traded with the plank pose test if the Marine prefers; however, maxing the test requires a 4:30 plank pose.
The Marines also have the USMC Combat Fitness Test (CFT) and was the first branch of service to implement such a change to test the demands of the ground-warfare Marine job. Read more about the events and standards.
Coast Guard Physical Fitness Test
Physical fitness requirements in the Coast Guard are directly linked to on-the-job requirements. Coast Guard men and women who are rescue swimmers, small-boat crew members, etc., must comply with the specific physical standards set forth by their position, but here are the standards for the "Navy PFT," plus 12-minute swim.
SPECIFIC PFT REQUIREMENTS ARE:
MALE
PUSH-UPS
SIT-UPS
<30       
29 
38
30-39
24
35
40-49
18
29
FEMALE
 
 
<30
23
32
30-39
19
25
40-49
13
20
SPECIFIC PFT REQUIREMENTS ARE:
MALE
SIT&REACH
1.5-MILE RUN
12-MINUTE SWIM
<30       
16.5"
12:51
500 yards
30-39
15.5"
13:36
450 yards
40-49
14.25"
14:29
400 yards
FEMALE
 
 
 
>30
19.25"
15:26
400 yards
30-39
18.25"
15:57
350 yards
40-49
17.25"
16:58
300 yards
View the Coast Guard Fitness Standards.
As you can see, there are many similarities and some major differences in physical fitness testing, depending on the branch of service and the job within that branch. It is always recommended never to strive for the minimum physical standards when seeking a profession that requires a fit body to perhaps save your life or the lives of your comrades. If you are seeking to get back into shape and want to be as fit as one of the above military members, check with your doctor before starting any fitness program.
Stew Smith is a former Navy SEAL and fitness author certified as a Strength and Conditioning Specialist (CSCS) with the National Strength and Conditioning Association. Visit his Fitness eBook store if you're looking to start a workout program to create a healthy lifestyle. Send your fitness questions to stew@stewsmith.com.
Want to Learn More About Military Life?
Whether you're thinking of joining the military, looking for fitness and basic training tips, or keeping up with military life and benefits, Military.com has you covered. Subscribe to Military.com to have military news, updates and resources delivered directly to your inbox.