Each year, people all over the world honor fallen military members on Memorial Day. Some choose to honor the fallen by challenging themselves physically in the name of an individual who sacrificed for our country. The Memorial Day Murph Workout is such a workout, which honors Medal of Honor Recipient Navy SEAL LT Michael Murphy. The Murph has been growing in popularity since his death in 2005. The challenge is fun and serves a great cause. Are you up for it?
The Murph Challenge includes the following list of exercises:
1 mile run
100 pullups
200 pushups
300 squats
1-mile run
It can be broken up in many different ways to complete the repetitions.
Many advanced athletes will do this with a weight vest of 20-25 lbs. and strive to get these reps done quickly and in as few sets as possible. Regardless of how you do this work out, it is obviously NOT a workout someone who has not worked out in a while should attempt.
If you are a beginner, do not get too wrapped up in the repetitions; do not hurt yourself with a workout that is out of your current fitness level. Just do the best you can.
Below are some ideas and fun ways to break up the repetitions if you want to pace yourself:
The Super Sets Method:
Run 1 mile before and after each of the following cycles:
10 Pullups — Consider using assistance bands or TRX rows in place if needed.
20 Pushups — Consider using knee pushups is 200 pushups is beyond your current limit.
30 Squats
Repeat 10 times
The PT Pyramid Method
Run 1 mile before and after the below pyramid :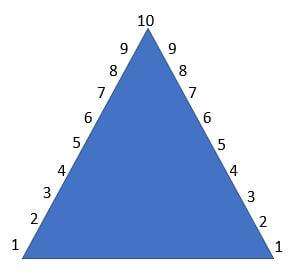 The pyramids consists of 10 levels. You go up and down the pyramid by doing the following:
Level one is 1 pullup, 2 pushups, 3 squats
Level Two is 2 pullups, 4 pushups, 6 squats
Level Three is 3 pullups, 6 pushups, 9 squats
Continue the pattern until you hit level 10 (10 pullups, 20 pushups, 30 squats), at which point you repeat in reverse order (You do not need to repeat set ten twice). This 19-set workout will yield 100 pullups, 200 pushups, 300 squats.
The Extra Credit Method
One of the favorite ways to break up the Murph is to add in an event like a USMC Obstacle Course each time you complete 100 reps.
After your 1-mile run, you start doing the Murph accumulating repetitions between the three exercises. We usually do this on the first obstacle of the USMC O-Course. Every time you get 100 reps, you do an Obstacle Course. This means you will run the USMC O-Course six times while doing the 100, 200, and 300 reps of the workout. Top it off with a 1-mile run.
Regardless how you spend Memorial Day, remember it is a holiday to acknowledge the Fallen. Take a moment and be thankful for your life and the day you have to spend with friends and family.
Related Articles:Heroes Workouts of the DaySandBaby Murph