The article Special Ops: How Good Is Good Enough? focused on explaining how to reach the best possible score that you're capable of achieving.
Understanding your strengths and weaknesses should drive how you create training programs and invest your time training. These elements include, but are not limited to, strength, power, speed, agility, endurance (run, swim, ruck), muscle stamina, grip, flexibility and mobility.
Depending upon the branch of service you're interested in, you may need to be good at other elements that include load bearing (carrying logs, boats, people, gear); treading (with/without fins); and other skills. However, in the previous article, tactical strength was not discussed with regard to getting THROUGH the training.
A young man on the spec ops journey called me on it and wanted to get specific strength exercises -- bench, deadlift, squat and others.
"What is a good enough strength, weight-to-body weight ratio to have prior to going into selection?" he asked.
Having strength or not is typically a function of your athletic history prior to joining the military. Many candidates come from sports that require lifting, such as football, soccer, lacrosse and hockey, while others come from endurance programs like cross country or swimming. Both groups come with weaknesses.
Typically, the powerlifting athletes do not need to focus too much on strength throughout the year and can limit their training mostly to endurance, muscle stamina, swim skills and losing weight if needed (for those who are 220 lbs.+). However, endurance-side athletes need to work on strength/power to handle the impact forces (if swimmer), as well as the load-bearing activities listed above.
Performance drops at BUD/S during log PT are on the decline. If you are unable to handle the load for the duration of the log PT session during Hell Week, which can last up to five hours, you could be out of the program. So, how important is strength? Simple. It is the absolute foundation of tactical fitness on which all other elements of fitness thrive. However, without endurance and muscle stamina built upon the strength foundation, the term tactical athlete does not apply.
According to a recent study and statistical analysis at BUD/S (see full study), the test-score ranges for strength that have a better chance of finishing Hell Week are: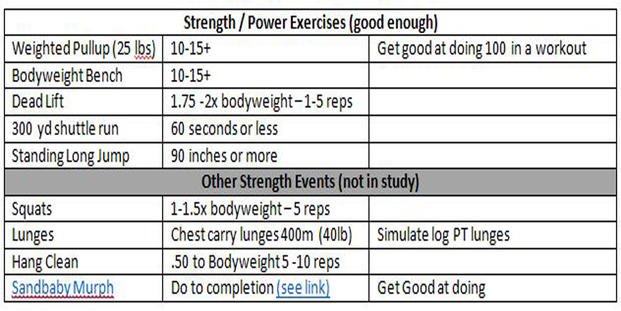 The scores and numbers in the top half of the chart represent strength scores that are statistically good enough to complete Hell Week. The bottom half of the chart are my additional exercises and workout recommendations to help you focus on strength, as well as muscle stamina.
Many of the events at BUD/S and other selection programs will require you to take a strength exercise and make it a teamwork endurance drill (log pt push press, up boat/down boat, hundreds of pushups, and grip -- obstacle course and pull-ups etc).
So consider your weaknesses and focus on the activities required to get through the training. That should be the number one answer, then maintain your strengths.