Actor Gary Sinise left the set of the 1994 film "Forrest Gump" a changed man. His portrayal of Lt. Dan Taylor, a Vietnam veteran who lost both legs in the war, helped form an enduring connection with servicemen and women throughout the military community.
"I was more interested in talking to them about this story of Lt. Dan's life after his injuries," Sinise says. "To get to that place where they could move beyond their injuries. That's why I started the Gary Sinise Foundation."
He set out to make a real difference in the lives of wounded veterans, their families and their caretakers. In 2011, he established the Gary Sinise Foundation with the mission to serve and honor America's defenders, veterans, first responders, Gold Star families and those in need.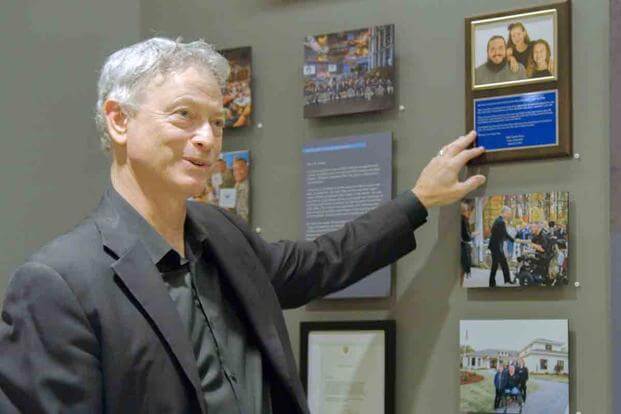 To kick off National Veterans and Military Families Month, AARP is launching a new YouTube series in November: "Reporting for Duty." The first episode features Sinise and what the Gary Sinise Foundation did for a Marine wounded in Sangin, Afghanistan.
Marine Corps Staff Sgt. Jason Ross was deployed to Afghanistan in 2011 as part of an Explosives Ordnance Disposal (EOD) team, when he accidentally triggered a 10-pound improvised explosive device (IED). Ross miraculously survived, but lost both of his legs and underwent 240 surgeries to recover from the blast.
"We were crossing an open field area," Ross recalls. "And as I was running across, I heard the bang. Everything went black, and then I came to right before I hit the ground."
Ross was back in the United States at Walter Reed Medical Center in less than 72 hours. His wounds left him wheelchair bound and in need of specific support to live his daily life. HIs parents soon became his caretakers.
"It's a dangerous business, defending our country," Sinise says in the AARP video, which features actual EOD footage from Sangin. "It's hard to imagine a person surviving that."
But soon after returning home, Ross met Sinise.
"When I actually met Jason and saw the severity of his injuries, I was taken aback," the actor says. "I met him at the Naval Medical Center in San Diego on one of my trips to visit our wounded there. I looked at Jason and said, 'You are a miracle.'"
Eventually, the topic of a "smart home" arose between Sinise and the Ross family. The Gary Sinise Foundation wanted to build one, a custom-made, specially adapted smart technology home to accommodate a wounded veteran's needs, for Ross.
"We wanted to support Jason in his recovery, moving forward, and to take the stress away," says Sinise. "They earned it. They deserve it. They've given a lot for their country, and we want to give something back."
The foundation's builders have constructed so many specially adaptive homes for veterans, they know exactly what to do for a veteran's injuries.
"The whole thing is to restore independence, not only for the service member, but for the caregivers," Sinise says.
The new home allows Ross' parents to live with him and be there 24/7 as his caretakers. But the degree of independence the house allows means Ross can do almost anything he wants or needs to, independently of his caretakers, when necessary.
To see the inside of Ross and his family's new specially adaptive smart home -- and how he can live an independent life -- check out Episode 1 of AARP's "Reporting for Duty."
The Gary Sinise Foundation remains committed to finding new and exciting ways to give back to those who sacrifice for our nation, and encouraging others to do the same has become his personal quest and what he hopes will endure as a legacy of service to others.
"People like Jason are the reason I started the Gary Sinise Foundation," Sinise says. "I just want them to have a happy life going forward and to know their service meant something."
AARP provides veterans with free resources, important information, timely programming and access to discounts to meet their unique needs on family caregiving, fraud/scams, work and jobs, and accessing military service benefits. For information on these free resources and more, visit www.AARP.org/Veterans.
-- Blake Stilwell can be reached at blake.stilwell@military.com. He can also be found on Twitter @blakestilwell or on Facebook.
Want to Learn More About Military Life?
Whether you're thinking of joining the military, looking for post-military careers or keeping up with military life and benefits, Military.com has you covered. Subscribe to Military.com to have military news, updates and resources delivered directly to your inbox.