Christian Blauvelt explores how the men and women who made movies reacted to the reality of war in his book, "Hollywood Victory: The Movies, Stars, and Stories of World War II." Published as part of a series from Turner Classic Movies, Blauvelt's book looks at the years leading up to the United States' entry into the conflict and how the business participated in the war effort on and off screen.
It's both a history of how Hollywood stars participated in the war effort in real life and the movies (both documentary and feature films) that told the story of World War II while it was happening. That's an ambitious story to tell, and Blauvelt is the first author who really tries to tie all those threads together.
While most of the studios didn't want to alienate the new 1930s administration in Germany and lose business in one of their most profitable markets, a few Hollywood filmmakers (both immigrants and those born in America) tried to warn moviegoers about the reality of Nazi rule. Blauvelt opens his book with those pre-war stories.
As we look back on the heroism and outcome of World War II, it's easy to forget just how many Americans were dead-set against our involvement in what was seen as another European war. There was widespread sentiment in the United States that we shouldn't have gotten involved in the Great War of 1914-1918 and, as late as June 1941, a Gallup poll recorded that 79% of Americans opposed our entry into the conflict.
Of course, those opinions flipped overnight once the Japanese military attacked Pearl Harbor on Dec. 7, 1941. Americans were outraged by an attack on a U.S. territory, and Hollywood was there to explain the issues Americans now faced in another world war.
Some Hollywood filmmakers (Frank Capra, John Ford) left Tinseltown behind to make war documentaries for the United States government. Others (Jimmy Stewart, Clark Gable) put on a uniform and put their lives on the line as frontline warriors for democracies. Still others (John Wayne) stayed home to make heroic movies that would inspire the public to stay committed to a long and difficult battle.
Related: John Wayne World War II Movies, Ranked
Hundreds of Hollywood actors, writers and directors got involved in campaigns to support the troops, traveling across the country to raise money for war bonds or by joining up with the USO to entertain the troops in war zones around the world.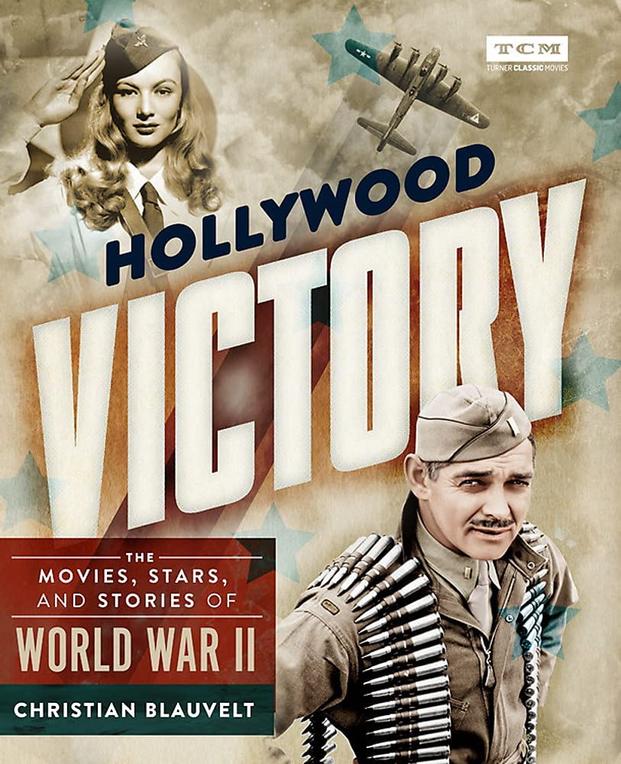 Blauvelt's book is a well-researched and heavily illustrated account of those years in the movie business. He takes the stories told in dozens of other histories and memoirs and synthesizes them into a coherent and easy-to-follow narrative about the war years. No matter what topic or movie described in this "Hollywood Victory" captures your interest, consider this book a jumping-off point that can inspire years of reading and research for anyone who enjoys its stories.
"Hollywood Victory" may look like a coffee-table book, but its words are even more important than the amazing collection of photographs that illustrate the story.
Keep Up With the Best in Military Entertainment
Whether you're looking for news and entertainment, thinking of joining the military or keeping up with military life and benefits, Military.com has you covered. Subscribe to the Military.com newsletter to have military news, updates and resources delivered straight to your inbox.