MSG Gary Gordon and SFC Randy Shughart were Army Delta Force operators who gave their lives during the Battle of Mogadishu in Somalia on Oct. 3, 1993. As members of Task Force Ranger, they volunteered to be inserted at a helicopter crash site to protect the pilots and crew.
You may have seen both men portrayed in the classic 2001 war movie "Black Hawk Down," in which Gordon was played by actor Nikolaj Coster-Waldau ("Game of Thrones") and Shughart was played by Johnny Strong ("The Fast and the Furious").
Both soldiers were part of a joint-force mission sent to the country in the summer of 1993 to counter attacks by Somali warlord Mohamed Farrah Aidid. On the day of the incident, one of the team's helicopters was shot down in Mogadishu. Gordon and Shughart, who were providing cover from another helicopter as snipers, argued for and received permission to go down to help the helicopter crew on the ground.
Armed with only their personal weapons and sidearms, Gordon and Shughart fought off rebel attacks before being killed by Somali bullets. Each man's family received a posthumous Medal of Honor from President Bill Clinton on May 23, 1994. The men were the first Medal of Honor recipients since the end of the Vietnam War.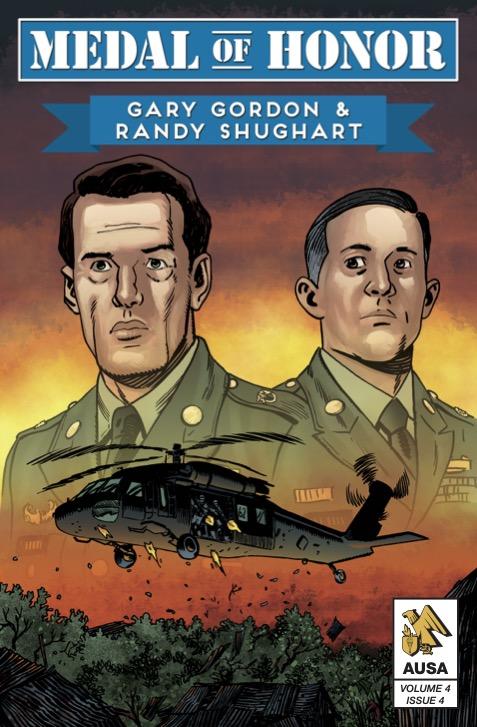 Their story is being told in "Medal of Honor: Gordon & Shughart," the latest issue of the Association of the United States Army's graphic novel series. You can view or download a free copy at www.ausa.org/gordon-and-shughart.
In its current 2022 series, AUSA previously released books about World War II Buffalo Soldier Vernon Baker, Korean War veteran Ralph Puckett and Civil War veteran Tom Custer.
Related: This Korean War Vet Waited 70 Years to Receive a Medal of Honor
Related: This Black WWII Soldier Waited 50 Years to Receive the Medal of Honor
Related: This Union Soldier Was the First Man to Be Awarded the Medal of Honor Twice
Keep Up With the Best in Military Entertainment
Whether you're looking for news and entertainment, thinking of joining the military or keeping up with military life and benefits, Military.com has you covered. Subscribe to the Military.com newsletter to have military news, updates and resources delivered straight to your inbox.