The British monarchy has a long tradition of military service, but there has only been one woman from the British royal family to ever serve in the Armed Forces, and until her death she was the only modern head of state to have served in World War II.
When WWII ravaged Europe, nearly everyone stood up to defend their homeland. Men, women, farmers, and businessmen did their duty alike. This includes then-Princess Elizabeth. Like her father, who served in WWI, she enlisted on her 18th birthday despite being in the line of succession for the throne and her father's reluctance.
Princess Elizabeth enrolled in the Women's Auxilary Territorial Service (ATS), similar to the American Women's Army Corps, where many women actively served in highly valuable support roles. Responsibilities of the ATS included serving as radio operators, anti-aircraft gunners and spotlight operators, and, her occupation, as mechanics and drivers.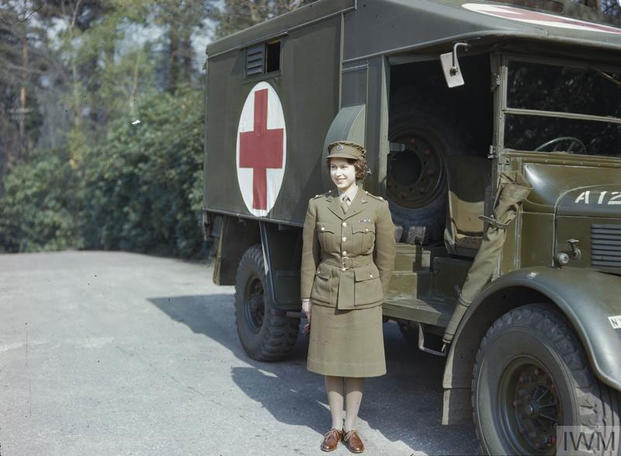 It wasn't a lavish position, but despite the grit and grime, she didn't symbolically change a single tire and call herself a mechanic. She took her duties very seriously and she was spectacular. She took great pride in her work and loved every moment of it. Collier's Magazine wrote at the time that "one of her major joys was to get dirt under her nails and grease stains on her hands, and display these signs of labor to her friends."
She learned to drive every vehicle she worked on, which includes the Tilly light truck and ambulances. On VE Day, The Princess Elizabeth slipped away with her sister to cheer with the crowds. The war was finally over and no one recognized the Princesses as they walked through the crowds incognito.
Less than a decade later, she would be crowned the Queen of England. Her independent spirit has endured to this day, as she isn't a fan of being chauffeured around when she can drive herself.
To watch some archival footage of Her Most Excellent and Britannic Majesty, Elizabeth II, by the Grace of God, of the United Kingdom of Great Britain and Northern Ireland, and of Her Other Realms and Territories, Queen, Head of the Commonwealth, Defender of the Faith in her younger, WWII days, watch the video below:
---
More Posts from We are the Mighty:
This female WWII veteran terrified a Saudi King while driving him around
How Brie Larson is getting ready to be a USAF pilot turned superhero
4 stereotypes platoon 'Docs' get stuck with
We Are The Mighty (WATM) celebrates service with stories that inspire. WATM is made in Hollywood by veterans. It's military life presented like never before. Check it out at We Are the Mighty.