Army Sgt. 1st Class Edward A. Carter Jr. was born in Los Angeles to missionary parents and grew up in India and Shanghai. That background gave him a wide exposure to the world, and he became fluent in Hindu, Mandarin and German in addition to his native English.
In 1932, Carter, then 15, ran away from home and joined the Chinese National Revolutionary Army to fight against the Japanese invasion. He reached the rank of lieutenant before getting kicked out of the army once his commanding officers discovered his real age.
He drifted and ended up in Spain, where he joined the Abraham Lincoln Brigade and fought on the side of the Republicans in the Spanish Civil War. When Carter entered the U.S. Army in September 1941, he immediately stood out because of his previous combat service.
Carter was shipped to Europe but, because he was Black and the Army was still segregated, was forced to serve as a cook and a baker in a transportation unit.
After the Battle of the Bulge in the winter of 1944-1945, the Army was desperate for reinforcements, and Black soldiers were allowed to volunteer for combat. Carter was assigned to the 56th Armored Infantry Battalion of the 12th Armored Division,
On March 23, 1945, Carter was riding atop a tank as it was hit by a German rocket. He led three soldiers away from the blaze and tried to cross a field. Two were killed by enemy fire and the other was seriously wounded. Carter continued to make the trek but was shot five times as he looked to escape.
Pinned down by eight German soldiers, Carter killed six of them and captured the two survivors, using them as human shields as he crossed the battlefield. Those prisoners provided the Allies with important details about German positions. At the time, Carter was awarded the Distinguished Service Cross and promoted to sergeant first class.
Carter was denied reenlistment in 1949 because he'd previously fought with the Abraham Lincoln Brigade, and during the Communist scare that was roiling post-war America, that unit was considered to have ties to the Soviet Union.
The soldier was devastated by the end of his Army career. He was 46 years old when he died in 1963 of lung cancer that was attributed to shrapnel that remained embedded in his neck. Carter was one of seven Black WWII service members who were recognized by President Bill Clinton with the Medal of Honor on Jan. 12, 1997.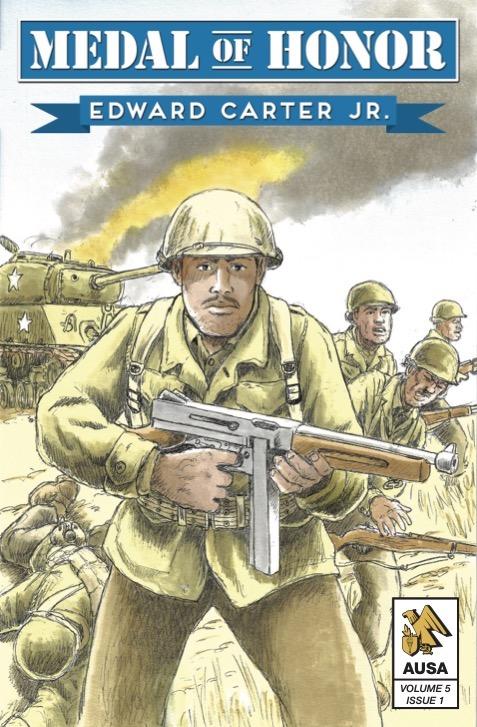 His story is being told in "Medal of Honor: Edward Carter Jr.," the latest issue of the Association of the United States Army's graphic novel series about Army soldiers who have been awarded the medal. You can view or download a free copy at the AUSA website.
Carter's story is the first in AUSA's new series for 2023. Upcoming books this year will feature World War I hero Samuel Woodfill, Vietnam War helicopter pilot Bruce Crandall and Iraq War soldier Alwyn Cashe.
In its 2022 series, AUSA previously released books about Delta Force soldiers Gary Gordon and Randy Shughart, World War II Buffalo Soldier Vernon Baker, Korean War veteran Ralph Puckett and Civil War veteran Tom Custer. All books from the previous four series are still available to read online or for download.
Keep Up With the Best in Military Entertainment
Whether you're looking for news and entertainment, thinking of joining the military or keeping up with military life and benefits, Military.com has you covered. Subscribe to the Military.com newsletter to have military news, updates and resources delivered straight to your inbox.