Gen. George S. Patton may have been one of the most controversial generals ever to command an American army, but the results speak for themselves. He turned a struggling group of green GIs who lost their first encounter with the Nazis into a fighting force that kicked them all the way back to Germany.
"Patton," the 1970 film, was nearly 20 years in the making. The Patton family, believing that the media contributed to the general's wartime struggles and ultimate death, refused to have anything to do with it. Even upon its release, the controversial legacy of Patton proved to be alive and well.
The Patton family loved it, and you might, too. While you go back and watch (or rewatch), keep these eight interesting things about Patton the man and Patton the movie in mind.
1. The Film's Senior Military Adviser Hated Gen. Patton.
Parts of the plot of "Patton" were taken from Gen. Omar Bradley's World War II memoir, "A Soldier's Story," and 20th Century Fox hired Bradley to serve as the film's senior technical adviser. Throughout the movie, Karl Malden's Omar Bradley and George C. Scott's Patton appear to be close friends. They were not.
Bradley not only knew Patton well, but he knew Patton well enough to dislike him, both personally and professionally, according to Patton biographer Carlo d'Este. This might be why "Patton" the film tends to glorify Bradley more than it does Patton himself.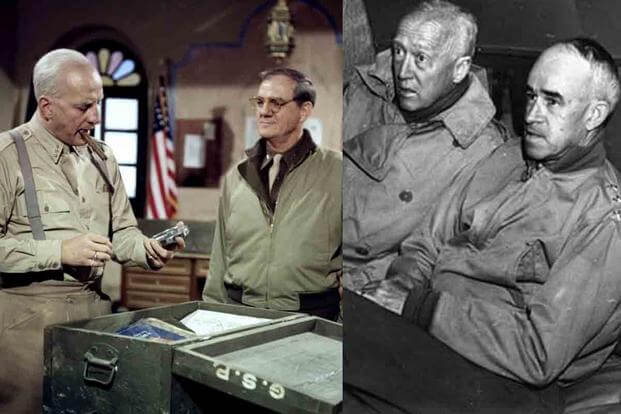 2. Patton's Opening Speech Was a Real Speech.
Mostly, anyway. The speech in the beginning of the movie was a recreation of one Patton really gave to the Third Army many times, and all without any notes. No one ever transcribed these speeches because they were too vulgar to be repeated.
In the book "Patton, Montgomery, Rommel: Masters of War," historian Terry Brighton called that real Patton speech "the greatest motivational speech of the war and perhaps of all time." But since it was considered too vulgar for the screen, it had to be altered and toned down for the "old ladies at the afternoon tea parties."
3. There's Real War Footage in the Movie.
Look closely to catch it, but there's real war footage shot by U.S. Army combat cameramen throughout the movie. Some scenes were shot by future director Sgt. Russ Meyer, who served as a combat cameraman with the 166th Signal Photographic Company, the official photo unit in Gen. Patton's Third Army.
4. George C. Scott Was Almost the Last Choice for Patton.
Burt Lancaster, Robert Mitchum, Lee Marvin, Rod Steiger and even Ronald Reagan, all of them turned down the title role. Most of them later said it was one of the biggest regrets of their careers. No one wanted to cast John Wayne, the one actor who wanted the role.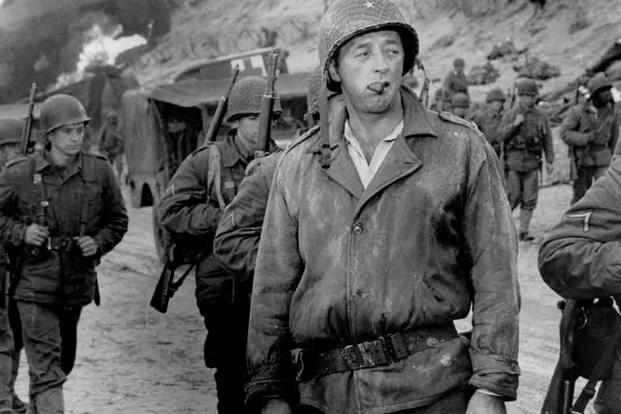 Director Frank Schaffner not only wrangled a reluctant George C. Scott after seeing his performance in the 1966 film "The Bible: In the Beginning," he helped get the alcoholic Scott through production, during his drinking binges.
5. The Cast and Crew Were Full of World War II-Era Veterans.
Scott was in the Marine Corps, though he graduated from boot camp as the war was ending. Schaffner and cinematographer Fred Koenekamp were both in the Navy. Actors Karl Malden, Lawrence Dobkin and Edward Binns served in the Army Air Forces. A number of other actors served in the armed forces of the United States or United Kingdom during the war.
Producer Frank McCarthy reached the rank of brigadier general during World War II and was aide-de-camp to Gen. George C. Marshall before becoming secretary of the General Staff of the Department of War. Being so close to Gen. Marshall, McCarthy had an intimate knowledge of how Patton's behavior was received back in Washington.
6. Patton's Family Was Originally Against the Movie, and So Was the Army.
When the idea for a Patton movie arose in 1951, the general's wife, Beatrice, would not entertain the idea. The general died in 1945 (more on that later), but when his widow died in 1953, hopes for a production were revived, but Patton's son, George Patton IV, and his daughter, Ruth, campaigned against it. Based on their response, the Army agreed not to support it.
Eventually, they both agreed to support the film, but by the time production started, the U.S. Army wasn't using the tanks, aircraft and equipment needed. Luckily for the film's producers, Francisco Franco's Spanish Army was still using those items. The movie was filmed in Spain with real Spanish troops portraying the Third Army.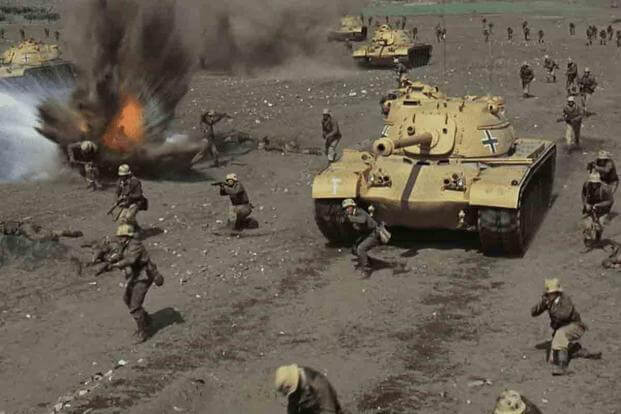 7. Another War Movie Legend Wrote a Script for "Patton."
When the time finally came to get a script together and start filming, 20th Century Fox paid columnist Robert S. Allen, a former colonel on Patton's Third Army staff, to write part of it. Allen had also written a book about the Third Army. Another author, Calder Willingham, was brought in afterward.
When neither of those efforts bore fruit, the studio brought in a young writer named Francis Ford Coppola, who knew little about Patton or the Third Army. Coppola mentions in the DVD commentary that he was fired from the production, because his version opens with Patton's speech, but the final cut uses most of Coppola's 1966 script. Coppola would go on to make "Apocalypse Now."
8. George C. Scott Made an Unofficial "Patton" Sequel.
Historical Spoiler Alert: Patton was paralyzed after a bizarre car accident where his limo driver hit the broad side of an Army truck. He died of a related blood clot a few days later. His wife decided he would want to be buried among his fallen men, which is where his grave is today: the American Cemetery in Hamm, Luxembourg.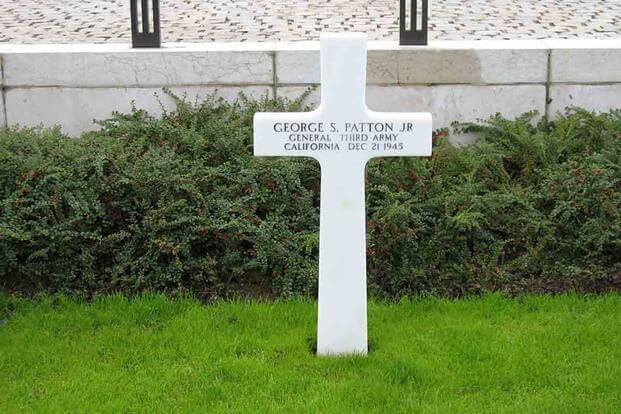 "Patton" doesn't end with the general's death. Scott would reprise his role as the famous general in a made-for-TV movie in 1986, "The Last Days of Patton." This film picks up where "Patton" left off, with the general relieved of his command for using former Nazis in his post-war administration.
-- Blake Stilwell can be reached at blake.stilwell@military.com. He can also be found on Twitter @blakestilwell or on Facebook.
Want to Learn More About Military Life?
Whether you're thinking of joining the military, looking for post-military careers or keeping up with military life and benefits, Military.com has you covered. Subscribe to Military.com to have military news, updates and resources delivered directly to your inbox.