On the TV show "Bonanza," Dan Blocker played the large but affable Eric "Hoss" Cartwright. At 6 feet 4 and 320 pounds, and by all accounts "the most likable cast member" on the show, Blocker fit the part perfectly.
But less than a decade before the show debuted on NBC, some North Korean soldiers near Hill 223 were watching a very different man. They saw 1st Sgt. Dan Blocker, who was defending the area along with other members of the "Thunderbirds" of the famed 45th Infantry Division.
Blocker was always a big, soft-hearted guy. He was a star football player in his native Texas during his college years. After finishing a master's degree in drama in 1950, he was drafted into the Army and was fighting in Korea the next year.
He was assigned to Company F, 2nd Battalion, 179th Infantry Regiment, 45th Infantry Division. Blocker landed at Inchon and was on the front lines by Christmas Day in 1951.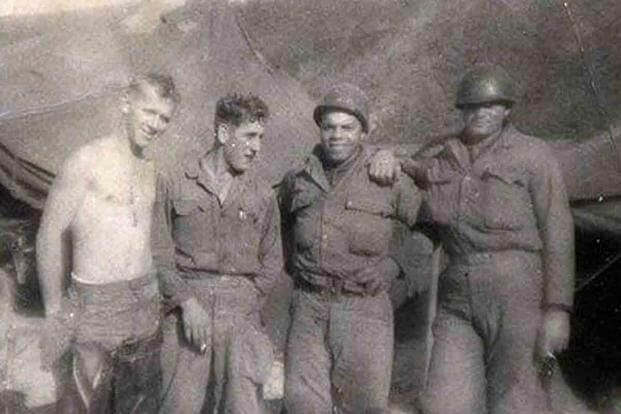 Blocker and his men took positions in Chorwon, in what is today North Korea. They were manning the Jamestown Line as the war settled into a virtual stalemate of taking and retaking hills, static fortifications and trenches along the line.
For 209 days, Blocker and the 179th Infantry Regiment were in heavy fighting, and during that time, he was wounded in action while coming to the rescue of his fellow soldiers -- something good ol' Hoss Cartwright might do.
Between December 1951 and June 1952, the 179th and 180th Infantry Regiments fought over Pork Chop Hill, a key piece of terrain that was critical to holding Old Baldy, which overlooked the entire area. By summer 1952, the fighting heated up, along with the weather.
The 179th was taken off the line in July 1952, and Blocker finally was sent to the hospital to recover from his wounds. His unit went into reserves, and by August of that year, he was headed home with a Purple Heart.
After returning to the U.S., acting wasn't the first job he considered going into, but moving to Los Angeles was part of his plan. He pursued a doctorate at UCLA, and one day, acting found him. While standing in a phone booth, dressed like the big Texan he was, he was "discovered" by people looking to cast television westerns, which were wildly popular at the time.
The newly minted actor was cast in a slew of western shows, including small parts on episodes of "Gunsmoke" and "Colt .45." His biggest break came when he was cast to play the regular role of Hoss Cartwright on "Bonanza."
"Hoss" is a nickname for both the character, and a general term for big, friendly guys in the rural areas of the Rocky Mountains. Since "Bonanza" took place in an area near Lake Tahoe, the moniker was perfect for a man of Blocker's size.
Blocker, 43, suddenly died of a pulmonary embolism after gallbladder surgery in May 1972. He was on the show for 13 of its 14 seasons.
-- Blake Stilwell can be reached at blake.stilwell@military.com. He can also be found on Twitter @blakestilwell or on Facebook.
Want to Know More About Veteran Jobs?
Be sure to get the latest news about post-military careers as well as critical info about veteran jobs and all the benefits of service. Subscribe to Military.com and receive customized updates delivered straight to your inbox.