"Quantum Leap," the hit sci-fi TV series from the late 1980s/early '90s, has been reconstituted and revived by NBC for the new season. Even though original stars Scott Bakula and Dean Stockwell aren't part of the show, the new version has definite ties to the original, with several characters having family ties to the original show and the current time-jumping program a continuation of the original.
But we're here to talk about Caitlin Bassett, a U.S. Army intelligence veteran whose civilian career has taken off like a rocket. She's the second lead on the new "Quantum Leap," but the series is her first major role. Raymond Lee (Lt. Logan "Yale" Lee in "Top Gun: Maverick") plays Dr. Ben Song, the mysterious time-jumping scientist, while Bassett is Addison Augustine, his fiancée and the person who guides him through each week's adventure via hologram.
For those who need a refresher, Dr. Sam Beckett (Bakula) invented a time machine but can't quite control his destination. Each week, he leaps to a new location, realizes he's not home and assumes the identity of a real person to help others out of a jam. Stockwell played Adm. Al Calavicci, the person back home who communicates with Beckett and gives him the intel he needs to solve each week's dilemma.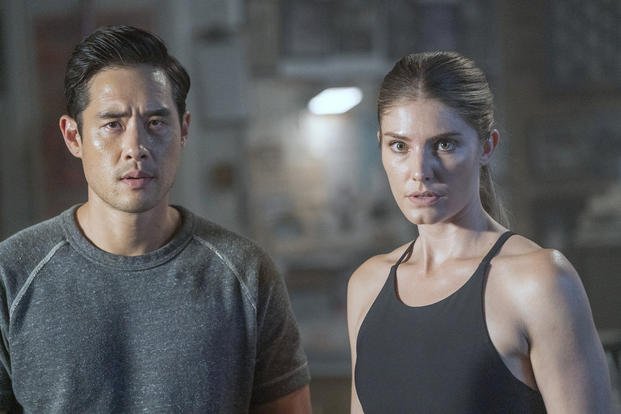 So, the new series has Song and Augustine in the Bakula and Stockwell character positions, except this time, the lead guy doesn't remember that he's engaged to his guide back home at the lab.
Again, all that's good intel if you want to watch the show, but we're here to talk about Bassett and her amazing adventures in the military and Hollywood.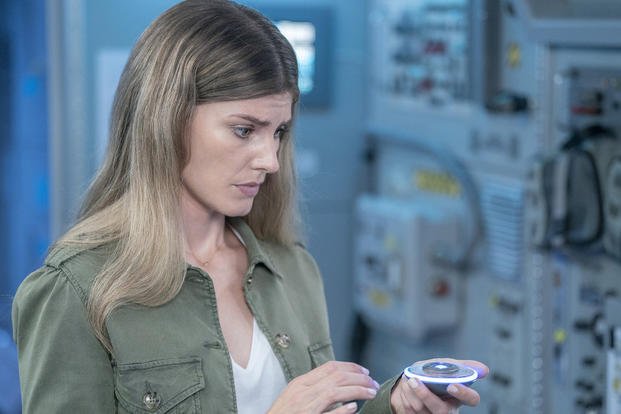 Bassett enlisted in the U.S. Army a week after her 18th birthday, when she was still in high school. The fall after graduation, she went to basic training at Fort Leonard Wood, Missouri, and then did a year of signals intelligence (SIGINT) training at Goodfellow Air Force Base in San Angelo, Texas.
Her decision to join the Army was influenced by her family history. "My dad was an infantryman in Vietnam," she said. "My grandfather on my mom's side was an aviator in World War II."
Bassett's military career got off to a charmed start. 
"My first station was NSA Hawaii," she said. "I got very lucky in the intel world, because sometimes you can kind of get attached to units that just aren't going to do much intelligence work. But I got put straight to NSA Hawaii, which was fantastic. Plus, not a bad location.
"I volunteered to be deployed and was attached to the 10th Mountain division out of Fort Polk, Louisiana, at FOB Shank, Afghanistan. I was 21 years old and I got promoted to sergeant right out there. When I got back, I switched stations to NSA in Maryland, where I'm from, which was really great, because I got to continue to do intelligence work on a big grand scale instead of being stuck in an armory somewhere."
If you're thinking she had good fortune while she was in the Army, that string of opportunities continued once Bassett got out, started to go to law school but changed her mind and pursued a career in the arts.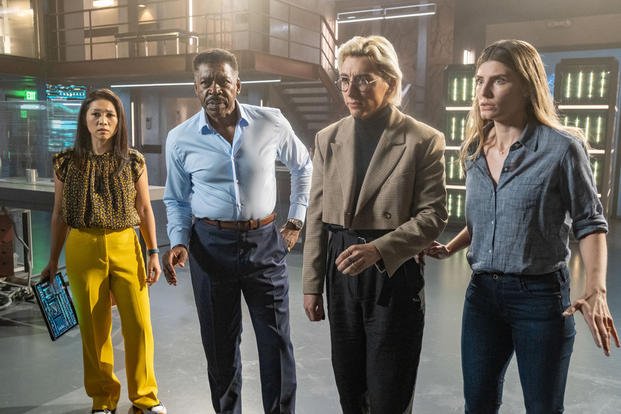 During her first year at Brooklyn Law School, she started taking theater classes at night and made the big decision to use her GI Bill to attend the Stella Adler Conservatory. This is where talent matters, because that's one of the most exclusive acting programs in the world.
Bassett continued to tell her impressive story. "When I went to Adler, this was obviously my biggest break. But there's always a bunch of little ones in between," she said. "There is really no such thing as an overnight success, though. I will admit my situation is probably the closest you get.
"After Adler, I was selected for the ABC Disney Discovers Talent showcase. Roughly 40,000 to 45,000 actors applied in 2020, and 14 were selected on each coast. Marci Phillips, head of New York casting for ABC, really took a shine to me and has become my mentor in this industry. She put me in the showcase. She helped me get my manager, the same managers that got me into the room for this job on 'Quantum Leap.'"
Caption: If you're wondering how Bassett's character Addison communicates with Ben during his leaps, this video should help explain things.
Bassett's "Quantum Leap" character, Addison Augustine, is a military veteran, but she's not defined by her service on the show. "I'm really glad that my first job wasn't an active-duty soldier or just a soldier, because I think Hollywood can sometimes reduce soldiers to being one thing," said Bassett. "What I'm really excited about is to be a full person [on the show]. Because every person who's ever served, that's obviously a huge part of who they are. But it's still just one part of who they are. They have families and complications and their own set of baggage and their own things that they like, and so does Addison. 
"So, of course, I draw from my military background. And what's nice is that it's present with me, just like it's present with every veteran just because I went through it. So I don't have to think about it. I don't have to put it on. It's just there. But I also don't have to play it all the time. Military isn't all Addison is; she's a person going through a thing, who also happened to be in the military."
Caption: Is it Caitlin Bassett's military intelligence training that makes her so good at NBC's "Name the Decade" game?
Keep Up With the Best in Military Entertainment
Whether you're looking for news and entertainment, thinking of joining the military or keeping up with military life and benefits, Military.com has you covered. Subscribe to the Military.com newsletter to have military news, updates and resources delivered straight to your inbox.