"Echo 3," a military thriller about a female scientist who goes missing on the Colombia-Venezuela border, is set to premiere in November on Apple TV+. The scientist's husband and brother are both veterans with a particular set of skills, and they team up to track her down in the midst of a secret war.
The series was created by Mark Boal, the writer who won an Oscar for his screenplay and another for producing the 2010 Best Picture "The Hurt Locker." He went on to pen the scripts for "Zero Dark Thirty" and "Detroit" as part of his long-term collaboration with director Kathryn Bigelow. Boal then wrote the story for the underrated 2019 Netflix military thriller "Triple Frontier," directed by J.C. Chandor ("A Most Violent Year") and starring Ben Affleck and Oscar Isaac.
"I'm honored to collaborate with the team at AppleTV+ who gave me the opportunity to make the series I wanted to make -- one that feels big and purposeful and refuses to stay in any lane," Boal said in a news release. "This is a black ops thriller and tale of international intrigue, set in Colombia, a country I had known only from afar and immediately fell in love with."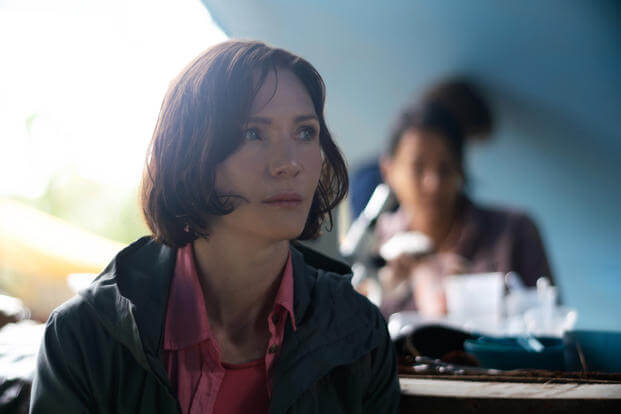 Jessica Ann Collins ("Rubicon," "Zero Dark Thirty") stars as scientist Amber Chesborough. Luke Evans (Owen Shaw in the "Fast & Furious" movies) plays Amber's brother Bambi, and Michiel Huisman ("Game of Thrones") plays her husband Prince. The series will also feature Martina Gusman, James Udom, Maria del Rosario, Alejandro Furth, Juan Pablo Raba and Bradley Whitford.
"Echo 3" is based on the award-winning Israeli television series "When Heroes Fly," created by Omri Givon, and inspired by the eponymous novel by Amir Gutfreund. The Israeli series is available to stream on Netflix. Givon also directed the most recent series of the series "Fauda" about the ongoing Palestinian-Israeli conflict, which is also available on Netflix.
Apple TV+ has announced a Nov. 23, 2022, premiere for "Echo 3." Three episodes will drop that day, which is the Wednesday before Thanksgiving. The remaining episodes will be released one per week starting Friday, Dec. 2, 2022, through Jan. 13, 2023.
Apple TV+ is slowly building an impressive catalog of military-themed, spy-themed and space-themed movies and shows. In addition to the Vietnam War drama "The Greatest Beer Run Ever," the veteran drama "Cherry," and the Tom Hanks World War II thriller "Greyhound," the service offers the space race alternate history series "For All Mankind," the British spy thriller series "Slow Horses," and the Mossad spy series "Tehran."
Keep Up With the Best in Military Entertainment
Whether you're looking for news and entertainment, thinking of joining the military or keeping up with military life and benefits, Military.com has you covered. Subscribe to the Military.com newsletter to have military news, updates and resources delivered straight to your inbox.