What's a special operations veteran to do when it's time to hang it up and make a return to civilian life? Their particular set of skills is not usually in high demand back home. Verizon, Walmart and General Motors don't really have a career path for retired door-kickers.
The Fox broadcast network is giving four special operations veterans a job, one that may be as tough as any mission they faced during their military service. Marine Recon veteran Rudy Reyes, Navy SEAL veteran Remi Adeleke, UK Special Air Service veteran Mark "Billy" Billingham and UK Special Boat Service veteran Jason "Foxy" Fox have been tasked with teaching operator skills to celebrities on the upcoming series "Special Forces: The Ultimate Test."
"Special Forces: The Ultimate Test." is set to air on Fox in January 2023. The celebrities set to take on a series of spec ops-style challenges include NBA legend Dwight Howard, former Trump White House director of communications Anthony Scaramucci, Britney's sister and former Nickelodeon star Jamie Lynn Spears, Spice Girl Mel B., celebrity chef Tyler Florence and soccer legend Carli Lloyd.
Why would our four veterans agree to work with this motley crew? They've got some experience. In addition to their military service, all four men are veterans of the popular UK Channel 4 series "SAS: Who Dares Wins," a show that's already done four rounds of celebrity spec ops training for British television.
Reyes is best known for playing himself in the HBO Iraq War series "Generation Kill." He acted in the excellent military thriller "Semper Fi" in 2019, founded the Force Blue organization that recruits veterans to coral reef conservation and became a bit of a UK tabloid celeb after appearing on the "SAS: Who Dares Wins."
Adeleke recently appeared in "The Terminal List," the Prime Video series based on the novel by Navy SEAL veteran Jack Carr, and will star in the upcoming action thriller "The Plane," made by Gerard Butler's production company G-Base. Butler is so excited to work with Adeleke again that G-Base will now produce "Unexpected Redemption," a human-trafficking/organ harvesting drama that will be the former SEAL's debut as a movie director.
The rest of the cast for the first season of Fox's "Special Forces: The Ultimate Test" includes Kate Gosselin, reality television legend from "Jon & Kate Plus 8," two-time Super Bowl champion Danny Amendola, "This Is How We Do It" singer Montell Jordan, Olympic gold-medal gymnast Nastia Liukin, "7th Heaven" actor Beverley Mitchell, "Real Housewives of Atlanta" star Kenya Moore, baseball Hall of Famer Mike Piazza, "Celebrity Rehab" Dr. Drew Pinsky, Olympic skier Gus Kenworthy and "The Bachelorette" star Hannah Brown.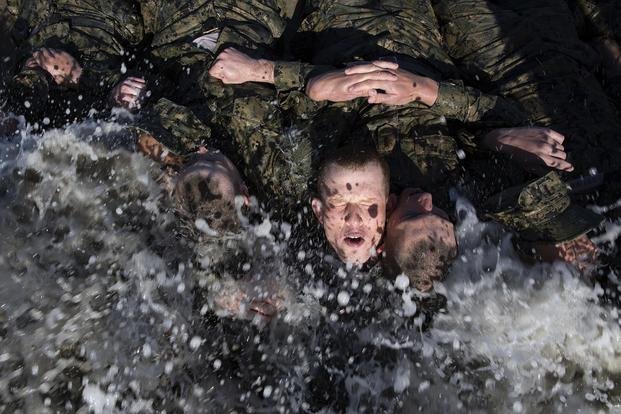 Honestly, it's hard to imagine most of this group lasting more than a couple of minutes in a true Hell Week-style evaluation, but a few of the athletes (Lloyd, Kenworthy, Liukin, Amendola, Howard) may still have enough left in the tank to make a reasonably good showing.
If you're curious about how all this might work, YouTube has a few clips from the celebrity versions of the UK series "SAS: Who Dares Wins," but go in with the understanding that the idea of who qualifies as "celebrity" in London is very different from what we count as famous here in the USA. Jeremy Irvine, who once starred in Steven Spielberg's World War I drama "War Horse," is the only face you might recognize unless you're a huge fan of professional soccer or UK reality television.
Of course, it's always great to see a company like Fox doing its part to promote veteran employment. Here's hoping Reyes and Adeleke have a great time on the show, and none of the contestants embarrass themselves too much.
Keep Up With the Best in Military Entertainment
Whether you're looking for news and entertainment, thinking of joining the military or keeping up with military life and benefits, Military.com has you covered. Subscribe to the Military.com newsletter to have military news, updates and resources delivered straight to your inbox.