"The Terminal List" is an upcoming streaming series based on the novel by former Navy SEAL Jack Carr. The show stars Chris Pratt as its tortured hero, Navy SEAL James Reece, and follows the operator's quest for justice after his team is wiped out on a mission.
We've got an exclusive first look at the real-life veterans who joined Carr to make the show in hopes of delivering a story that was as true-to-life as possible. "The Terminal List" will stream on Prime Video starting July 1.
The Amazon-owned service just released its first teaser trailer for the show, and the footage suggests that the producers understand what makes the books so great and tried to bring that to the screen.
We learn that Reece's team has been wiped out on an op as we hear Ozzy Osbourne sing the classic Black Sabbath song "War Pigs." For anyone who's yet to read the novels, the clip gives a sense that Reece is on a mission for justice and revenge, but doesn't spoil exactly who his targets will be. We end with an iconic silhouette shot of Reece and his favorite weapon, a Winkler Sayoc tomahawk.
Related: Former SEAL and 'Terminal List' Author Jack Carr Gives Us the Lowdown on 'The Devil's Hand'
Reece and his creator Carr have enjoyed what seems a charmed existence since the first novel was published just four years ago. "The Terminal List" was almost immediately optioned by a team that included future series star Chris Pratt and legendary action director Antoine Fuqua ("Training Day," "Olympus Has Fallen").
Carr has since published a new novel each year, with the fifth chapter in Reece's story, "In the Blood," released in May 2022. The books keep getting more popular, and the timing couldn't be better for a television series based on Reece.
Related: SEAL Superstar Jack Carr Ups the Ante in His Latest James Reece Novel
We've got photos from the production that tell an interesting story. Let's start with a group shot. There's so much intel in this next photo that we couldn't include it all in a caption.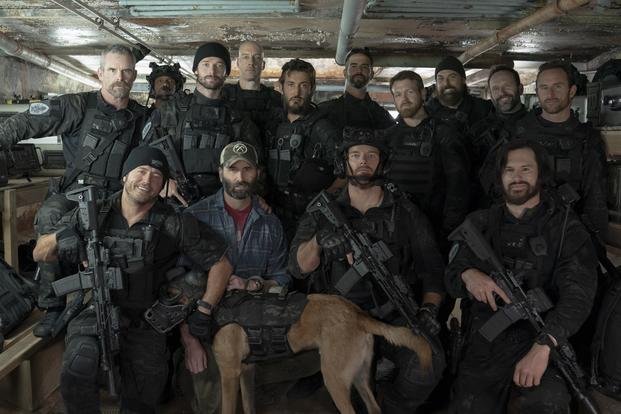 The producers of "The Terminal List" set up this class photo so we can see all the real and pretend operators in one image. We've got seven former SEALs, one Air Force vet, one Marine vet, one Guardian of the Galaxy, three stuntmen, one movie dog and the oldest son of one of our greatest movie action heroes, a young actor who also happens to be the brother-in-law of the Guardian of the Galaxy.
That's a lot of operator testosterone in one photo, as evidenced by their thick and luxuriant facial hair. Here's the breakdown of "The Terminal List" crew:
Front Row (kneeling left to right):
Jared Shaw (former Navy SEAL, co-producer, technical adviser, "Ernest 'Boozer' Vickers")
Jack Carr (former Navy SEAL, executive producer and author)
Rex the dog
Chris Pratt (executive producer, "James Reece")
Erick Shultz (stunts)
Back Row (Left to Right)
Erin Switzer (former Marine)
Ajay James (former SEAL)
Patrick Schwarzenegger ("Donny Mitchell")
Shon Lange (former Air Force)
Justin Garza (former SEAL)
Chris Alvarez (former SEAL)
Ryan Sangster (former SEAL)
Kenny Sheard (former SEAL)
Casey Adams (stunts)
Zack Duhame (stunts)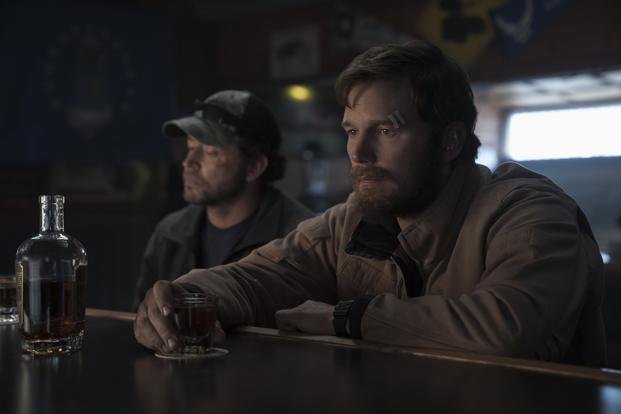 We spoke with series executive producer David DiGilio, and he told an amazing story about how quickly this show came together.
"I think it really begins with former Navy SEAL Jared Shaw," said DiGilio. "Jared had worked with Chris on 'Zero Dark Thirty,' and he also knew Jack through the teams. When Jack wrote his first book, Jared immediately got it in the hands of Chris Pratt, who then started pursuing it."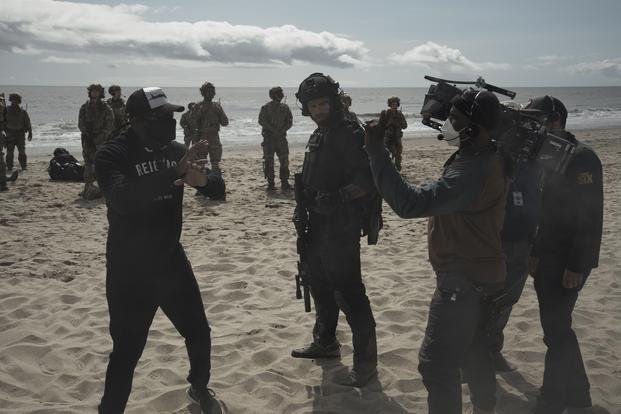 "As Chris was pursuing the rights," DiGilio continued, "he discovered that Antoine Fuqua had also been given the book by one of his Navy SEAL buddies, and Antoine was pursuing those rights simultaneously. The guys decided to team up on making their first re-team since the movie 'Magnificent Seven.' Early in their conversations, they realized that there was such a great character here, such great conspiracies and such a great story that it actually begged to be more than a two-hour movie, so they decided to make it a TV series."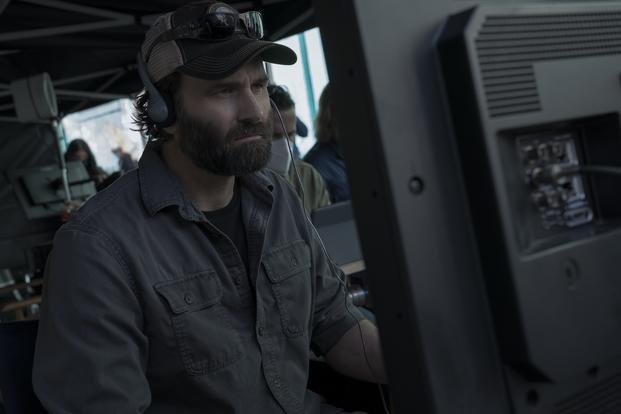 "As we moved into the writers room, I made sure to have military veteran writers in the room," said DiGilio. "Special hat tip to Max Adams, who's a former Army Ranger, current screenwriter and producer. As we moved into prep, Antoine Fuqua had a great friend who was a big help as a technical adviser. I don't think I'm allowed to use his name in interviews, so we should say redacted, I guess."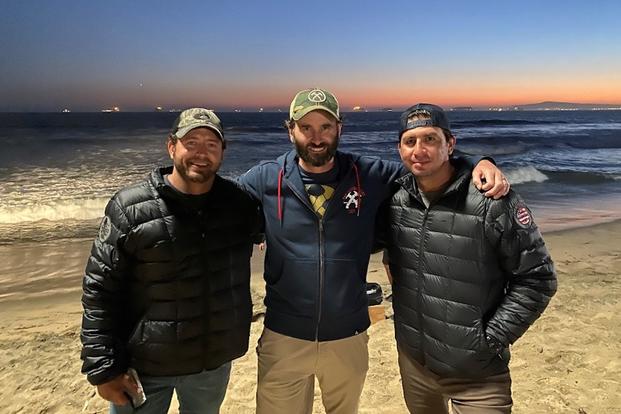 "Then Jared Shaw, who had been so instrumental at the onset and the concept phase, came back in full bore," continued DiGilio. "Jared helped us get Ray Mendoza, who's a former SEAL and incredible technical adviser who's worked on huge movies like 'Lone Survivor.'"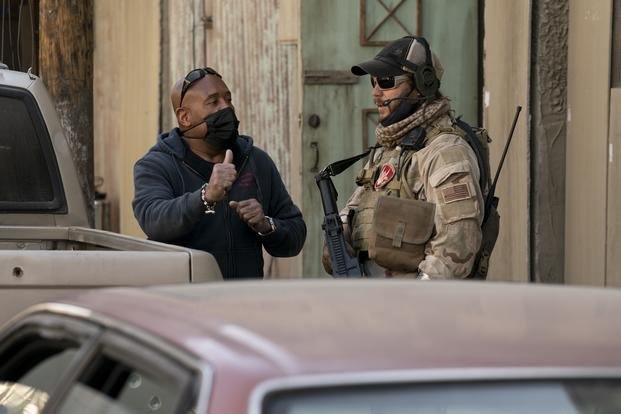 "On the stunt side, we had Keith Woulard, who's also a former Navy SEAL, who became our series stunt coordinator," said DiGilio. "Aside from the behind-the-scenes talent, we also really had a mandate to hire as many actors with military veteran backgrounds as possible."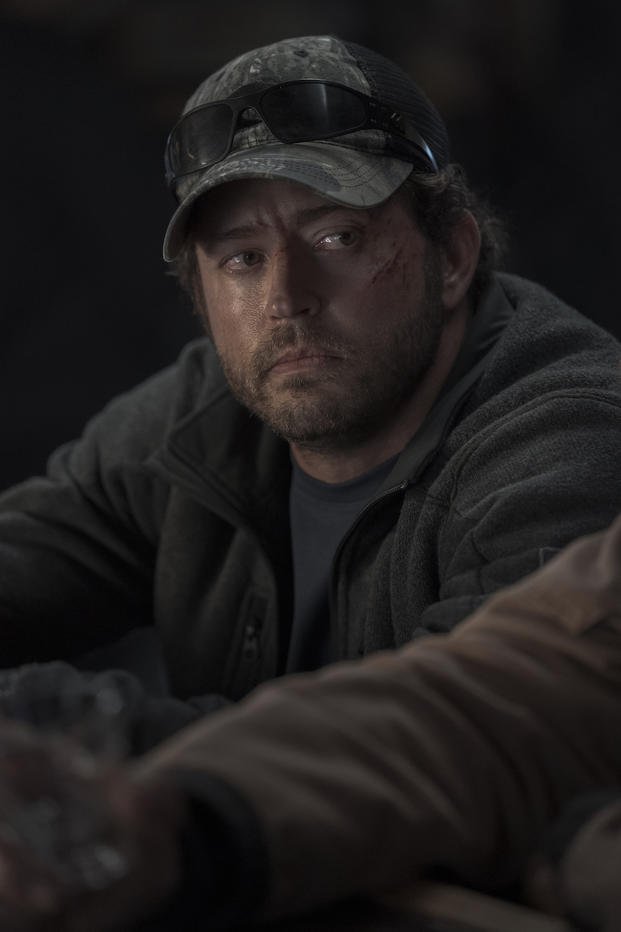 "When it was all told," he continued, "there were over 25 actors with military backgrounds in the show, including most of Alpha Platoon, who you meet in episode one. Then, in episode six, we have the FBI hostage rescue team pursuing James Reece, and I think everyone in the HRT also has a military background."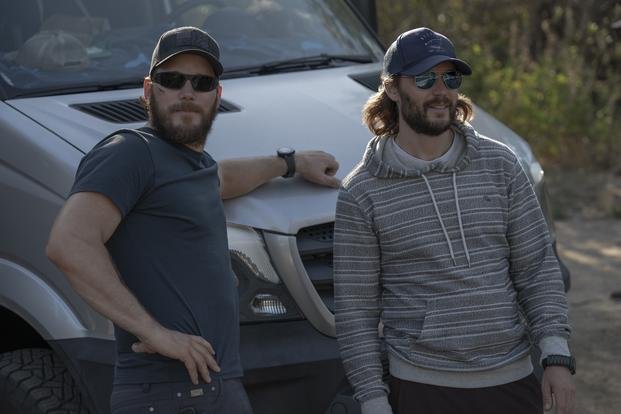 One thing that makes "The Terminal List" novel such an exciting ride is the fact that it's a totally made-up story. Reece's quest of justice doesn't have any actual real-world consequences, so readers (and soon viewers) can embrace the intensity without tying those emotions to any real battles or actual sacrifices.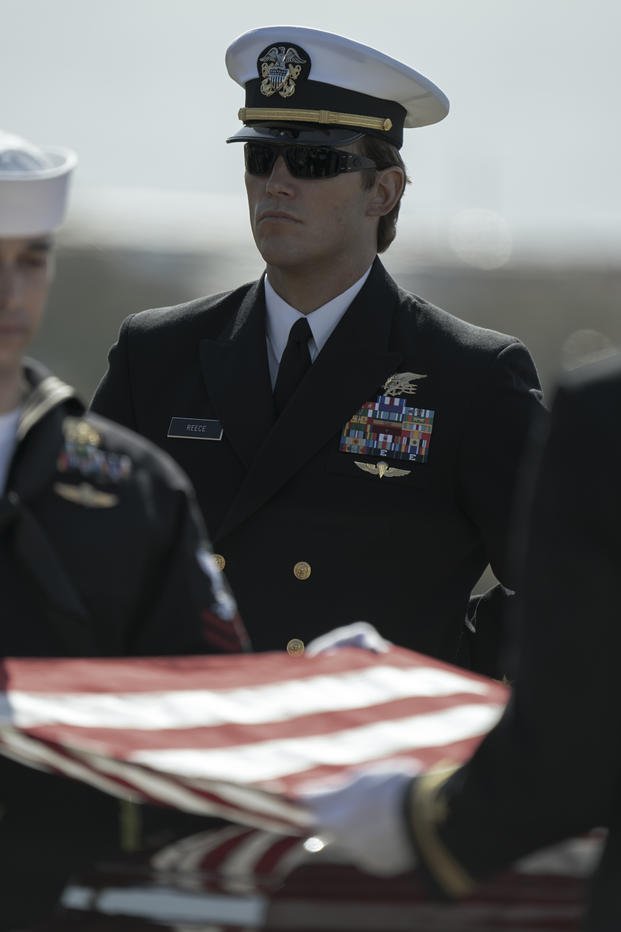 That doesn't mean that Carr hasn't worked very hard to pay tribute to the skills operators have mastered or the intense psychological trials they must endure. He's just framed that tribute as a fictional tale that lets an operator pursue his impulses and loyalties to unfettered ends.
There'll be a lot more to discuss as the July release of "The Terminal List" gets close. Stand by.
Keep Up With the Best in Military Entertainment
Whether you're looking for news and entertainment, thinking of joining the military or keeping up with military life and benefits, Military.com has you covered. Subscribe to the Military.com newsletter to have military news, updates and resources delivered straight to your inbox.