The writers and producers behind the CBS comedy "United States of Al," a show about an Afghan military translator who immigrated to Ohio to live with his Marine veteran BFF, faced a massive challenge when Kabul fell as they were in production on season 2.
Several episodes into writing the new season, the producers (who are from the same Chuck Lorre production team that gave us "Two and a Half Men," "The Big Bang Theory" and "Mike & Molly") were faced with the reality that they'd have to incorporate this tragedy into the comedy series they were making. Reality required a pivot.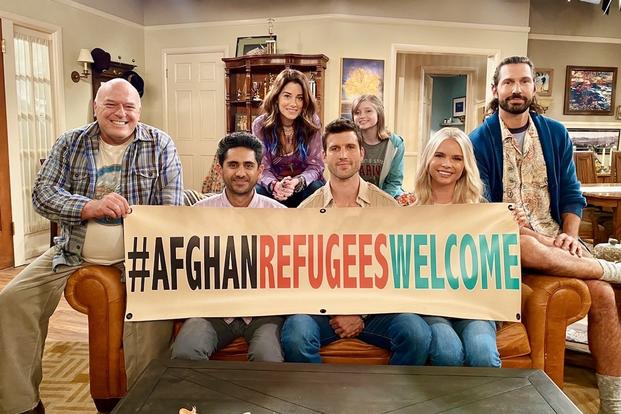 The team behind the show includes both U.S. military veterans and Afghanistan émigrés, all of whom had a deeply personal connection to the crisis caused by the U.S. withdrawal. Writers on the show were trying to help friends and family get out of Kabul at the same time they were writing a new episode about Awalmir (aka Al) and Marine vet Riley scrambling to get Al's sister, Hassina, out of Afghanistan.
The season 2 premiere of "United States of Al" is more drama than comedy, as the stakes for Hassina are very real and the actors, writers, directors and producers are experiencing the real-life events as they're making a show about it. The episode is set to air on CBS on Oct. 7, 2021, at 8:30 p.m. ET/PT, with streaming the next day on Paramount+.
Marine Corps veteran Chase Millsap and Afghan war interpreter Habib Zahori are writers on the show. They talked to Military.com about how they bring their backgrounds to a very funny show about characters who've gone through some incredibly serious wartime experiences.
Millsap is a graduate of the U.S. Naval Academy who did three combat tours with the 1st Marine Division in the Al Anbar Province of Iraq. He later served five years in the Army as a Green Beret, doing counterterrorism work in Southwest Asia. You likely have seen his writing at WeAreTheMighty.com and here at Military.com.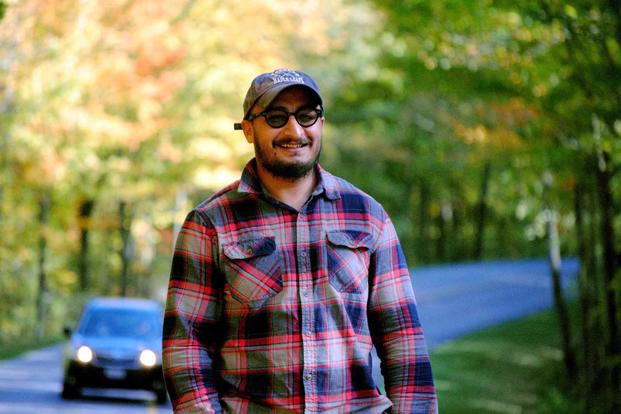 Zahori grew up in Afghanistan the last time it was ruled by the Taliban. As an adult, he became a journalist who wrote for The New York Times' At War blog. He also worked as an interpreter and fixer for foreign journalists covering the war. While studying in the U.S. on a Fulbright scholarship, he decided the risks for someone like him were too great back home and accepted refugee status from Canada. He now lives in Ottawa.
Millsap has been on the front lines of this immigration situation for years, experiences that inspired him to sign on to work on this show. He's put an overwhelming amount of time and effort into helping an Iraqi soldier he served with as he tried to immigrate to the United States. "I hit my head against the wall a lot, trying to help him out," Millsap says. "Thankfully, he's alive, but he never made it to the States. Those experiences stuck with me. I realized that thousands of other veterans, Iraqis and Afghans have had similar experiences."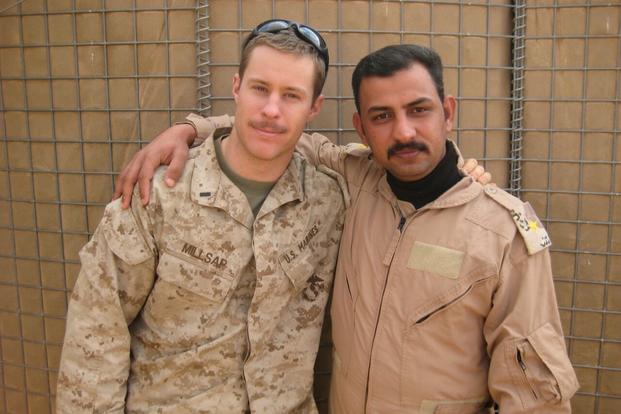 When it became apparent that Kabul was about to fall to the Taliban, the writers were already three episodes into the new season of "United States of Al" and realized that they had to address the reality of the situation in Afghanistan.
"We decided that it would be a disservice to people like Al who has family back home, or people who haven't yet made it to the United States if we don't tell this story," Zahori said. "Then the question was, how are we going to reconcile things if we're writing about the tragedy, but in a sitcom format? We all agreed that maybe we should write at least this first episode as a drama, rather than as a sitcom episode. We decided, 'This is going to be a drama. No laughter and no jokes."
As Al and Riley try to keep their heads together and emotions in check while trying to help Hassina get out of Afghanistan, the episode starts to feel remarkably raw and real. There's a reason for that. Much of the dialog and the action in the show is based on the actual experiences that Millsap and Zahori were having in real time as the writers were trying to finish the script for this episode.
"This story was basically inspired by what Chase and I did during one day, as I tried to get three of my siblings, two sisters and a brother, into the Kabul airport," Zahori said. "We had a friend of Chase waiting for them at one gate. All the details in the show were exactly what Chase and I went through during that eight to 10 hours."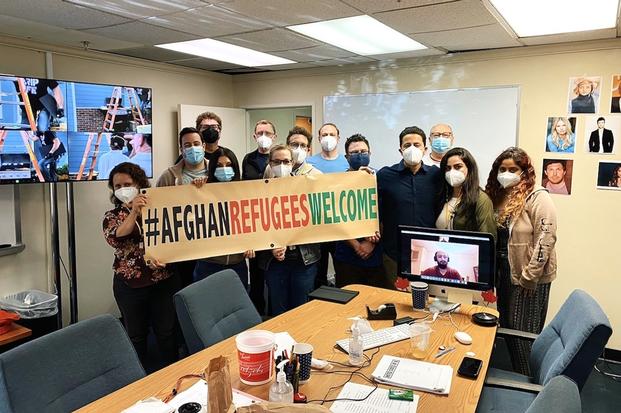 Said Chase: "As we were working through these issues, the writers room was like a war room to me. We really were doing real-world stuff and trying to work in Hollywood at the same time, which I don't think anybody has done in a long time."
Things turned out for Zahori's family but not quite like they do in the show. "I tried to get them into the airport, but we failed because there was too much chaos," Zahori said. "We tried the eastern gate and then the northern gate. That's where Al's sister is ultimately ending up in the show."
"Even after an hour of pushing, my siblings couldn't get through that gate and then I got this very angry phone call from one of my sisters who told me that they just saw a woman who was standing beside them get shot in the face," he continued. "They said, 'We're going home because we might die here in a stampede, or a bullet might hit us.' I reached out to my parents and my uncle, who are the elders in my house. And I told them, 'I think it's impossible for them to go through the crowd, so we're sending them back home.' I texted Chase and said, 'I think my siblings could not do it.' But I found a safer way to get them into the airport through my journalist contacts. But our friend and colleague Miriam [Arghandiwal], who is our writer's assistant, worked with Chase to get her family members into the airport."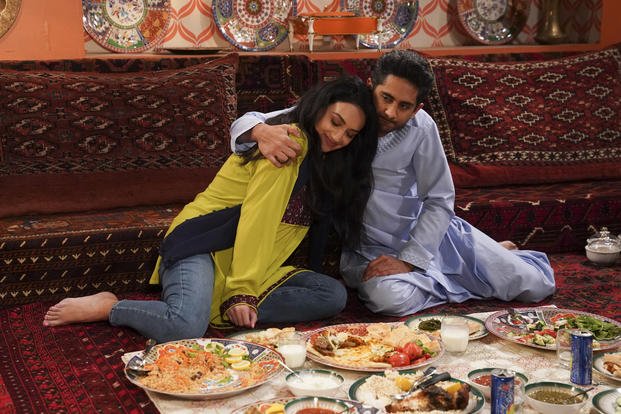 In the show, Al's sister, Hassina, thinks the U.S. is withdrawing just as people like her were making progress in establishing a more inclusive culture in Afghanistan. That's not a position on the recent decision to leave, but an example of one of the perspectives heard in a diverse writers room.
Millsap noted, "Our writers room is full of Afghans and Americans with all different experiences, men and women with all ages represented. What was really evident when we were going through this was how many different perspectives people had about what was happening, which was a real challenge to put into less than 30 minutes of TV.
"One of the overarching themes was just the sadness. We had to deal with that, and knowing that, literally months before, there seemed like a future and hope and opportunity. That was gone, and seeing it on people's faces was a hard thing."
Zahori noted, "Those lines are personal because those were my own sister's lines. I am not here to justify or criticize anything, because I don't want to get into the politics of it. We're not a political show, but there were so many women who've lost opportunities . Yes, these were women that lived in major cities, not in the countryside. The women who were in the countryside had a totally different perspective.
"But women like my sisters who lived in cities, they had a life, they had jobs, they had opportunities. There were women who were working in the government, who were judges and all those things that Hassina talks about. That disappeared in the space of a few weeks. Even before the Taliban entered Kabul, my sister was told that there was no work for her and that she should just go home. There's a lot of truth to those lines in the show."
In balance, there's a case to be made that people like Chase Millsap and Habib Zahori should have been hired to work with Congress or the Pentagon on coming up with a sensible policy to process the visas of the Afghan and Iraqi men and women who aided our war efforts.
The fact is that no one in power listened to the people who really understood the situation. So these guys have taken their expertise to Hollywood and are adding some truth into a funny show about a couple of guys who have each other's backs, even when they don't get along or their cultures clash.
"United States of Al" might not be your first choice as a platform for a clear-eyed examination of our two decades of war, but there are people behind the show who have a lot to offer on the topic. Give "United States of Al" a try.
Keep Up With the Best in Military Entertainment
Whether you're looking for news and entertainment, thinking of joining the military or keeping up with military life and benefits, Military.com has you covered. Subscribe to the Military.com newsletter to have military news, updates and resources delivered straight to your inbox.