Richard Petty Motorsports' #43 Chevrolet will feature a new paint scheme for the 2021 YellaWood 500 NASCAR Cup Series race at Talladega Superspeedway in Alabama. The 43 car is sponsored by U.S. Air Force Recruiting and will have images from U.S. Air Force Special Warfare.
The new brown and black paint scheme highlights Air Force enlisted career fields like Combat Control, Pararescue, Special Reconnaissance and Tactical Air Control Party (TACP). On top of a prominent Air Force logo, the Chevy displays combat airmen in action on the rear of the vehicle.
Air Force Recruiting has partnered with Richard Petty Motorsports since 2000 and has run special paint schemes in the past. It debuted a design honoring the Tuskegee Airmen of the 99th Pursuit Squadron in World War II at Talladega Superspeedway in April 2021. That design featured the squadron's distinctive "red tail" and other aspects of the unit's P-51 Mustang fighters.
NASCAR driver Erik Jones' #43 car had the Tuskegee Airmen paint scheme at Bristol Motor Speedway in Tennessee on Sept. 18, 2021, where he placed eighth. There was no special paint on the car when Jones finished 26th at Las Vegas Motor Speedway on Sept. 26, 2021.
Also sporting the P-51 Mustang theme in 2021 was Ed Carpenter Racing's IndyCar team, driven by Conor Daly. Air Force Recruiting has been involved in IndyCar racing since 2018.
Jones also spent the week prior to the Talladega race visiting with special operations airmen from Pope Army Airfield in North Carolina. The airmen put Jones in full battle rattle as they took him off-roading in a Polaris MRZR Light Attack All-Terrain Vehicle. It's unclear whether the airmen allowed him to take some time at the wheel.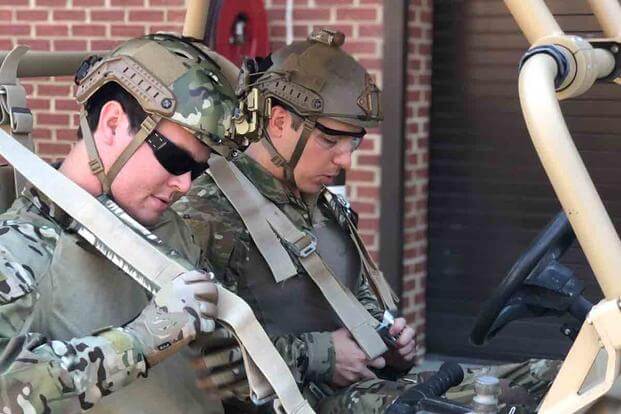 Talladega Motor Speedway, at 2.66 miles, is NASCAR's longest oval and was once the site of an abandoned World War II-era airfield. It seats some 80,000 people and is also home to the Talladega Jinx, a NASCAR legend that says the area was once inhabited by American Indian tribes. Legend has it that it was cursed or that it was also an ancient burial ground.
It was also the first place a NASCAR driver sped more than 200 mph. Nowadays, cars are restricted to certain speeds to prevent catastrophic accidents. This also has the effect of making the cars drive in bunches, because they can't pull away from one another. That increases the risk of accidents, which invariably occur during the races at Talladega.
Winning at Talladega is a big deal for NASCAR drivers, and the size of the track combined with the speed restrictions leave it open for any driver.
The NASCAR YellaWood 500 at Talladega Superspeedway will air at 2 p.m. ET on Sunday, Oct. 3, 2021, on NBC. Jones and the 43 U.S. Air Force "Special Warfare" car will start in 26th position.
-- Blake Stilwell can be reached at blake.stilwell@military.com. He can also be found on Twitter @blakestilwell or on Facebook.
Want to Learn More About Military Life?
Whether you're thinking of joining the military, looking for post-military careers or keeping up with military life and benefits, Military.com has you covered. Subscribe to Military.com to have military news, updates and resources delivered directly to your inbox.