Back in March, Navy veteran and Nashville singer-songwriter Sturgill Simpson had just headed out on a big tour in support of "Sound & Fury," a brutal rock record that shocked all the alternative country music fans who'd made him popular.
Then that thing with the COVID happened and Simpson's tour went the way of all live music in 2020, and Sturgill had to go home and sit on the porch when he'd planned to be on tour melting faces.
So instead of touring, he reimagined this terrible year and raised bucket loads of money for worthy charities, including the Special Forces Foundation.
"Sound & Fury" been accompanied by a film of Japanese anime videos that further sandblasted his throwback country image. He'd launched a movie career with great roles in "Queen & Slim," "The Hunt" and "The Dead Don't Die." Simpson also gave a jaw-dropping interview in which he torched his record company, the sound of old albums and the producers who'd recorded them.
Everyone handled their quarantine in their own way, but Simpson joined Instagram and started communicating directly with his fans in his decidedly unfiltered way. He's a guy who doesn't like to leave any evidence, so he's now deleted until the last couple of weeks.
Anyway. Back in May, Simpson tested positive for COVID-19 and was recovering from what he described as a crippling bout with the virus. He was down about the year and some of his fans suggested that he fight the blues by recording a new album.
Simpson then challenged his fans (known as the DDSS, a/k/a the D*ck Daddy Survival School) to donate money to the Special Forces Fund, Musicares COVID-19 relief, the Equity Alliance and victims of the Nashville tornado. If they raised a certain amount, he'd record a new album for 2020 instead of taking the year off.
(Pause for a minute and remember there was a tornado that knocked out a big chunk of East Nashville, home of the city's underground music scene. At this point, it may seem like that disaster happened two or three years ago but it was actually March 2-3 of this year. 2020 just won't quit will it?)
That call to action raised $250,000 and Simpson followed it up with a free livestream from the Ryman Auditorium on June 5th. For the show, he put together a combo of white hot Nashville bluegrass musicians and rearranged songs from his back catalog in the mountain music style.
The livestream added another $150,000 to the take for a total of $500,000. And now that he'd raised the money, he owed fans a new album.
Simpson took his new live band into late (Army veteran) John Prine's studio and recorded twenty of those old songs for the new album. Bluegrass fans will be impressed with the band's lineup: Mark Howard on banjo; Scott Vestal on banjo; Mike Bub on bass; Sierra Hull on vocals and mandolin; Tim O'Brien on vocals and guitar; Miles Miller on vocals and snare; and Stuart Duncan on fiddle.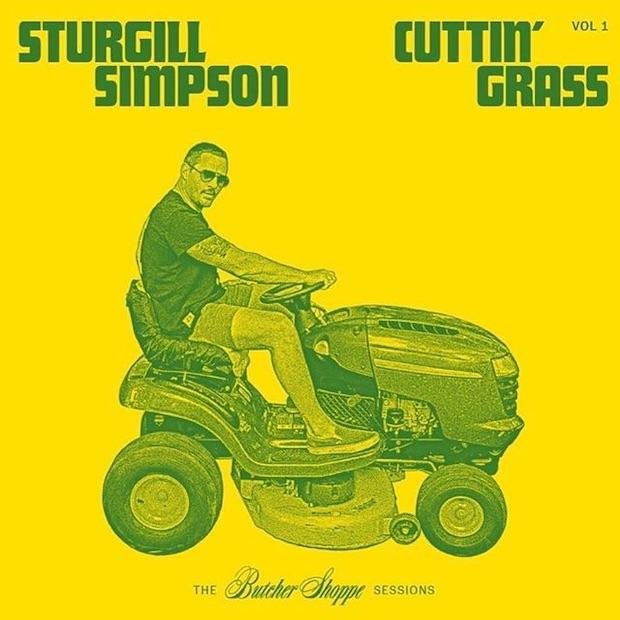 The result is "Cuttin' Grass Vol. 1," just released on Simpson's own independent label after that notorious interview mentioned above got him out of his contract with Warner Music.
The LP is a shocker. After the good-but-nothing-special rock of "Sound & Fury," the old songs on "Cuttin' Grass" sound like man reborn. He was one of the best alternative country artists working the last few years but all of these songs now sound like they were never meant to be anything but bluegrass tunes.
Simpson is a forceful band leader and the LP has none of the stiff formalism that plagues so many modern string bands. Sturgill's a guy who understands that Bill Monroe, the man who first popularized the sound, originally led a fierce band that might as well have been the punk rockers of their day. "Cuttin' Grass" fits squarely into that tradition.
Back in June, Simpson talked about his approach during the concert. "These are how these songs were originally written and I decided -- after climbing the ropes of country music stardom and completely destroying that career to make a rock 'n' roll record -- I have great ambitions of a life of gravel lots and Porta Potties. I'm gonna be a bluegrass musician," he said. "That's the music in my heart and soul. That's the music I was raised on."
"Cuttin' Grass Vol. 1" is streaming now and you can preorder a CD or double LP. Go to SturgillSimpson.com for stream links and to order.
The Special Forces Foundation provides support for the unique challenges faced by Army Green Berets and their families. Musicares provides physical and mental health services to working musicians, many of whom still don't have access to health insurance. The Equity Alliance promotes opportunity for people of color in the Nashville area.
Simpson actually promised to record two albums during the fundraiser and release them this year, so we'll be keeping an eye out for "Cuttin' Grass Vol. 2."
Keep Up With the Best in Military Entertainment
Whether you're looking for news and entertainment, thinking of joining the military or keeping up with military life and benefits, Military.com has you covered. Subscribe to the Military.com newsletter to have military news, updates and resources delivered straight to your inbox.