One of the big questions about "Devotion," the Korean War feature film inspired by the true story of Navy aviators Jesse Brown and Thomas Hudner, was how the movie's flying scenes would look after we all spent the summer with the thrills of "Top Gun: Maverick."
Actor Glen Powell is the most obvious connection between the films. Powell played the cocky young aviator Lt. Jake "Hangman" Seresin in "Maverick" and the much more levelheaded Medal of Honor recipient Lt. Thomas Hudner in "Devotion."
There's another connection between the films that might be equally important. "Top Gun: Maverick" flight coordinator Kevin LaRosa took the same job on "Devotion" and worked with a talented team of technicians who located vintage aircraft used in the film and aviators who have mastered the art of flying these museum pieces.
"Devotion" has far more footage of real airplanes than anyone could have imagined. The technology used to film these planes didn't exist just a few years ago, and it's likely that none of these planes will be airworthy just a few years from now. It's the exact right moment to make a movie like this, and director JD Dillard, son of a Blue Angel veteran, seems to be the exact right choice to make a movie that emphasizes this kind of aerial footage.
Related: Director JD Dillard Was Inspired to Make Korean War Movie 'Devotion' by His Blue Angel Dad
We spoke to LaRosa about his experience of working on "Devotion," and he was quick to credit the team he put together for the film. "My biggest thing was bringing in the right people," he said. "I have to tip my hat to Steve Hinton, Mike Oliver from Erickson Aircraft Collection, Rod Lewis, and Dan Friedkin. These are all industry professionals who are well established and have amazing histories and backgrounds of operating vintage aircraft."
Let's take a minute to note that Friedkin also directed the excellent World War II drama "The Last Vermeer." We had an interesting conversation with Friedkin in 2020 when the movie got a limited release during the COVID-19 pandemic.
Related: WWII Drama Explores a Fine Line Between Collaboration and Resistance
LaRosa continued, "I partnered with them on this movie to assist me in bringing in the right aircraft, making them look correct and also having the right caliber of people fly them. Now there are just amazing warbird pilots all over the world, but there are really only a few that have a lot of experience behind the camera."
LaRosa used the same plane-based camera system developed for "Top Gun: Maverick," a big factor in why "Devotion" looks so good. "The CineJet got to see another naval movie," LaRosa said. "It was on "Devotion" for about four months, and we built a new system onto the CineJet, which was a hard-mounted camera. It was a Sony Venice camera mounted just above the duckbill, which is right above the exhaust to the jet below the rudder.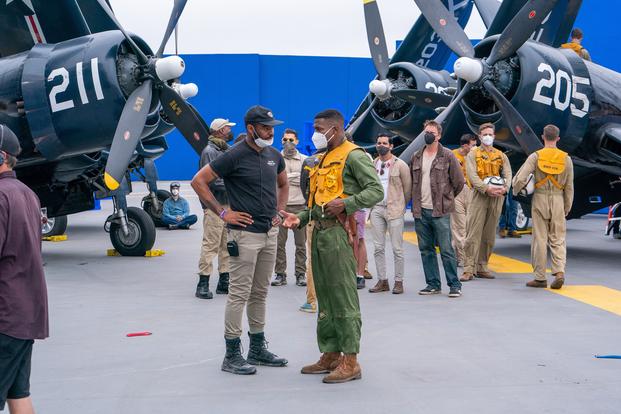 "That's an idea that the director, JD Dillard, loved," LaRosa continued. "We wanted a very close-up visceral look into the cowling and the engine and the prop of these big fighters to be right in your face. And there's some amazing shots of the Skyraider and Corsair of that very thing, just this massive radial, right in your face, air to air. It's an angle we typically don't see."
Read More: 'We'll Be Back For You': Jesse Brown and the Battle of the Chosin Reservoir
Even though the movie was mostly filmed in Savannah, Georgia, the "Devotion" team went to Washington state to film the aerial combat scenes. "The shooting we did in the Pacific Northwest was meant to be Korea, and we did some extensive location scouting in the Cascade mountain range to try to replicate the look and feel of what we're seeing in the history books and in the pictures taken during the Korean War," LaRosa said. "We were trying to find snowy mountains with rivers and the right amount of foliage and trees."
"In our scouting, we came up with this little place called Wenatchee, Washington. Mike FitzMaurice was the aerial director of photography, and I also did 'Top Gun: Maverick' with him. He was scouting on Google Earth, and he put a Korean War picture of this bridge we were shooting for "Devotion" next to an overhead shot of Wenatchee, and he said, 'Guys, look at this; this river bends the same way the city looks the same. There's bridges, and there's industrial buildings on this side.'
"We figured which month that place would be blanketed in snow and when it gets cold and freezing. That's weather you typically never want to bring vintage warbirds to, but that's exactly what we did," LaRosa said. "We waited until the weather got horrible and then we moved in. We had to operate Korean War and World War II era technology, as it was meant to be operated during wartime in the winter months.
"Most of the museum collectors and people that see these airplanes on the airshow circuit never anticipated sending those aircraft into that type of environment and flying them the way we flew them on this movie. It was probably the truest to what they were designed to do in wartime theater. That's pretty cool."
Let's revisit some of the technical terms we previously explained in our profile of director JD Dillard linked above. It's important to know the difference between "in camera," "practical" and CGI. When a filmmaker talks about "in camera," they are saying that the camera captured an image of something that was happening in physical reality. Part of what was so magical about "Top Gun: Maverick" is how much of the flying footage was actual planes flying in the air. "Devotion" adopted many of the same techniques to capture vintage planes in the air.
"Practical" effects are images that are created to be captured by the camera. You can think of a squib exploding fake blood in a movie shootout as a practical effect. Filmmakers also use the term interchangeably with "in camera" sometimes, and that's what Dillard will be doing here.
Finally CGI is computer-generated imagery. Most of the action in a Marvel movie was created inside computers after actors were filmed in front of a green screen that allows techs to paint in the background later. There are some CGI effects in "Devotion," but they're used to flesh out backgrounds and create additional planes in a squadron. The planes near the front of the frame are almost always real.
The production used the footage they captured and kept the images we see onscreen as close to reality as possible.
"What I always like to say is that we lean on practical flying and practical stunts," said LaRosa. "When we have directors like JD Dillard who's saying, 'I want it all to be real, I want realistic airplanes and I want real flying,' that's music to my ears. And that's music to Michael FitzMaurice, the aerial director of photography, because we want that same thing. It just takes money and time to be able to do it. When we're given that opportunity, that's exactly what we try to do. We go out there, and we will shoot everything we can practically. Of course, there are certain things like crash sequences and explosions in the air and stuff that need to be enhanced with CG."
LaRosa hopes that the legacy of "Top Gun: Maverick" and "Devotion" leads to more movies that prioritize real flying over computer-generated airplanes. "There's been a resounding effort by a lot of people to show that real flying and practical aviation looks better on camera," he said. "I think we've seen box office numbers prove to us that people do enjoy it. There's something really cool about going to the movie theater and knowing what I'm seeing on that screen actually happened physically with real people. That feels good. It's fun to watch. It's kind of intriguing. I hope it catches on and becomes the new norm. That's good for business, too."
Keep Up With the Best in Military Entertainment
Whether you're looking for news and entertainment, thinking of joining the military or keeping up with military life and benefits, Military.com has you covered. Subscribe to the Military.com newsletter to have military news, updates and resources delivered straight to your inbox.