World War II has inspired some amazing true-to-life stories of the heroes who defeated fascism and saved the world. "Saving Private Ryan," "Hacksaw Ridge," "Midway" and "Dunkirk" are all strongly based on the real events of the war.
Still, some of the best war movies are only connected marginally to the facts. Quentin Tarantino's "Inglourious Basterds" offers an alternate history where American commandos assassinate Hitler in a Paris movie theater. "Overlord" exposes an imaginary plot that involves Nazi scientists turning zombies into German war weapons. Movies like this manage to be both ridiculous and amazing.
"Hell Hath No Fury" (set for release in theaters on Nov. 5 and on digital on Nov. 9) seems like it's a prime example of the latter category, and it looks amazing. We've got a first look at the trailer.
Marie DuJardin, a young French woman (Nina Bergman), is accused of collaborating with the Nazis by the French Resistance. They shave her head and are preparing to tar and feather her when she's rescued by American troops on one condition: Marie must help them track down a cache of stolen Nazi gold.
Of course, the Resistance and the Nazis are also on the hunt for the treasure. Marie eventually goes rogue and, once she's got her own gun, takes on the entire lot of the greedy men all by herself. There will be blood.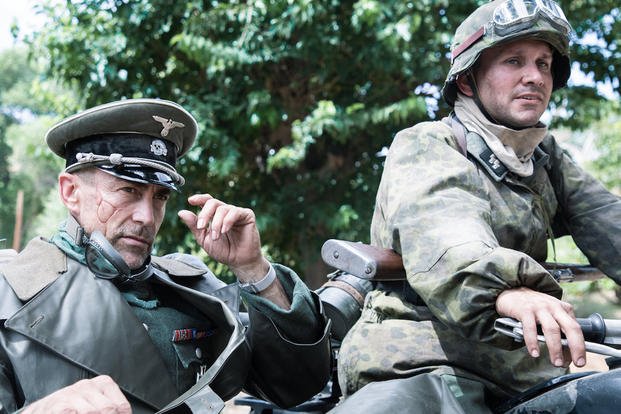 "Hell Hath No Fury" was directed by Jesse V. Johnson, the former stuntman who's given us modern action classics like "Triple Threat" (2019) "Avengement" (2019) and "Accident Man" (2018). Johnson knows how to stage a fight, and he makes entertaining movies for budgets that are less than the catering bill on a Marvel movie.
Bergman's highest-profile role before now was in the 2018 video game "Call of Duty: Black Ops 4," so this is a chance to prove her star power. Johnson fills out the cast with European and Australian actors who offer their own unique versions of G.I. Joe accents.
One of Johnson's regular actors returns in "Hell Hath No Fury." Dominiquie Vandenberg is a Belgian who served in the French Foreign Legion in the 2REP, the Legion's elite paratrooper unit. Over the course of his service in Africa, he fought rebels in Chad, Nigeria and the Central African Republic. He shared his story in the 2005 autobiography "The Iron Circle: The True Life Story of Dominiquie Vandenberg."
Does every war movie need to be a solemn tribute to the sacrifices required to win the peace? No, sometimes you just want to see some bad guys get mowed down in a story that won't make you think too much about reality. "Hell Hath No Fury" looks like a promising entry in the field.
Keep Up With the Best in Military Entertainment
Whether you're looking for news and entertainment, thinking of joining the military or keeping up with military life and benefits, Military.com has you covered. Subscribe to the Military.com newsletter to have military news, updates and resources delivered straight to your inbox.