Tom Hanks reunites with "Captain Phillips" director Paul Greengrass for the new movie "News of the World," due for release by Universal Pictures on Christmas Day.
Based on Paulette Jiles' best-selling 2016 novel and National Book Award finalist, the movie features Hanks as Capt. Jefferson Kyle Kidd, a Civil War veteran who makes his living by traveling to remote towns and retelling newspaper stories for Western folk hungry to make a connection with the outside world.
Kidd encounters Johanna (played by Helena Zengel), a 10-year-old girl who's been raised by Kiowa native Americans after her family was killed. If he reunites her with distant relatives in San Antonio, he'll get a hefty payment.
The movie follows their journey and the friendship that develops as Kidd reteaches her the English language and reintroduces her to American customs.
Check out the debut trailer below:
Greengrass adapted the screenplay from the novel in partnership with Luke Davies. Davies wrote the Oscar-nominated screenplay for "Lion" and co-created the 2019 Hulu television series version of "Catch-22."
Related: How 'Catch-22' Captured the Bone-Shaking B-25 Flight Experience
Greengrass has made his reputation with frenetic action sequences often shot with hand-held cameras in movies like the Bourne films, "Green Zone" and "United 93," the 9/11 movie that earned him a Best Director Oscar nomination. Will he adapt his style to the slow, sweeping vistas that mark the traditional western movie or will he bend the genre to his own well-established style?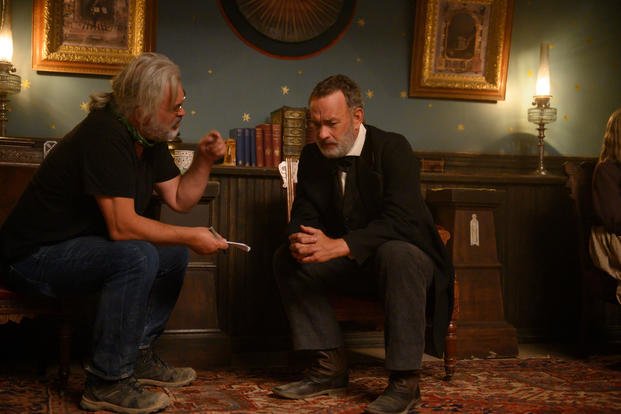 Of course, the question remains: How many movie theaters will be open by Christmas Day and will any of them be open in the big moviegoing cities like New York and Los Angeles? Will "News of the World" get an early home streaming release or be one of the first films to return to the traditional, pre-pandemic release model? That's yet another 2020 mystery that will be solved once we know if the virus is making a cold-weather comeback. Stay tuned for more information as we find out what happens.
Keep Up With the Best in Military Entertainment
Whether you're looking for news and entertainment, thinking of joining the military or keeping up with military life and benefits, Military.com has you covered. Subscribe to the Military.com newsletter to have military news, updates and resources delivered straight to your inbox.