If you're reading this now, you've survived the trauma and 2020 was truly "No Time to Die." The 25th James Bond movie has set a new theatrical launch date for November 20th and released a new trailer.
"No Time to Die" was the first movie to delay release at the beginning of the COVID-19 pandemic, back when some of us were still treating it as a joke. Once the film's Beijing premiere was canceled in early March, the producers realized that the disease that had shut down China in January and February was on track to take over the world.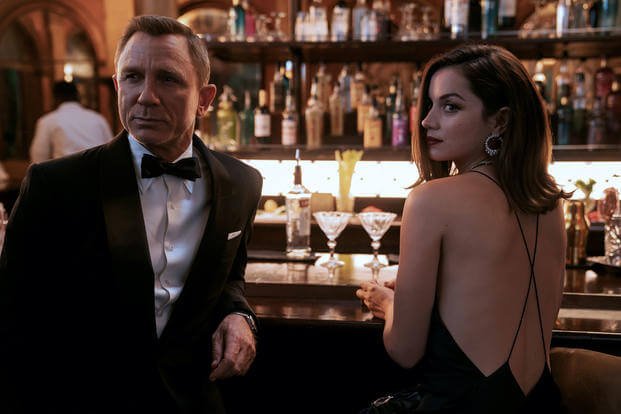 A few Western governments would have benefited from that kind of foresight, but that's all in the past now. Movie theaters in major markets have been closed since March but cities in the heartland have seen their cinemas begin to reopen.
So, here we are with a new trailer, one that reveals a lot more about what we can expect from "No Time to Die" than anything we saw back in the winter.
There's not really any such thing as a bad James Bond movie (fight me, I'll die on this hill), but let's face it: "Spectre," despite some amazing visuals, was one of the slower and least fun entries in the series. Too much nonsensical psychology, not enough ass-kicking.
This new trailer offers a rough map of the new movie and it looks like Daniel Craig was lured back to the role by some serious nonstop action scenes. Rami Malek is an old-fashioned Bond villain who wants to do something nasty that will "kill millions." Ana de Armas, newly minted as a movie star after the success of "Knives Out," performs deadly martial arts kicks while wearing high heels.
Bond is out of the service and gets lured back into action by some unresolved business from his past. He teams up with the service's new 00 agent Nomi, played Lashana Lynch (Maria Rambeau in "Captain Marvel"), and they set out to settle the past.
Léa Seydoux (Madeline Swann), Jeffrey Wright (Felix Leiter), Ralph Fiennes (M), Naomie Harris (Moneypenny), Ben Whishaw (Q), Rory Kinnear (Tanner) and Christoph Waltz (Ernst Stavro Blofeld) all return in their familiar Bond roles.
Will James Bond lure you back to the theaters this November, or will you wait for it to arrive on home video? Will theaters that require a mask keep you at home or are you desperate enough to get out of the house that you'll agree to all the safety rules? Let us know what you're thinking about "No Time to Die" in the comments.
Keep Up With the Best in Military Entertainment
Whether you're looking for news and entertainment, thinking of joining the military or keeping up with military life and benefits, Military.com has you covered. Subscribe to the Military.com newsletter to have military news, updates and resources delivered straight to your inbox.