In 1954, Joe Carlin's best friend John McGovern got tickets to the Army-Navy Game in Philadelphia, thanks to a relative. For two guys born and raised in Jersey City, it was a big deal. People didn't leave Jersey City much back then.
McGovern found a date to bring to the game, so Carlin decided he would bring his new girl, Rece Sherry, whom he had met earlier that year. Today, 68 years later, they are married, still living in New Jersey -- and never miss an Army-Navy Game.
Carlin enlisted in the Navy in 1952, becoming a radioman aboard the destroyer USS Hunt. For two years, he was a part of the Hunt's antisubmarine and aircraft protection mission. He had wanted to be in the Navy from an early age, he said, because "the Army sleeps in the mud. The Navy gets to sleep in a rack."
Carlin and McGovern had known each other for years, both being from Jersey City. Aside from trips to nearby New York City, they didn't really leave their hometown much. When McGovern's aunt, a nurse who worked at the U.S. Military Academy at West Point, scored her nephew four tickets to the big game in Philadelphia, there was no way they would miss it.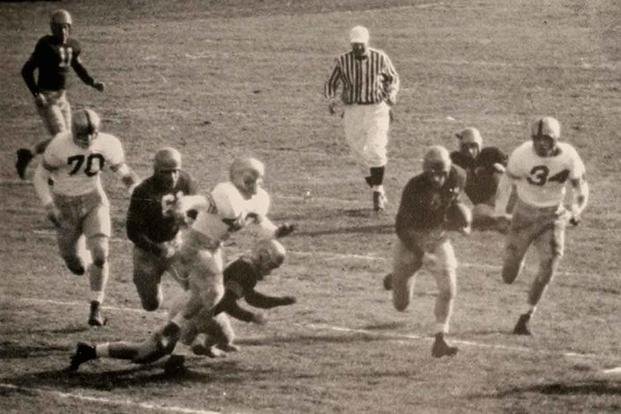 Back in the 1950s, the Army-Navy Game was a much bigger deal in the world of college sports than it is today. America was filled with World War II veterans who were affiliated with the Army or the Navy. The Air Force had been formed in 1947 and didn't get a football team until 1955.
These days, the industry of college football and the NFL draft system can make it difficult for Army and Navy to compete with the huge SEC and Big Ten Conferences. This is because service academy athletes must meet the height and weight restrictions of their military branches. Navy finished 5th in the NCAA Bowl Championship Series football rankings in 1954. Army finished 7th.
So yeah, Carlin was going big, inviting Sherry to a double date at the Army-Navy Game. They weren't disappointed: An exciting first half saw Navy go into halftime with a one-point lead over Army. The Midshipmen held the Black Knights scoreless for the rest of the game.
Not to say that Navy's win had anything to do with their relationship, but Sherry married Carlin the very next year. They've been together ever since.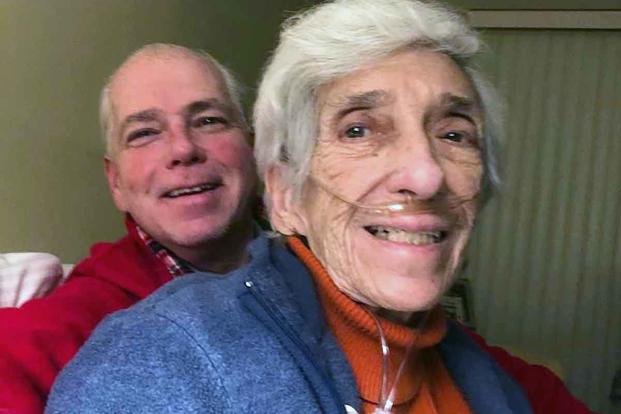 Carlin worked his way through night school at Seton Hall University to become a teacher. Together, the couple raised five children in New Jersey and have 11 grandchildren and four great-grandchildren.
Today, Carlin is a lung and esophageal cancer survivor, who's "doing pretty well" at age 90. Rece sadly passed away at 87 years old.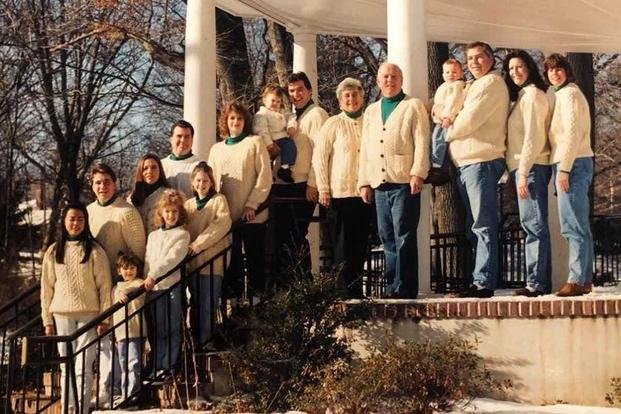 The 123rd Army-Navy Game kicks off at Philadelphia's Lincoln Financial Field at 3 p.m. Dec. 10, 2022. The game will air nationally on CBS.
-- Blake Stilwell can be reached at blake.stilwell@military.com. He can also be found on Twitter @blakestilwell or on Facebook.
Want to Learn More About Military Life?
Whether you're thinking of joining the military, looking for post-military careers or keeping up with military life and benefits, Military.com has you covered. Subscribe to Military.com to have military news, updates and resources delivered directly to your inbox.