"King Creole" is our last glimpse of untamed Elvis, filmed just before the U.S. Army got hold of the swivel-hipped rock animal and boot camp turned a threat to American values into your grandma's favorite Pvt. Presley. The movie has just been remastered and reissued as part of the new Paramount Presents collection.
Let's be fair to The King. Once it was announced that Presley was scheduled for induction on Jan. 20, 1958, Elvis and his manager, Col. Tom Parker, asked the Memphis Draft Board for an extension so he could make "King Creole." They agreed. The public was outraged, but the board insisted that they'd give that extension to anyone with a good reason.
"King Creole" turned out to be a very good reason to delay Presley's service. It's the best movie he ever made.
Based on the Harold Robbins novel "A Stone for Danny Fisher," the Brooklyn boxing story was scheduled to be a movie starring James Dean. After Dean's death, the story was retooled for Elvis and became a tale about a young singer in New Orleans.
Strange but true fact: The screenplay was co-written by a young Michael Gazzo, the actor who would later earn an Oscar nomination for his performance as Frank Pentangeli in "The Godfather: Part II."
Director Michael Curtiz previously won an Oscar for "Casablanca," and the cast featured two Oscar-winning actors. Dean Jagger portrays Elvis' sad-sack father, and Walter Matthau is the mobbed-up club owner who wants the singer to perform in his joint. Carolyn Jones (an Oscar nominee the previous year for "The Bachelor Party") appears as the mobster's girlfriend.
Did World War II and U.S. Army Air Force veteran Matthau, who served with the Eighth Air Force in Great Britain on the crew of a B-24 Liberator, have any boot camp tips for the young soldier-to-be?
The songs, including "King Creole," 'Trouble," "Hard Headed Woman," "Crawfish" and "New Orleans," are far better than most of the dreck Elvis sang in his post-Army movies. The songwriters (including the teams of Jerry Leiber and Mike Stoller, along with Fred Wise and Ben Weisman) remembered the rebellious energy that made Presley a recording star in the first place. These songs still rock.
Unfortunately, no one wanted to see Elvis in a gritty drama that reveled in the seedy underside of New Orleans nightlife. "King Creole" bombed at the box office, grossing $2.6 million compared to the $8.6 million smash of "Jailhouse Rock."
Col. Tom made damn sure that his boy would never be so exposed again. Art was for artists, and Parker had a business to run. After his Army service, Elvis returned to the screen with "G.I. Blues," the kind of mindless, by-the-numbers movie that would dog him for the rest of his career.
The new restoration is truly spectacular. The Paramount Presents series is releasing Blu-rays in conjunction with planned theatrical showings of some of the studio's most iconic titles. Obviously, those plans are on hold for now, but the home video releases are on schedule.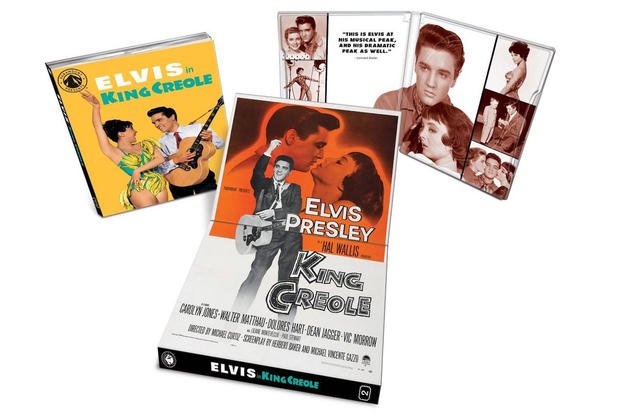 Alfred Hitchcock's "To Catch a Thief" and Adrian Lyne's "Fatal Attraction" are also available now. Upcoming releases include "Flashdance," "Airplane!," "Ghost,: and "several titles arriving on Blu-ray for the first time ever," including "Pretty In Pink" and "The Golden Child."
Keep Up With the Best in Military Entertainment
Whether you're looking for news and entertainment, thinking of joining the military or keeping up with military life and benefits, Military.com has you covered. Subscribe to the Military.com newsletter to have military news, updates and resources delivered straight to your inbox.