There are many things exceptional about John "Wild Bill" Crump's service in World War II. He graduated from high school early so he could enlist in the Army Air Forces, he was sent right from gunnery school to become an aviation cadet and flew three different planes during his time in the war, from 1944 through the end.
He also smuggled a live coyote pup aboard his troopship when he departed for England.
While Crump was still in pilot training in Texas, the Great Depression was in full swing. Crump was hired by local farmers to help with the live coyotes that were running rampant on their farms. One day, a farmer gave the young man a two-week-old coyote pup to "dispose" of, but Crump didn't kill the pup. He adopted it instead.
Once in the U.S. Army and bound for England, the newly minted fighter pilot smuggled his pet aboard the Queen Elizabeth, a luxury liner converted into a troopship. By this time, the coyote had a name: Jeep, after Popeye the Sailor's pet, Eugene the Jeep.
After the pair arrived in the United Kingdom, Jeep was fully embraced by the members of the 356th Fighter Group at ​​RAF Martlesham Heath Airfield. Like any other soldier, Jeep had his own dog tags, log book and immunization record. The young coyote even flew on at least five missions in Crump's Republic P-47 Thunderbolt named "Jackie."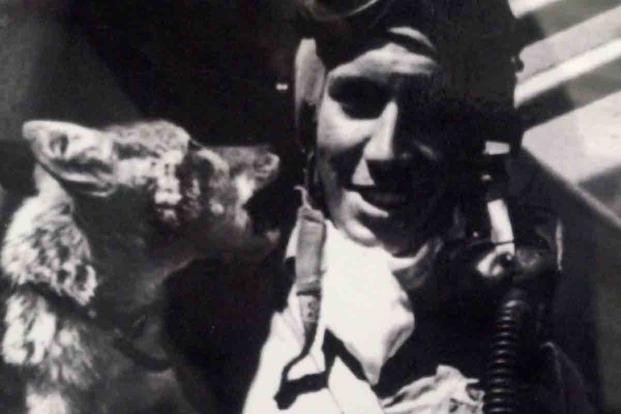 Aside from downing Nazi aircraft, Jeep and Crump did everything together, posing for photos and practicing their coyote howls. Sadly, Jeep was run over by a military vehicle in Ipswich, England, after flying his fifth mission in October 1944. Jeep was given a burial with full military honors at the barracks where Crump was billeted.
A memorial plaque for Jeep and his wartime service can still be found at Playford Hall to this day. When Lt. Crump began flying the new P-51 Mustang fighter, he transferred the name "Jackie" to the new plane. But his new Mustang also featured the profile of a howling coyote, an homage to his departed coyote pal.
Crump would go on to survive the war, even rescuing a fellow pilot whose plane lost control over the North Sea. Lt. Huie Lamb was flying an escort mission for his wingman whose radio suddenly stopped working when he plummeted into the water. "Wild Bill" saw Lamb's plane go down and radioed the mayday.
Back on the ground, Crump helped Lamb from the amphibious plane that rescued him into a waiting ambulance.
Crump died in 2008, but not before returning to Ipswich in 1992 to visit the grave of his old friend, Jeep.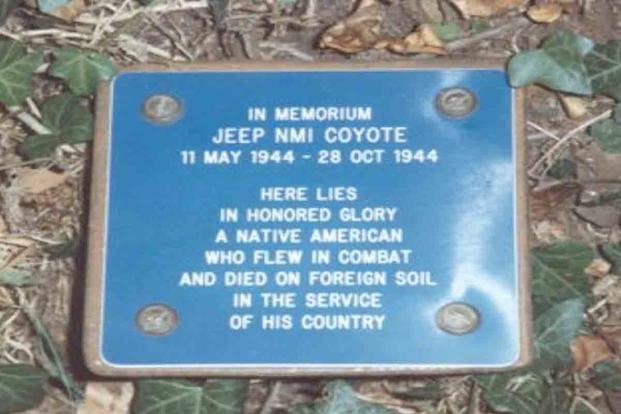 -- Blake Stilwell can be reached at blake.stilwell@military.com. He can also be found on Twitter @blakestilwell or on Facebook.
Want to Learn More About Military Life?
Whether you're thinking of joining the military, looking for post-military careers or keeping up with military life and benefits, Military.com has you covered. Subscribe to Military.com to have military news, updates and resources delivered directly to your inbox.