Inspired by Gen. Henry "Hap" Arnold's ingenuity and technological zeal, a facility bearing his name has been at the forefront of the research and development of numerous military aircraft, including the F-35 Lightning II and the F-22A Raptor.
Because of Arnold's charitable nature, thousands of undergraduate college students receive assistance today through a grant program named in his honor.
Arnold, who died in 1950 at the age of 63, is the Air Force's only five-star general.
"His fascination and his ability to understand aviation technology was crucial," Alex Spencer, curator for British and European military aircraft at the National Air and Space Museum, told Military.com. "He was the right person for the job at that time."
Here are five things you may not know about Arnold.
1. He Overcame a Fear of Flying
Taught to fly by the Wright brothers, Arnold was piloting a Burgess Model H hydroplane in 1912, according to Smithsonian Magazine. As the plane lifted off, a wingtip caught the surface of the water, causing it to crash.
Although Arnold sustained only minor injuries, the close call rattled him. "I cannot even look at a machine in the air without feeling that some accident is going to happen to it," he told a commanding officer then.
Other incidents also contributed to Arnold's aerophobia, potentially ending his flying career during its relative infancy.
"He just did not want to fly anymore, but that did not stop his interest in aviation at all," Spencer said. "Aviation was such a new thing at that point that it did kind of stay with him after that. He did continue to fly after that, though he did not enjoy it as much as he had previously."
2. He Was Pivotal in the B-29's Development
As World War II approached, America's air capabilities were woefully inadequate, with only about half of the 5,000 U.S. military aircraft suitable for combat. President Franklin D. Roosevelt wanted that fixed, and Arnold -- as commanding general of Army Air Forces during the war -- was charged with solving the problem. The B-29 Superfortress, a bomber conceived by Arnold in 1939, was central to that mission.
Viewing the B-29 as critical to his goal of an independent Air Force, which didn't become its own service branch until 1947, Arnold adopted a hands-on approach. His input proved invaluable.
"[B-29 production] was disorganized," Spencer said. "Arnold recognized that and put people in place to get these problems straightened out. That's one legacy that today's military could learn from. When the problem is there, be willing to recognize that there is a problem and do your utmost to correct it before it comes back and makes your life more difficult."
From 1942 until production ended in 1946, nearly 4,000 B-29 Superfortresses were built. Overall, America's air capability grew from 3,900 planes to about 75,000 aircraft under Arnold's leadership. The increase in manpower was even more dramatic, from 22,000 to about 2.5 million.
3. Arnold Risked His Career During a Court-Martial
Nearly two decades before World War II, Arnold nearly sabotaged his career by testifying for the defense in the court-martial of Col. Billy Mitchell.
Arnold was considered an acolyte of Mitchell, an Army officer overzealous in his support for increasing U.S. airpower. Mitchell's cutting comments of higher-ups did not make him a popular figure among military brass; he once said, "The General Staff knows as much about the air as a hog does about skating."
Mitchell's remarks were especially critical in September 1925 after two incidents, including the crash of the USS Shenandoah, a Navy airship. He was court-martialed after blasting military leaders for having an "almost treasonable administration of U.S. national defense" because they invested in Navy battleships in lieu of aircraft carriers.
Mitchell was convicted of insubordination and received a five-year suspension, but he resigned his commission instead.
Arnold's testimony on behalf of Mitchell had potentially severe consequences.
"He could have sunk his career entirely," Spencer said. "He was on the outs within the military for quite a few years after that incident." Spencer was not aware of any single incident that helped repair the rift, but said Arnold's knowledge of aviation technology worked to his benefit. The depth of his insight would have been difficult to replace.
"That's probably what helped him out more than anything else," Spencer said.
4. Arnold Founded the Air Force Aid Society
In the early stages of a war that would kill more than 318,000 Army and Air Force service members and wound nearly 566,000 others, Arnold and his wife, Bee, wanted to help care for those in need. They founded what became the Air Force Aid Society in 1942.
According to the society, it provided $13.5 million in assistance in 2021. Nearly all of the $5.7 million distribution of education funds came through the Gen. Hap Arnold Education Grant.
Grants up to $2,000 are awarded to eligible Air Force and Space Force dependents annually. Students must be enrolled full time, said Sarah McNulty, AFAS education program manager.
"We typically get around 2,000 applications a year, and as long as the family has need ...," McNulty told Military.com. "Even if they have just $1 of need, they would receive a $500 scholarship, which is our lowest grant."
The AFAS also offers merit-based scholarships and education loans.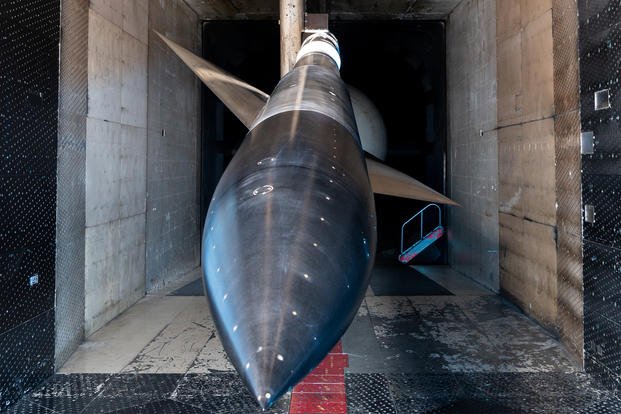 5. Complex Carries on Arnold's Legacy
Headquartered at Arnold Air Force Base in Tennessee, the Arnold Engineering Development Complex (AEDC) has locations in seven other states. From the start, the researchers and developers were tasked with a bold mission.
"The scientists who work here will explore what lies on the other side of the speed of sound," President Harry Truman said when the complex was dedicated in 1951.
Through its network of wind tunnels, environmental champions, ballistic ranges and other resources, flight conditions can be replicated "from sea level to 300 miles and from subsonic velocities to Mach 20."
The complex's website touts that it has been involved in developing several military aircraft, along with the Mercury, Gemini and Apollo manned space missions, the space shuttle and space station. It also has been involved with intercontinental ballistic missiles and weather satellites.
"[Arnold] recognized the importance of surveying what our enemies at the time were doing, and then took the necessary steps to ensure the U.S. had capabilities above and beyond anything else in the world," AEDC commander Col. Randel J. Gordon said in an email.
-- Stephen Ruiz can be reached at stephen.ruiz@military.com.
Want to Know More About the Military?
Be sure to get the latest news about the U.S. military, as well as critical info about how to join and all the benefits of service. Subscribe to Military.com and receive customized updates delivered straight to your inbox.