The Marine Corps is building a new state-of-the-art facility where it will run classified wargaming scenarios in preparation for a fight with a high-tech enemy.
A new Marine Corps Wargaming and Analysis Center is expected to be up and running in Quantico, Virginia, by 2024. The 100,000-square foot center, which will be built on the Marine Corps University campus, will host more than a dozen wargames every year -- including two large-scale, 250-person exercises, a new announcement on the center states.
"Simulations will offer a realistic representation of future operating environments," the notice adds.
Read Next: Army Set to Receive First Armored Vehicles to Replace Vietnam-Era M113
Lt. Gen. Eric Smith, the head of Marine Corps Combat Development Command, told Military.com earlier this year that the wargaming center will have sophisticated modeling and simulation tools.
"You can change one or two variables and run that thing hundreds of times," he said.
That will include seeing the results of adding or removing personnel on a simulated battlefield, Smith added, or testing the effect of an enemy missile traveling further than originally thought. The wargames will lead to better real-world experiments with Marines, he said.
"The wargaming center will also allow us to work at all levels of security, meaning from unclassified all the way up to the highest levels of security for specific programs that are very closely held," Smith said.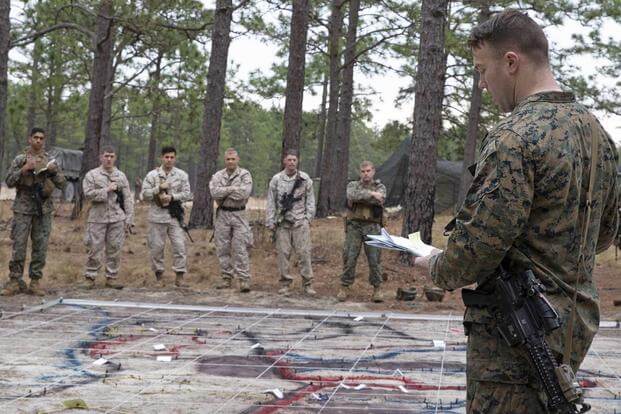 Leaders currently travel to the Naval War College in Rhode Island to run classified-level wargames.
The future two-story building at Marine Corps Base Quantico will include an auditorium, gaming classrooms and a graphics production room, according to a May solicitation. The construction on the building is slated to cost less than $50 million, but the Marine Corps asked for $143 million to fund the center in its 2020 budget request.
BAE Systems, which announced last month it won a $19 million contract to build a prototype for the new wargaming center, said it will include artificial intelligence, machine learning, game theory, multi-domain modeling and simulation and predictive data analytics.
The Marine Corps is in the midst of a force-wide overhaul that is reorganizing the service to face off against a sophisticated enemy. It's getting rid of tank battalions and bridging companies, and cutting thousands of personnel. Commandant Gen. David Berger has said the Marine Corps must be able to travel light as it preps for more time at sea and sends small teams ashore in hotly contested spots.
Berger's plan, called Force Design 2030, puts a big emphasis on wargaming. Leaders will use it to analyze whether they're getting the changes to the force right, the plan states.
"Our adversaries studied us, and they believe that our vulnerabilities are command and control and our reliance on networks and logistics," Berger told reporters this spring. "So, if you want to fight America, if you want to take on America, you better go after those two things.
"Well, that should be now higher on the list for our wargames."
The Marine Corps plans to break ground on the new wargaming center in the next fiscal year, which starts on Oct. 1. It's expected to reach initial operating capability in 2024 and be fully operational in 2025.
-- Gina Harkins can be reached at gina.harkins@military.com. Follow her on Twitter @ginaaharkins.
Related: Marines to Shut Down All Tank Units, Cut Infantry Battalions in Major Overhaul