Around 200,000 troops leave the U.S. military every year, many of them looking for civilian jobs. Meanwhile, companies want to hire every one of those 200,000 they can, but have a hard time finding them. With so many veterans entering the workforce, finding some shouldn't be an issue, but it very much is.
Read: 10 Reasons Why Employers Want to Hire Veterans, Based on Real Research
That's where Lindsay Helm and Empower Employ come in. Helm founded Empower Employ with the idea of using information technology to connect civilian employers to the military community. Not only did she realize the problem companies had, she realized she (and her skill set) was a solution.
"Airbnb, GitHub, all these places that want to hire military actually have zero infrastructure to support it," Helm tells Military.com. "What they're saying is, 'Well, we can't find them. Nobody makes it through our ATS system' and I'm like, 'Bruh: let's talk about it.'"
Anyone who's applied for a job on a website in the past dozen or so years has experienced trying to get through an automated Applicant Tracking System (ATS). These computer systems are the reason every resume adviser tells you to put keywords from the job posting in your resume; an ATS will discard your resume if it doesn't match the keywords.
If you've ever applied for a job online and never heard back, your resume was probably a victim of an Applicant Tracking System. No human ever saw your resume, because it didn't include some or all of the keywords the computer needed to advance your resume to an actual person in an HR department.
Veterans and military-connected people, like spouses, often include military jargon on their resumes. Is it relevant? Absolutely. Will it get past ATS software? Absolutely not. Helm noticed this trend while working as a volunteer recruiter after leaving the military.
"I had zero problem with veteran resumes," she says. "I could look at an Air Force or Navy resume and understand, but if you put it into a piece of technology [like an ATS], it's not going to translate."
The problem doesn't stop there. When a military-connected applicant makes it to the interview stage, the language barrier might still persist. The applicant might be talking to someone who's never served in the military and may not understand answers to their questions. To make matters worse, she says, veterans tend not to focus on their own accomplishments in interviews. Her solution was to create something that could bridge that gap.
"There aren't a lot of companies, believe it or not, that have internal training programs," Helm says. "They spend millions to fly people to training conferences instead of developing an on-house program customized to their company culture."
Empower Employ builds that customized solution. It provides training and resources for both veteran applicants and the companies who want to hire them. It also provides essential programs for companies looking to reach out to the military community, such as Employee Resource Groups designed for veterans.
Would-be applicants can find help through Empower Employ's Mpower app. They fill out a profile that includes basic information, desired salary and a drop-down menu of skills to choose from, and they're in. The app has resources for veteran employees, connections to recruiters, opportunities for mentorship and more. It all comes at no cost to the veteran, as recruiters and companies pay for the service.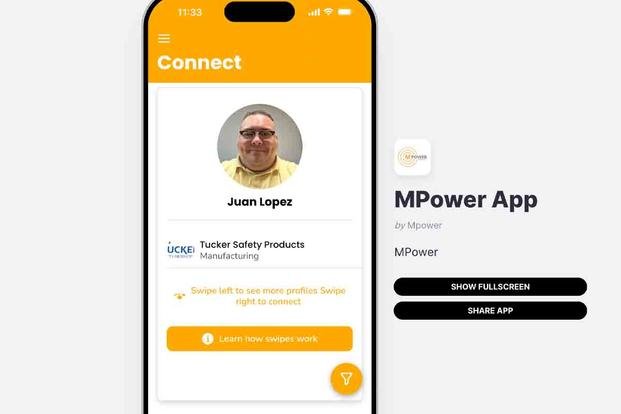 The app is not resume-based. Recruiters connect with applicants after searching through a series of filters and, if approved, send them on to their company's hiring manager based on that meeting. The recruiter mentors and coaches the applicant before meeting the hiring manager, so they are better able to describe their skills and experience without the military jargon.
Helm's instinct about the need for this kind of bridge turned out to be remarkably prescient. Empower Employ won the Heartland Ventures and RTRX Veterans in Tech Pitch Competition in Columbus, Ohio, in September 2022, which came with a significant investment in the company's future.
"I'm taking everything and just putting it in one place," Helm says. "Recruiters build relationships with applicants and will be able to advocate for them to the hiring managers. They can be sure this person has the skills they're looking for."
-- Blake Stilwell can be reached at blake.stilwell@military.com. He can also be found on Twitter @blakestilwell or on Facebook.
Want to Know More About Veteran Jobs?
Be sure to get the latest news about post-military careers as well as critical info about veteran jobs and all the benefits of service. Subscribe to Military.com and receive customized updates delivered straight to your inbox.