Let's ignore for a minute the debate over whether Steve Rogers, better known as Captain America, makes it to retirement or never gets to see his 74th year on active duty after being killed in action. Let's assume that he, just like all living veterans, eventually gets out of the military.
What post-military career is right for a hero like Captain America?
Like all good career transition plans, Cappy's best bet is to first take a look at his military job history. As a lowly Army private, Rogers volunteered to take Professor Abraham Erskine's experimental Super-Soldier serum and became a World War II hero who fights for American ideals by fighting Nazi-esque Hydra. Like many troops, it would be easy to pigeonhole his experience as perfectly suited for law enforcement, security or some other door kicker work.
But we all know his experience is more than that. Surely, this eternal O-3 is qualified for something more than spending the rest of his life fighting.
That's why it's important to know how your personality can help find you dial down your career options, something Marvel's Defenders can help with. And it's why Rogers' next step -- and yours -- should be looking at personality indicators.
Let's take a look at Captain America's personality traits:
He is a protector. He goes out of his way to risk his life to save other people.
He has a clearly defined sense of duty and chooses the moral path.
He praises the work of team members and doesn't seek the spotlight.
He has a strong sense of discernment and is able to select, empower and lead a diverse team.
He has a tactical mindset and keen ability to plan, organize and complete a mission.
The Cap would thrive in a career as a self-starter, so he would likely be an entrepreneur. Even more specific, his best course would be as an entrepreneur who works for the public good, continuing his mission of fighting for those who cannot fight for themselves.
While Captain America and the Super-Soldier Serum are fiction (or so "they" want us to believe), there are real-life military veterans who used their transition to become entrepreneurs working for the greater good.
Here are two examples:
1. Marine Corps veteran Sgt. Jake Wood, founder and CEO of Team Rubicon.
A native of Bettendorf, Iowa, Wood deployed to Iraq in 2007 and Afghanistan in 2008. He graduated from scout sniper school at the top of his class and, in 2007, was awarded the Navy and Marine Corps Commendation Medal with Valor for his actions in Iraq.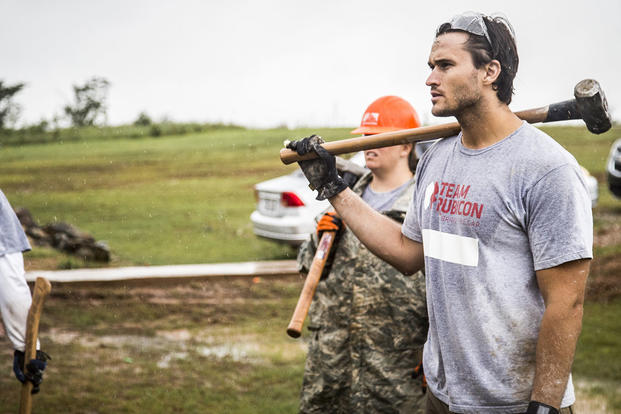 In a previous interview with Military.com, Wood shared how his experiences as a Marine Corps sniper exposed him to the best and worst of humanity. The culmination of his experiences at war, as well as losing some of his best veteran friends to suicide, led him to create and lead Team Rubicon, an organization that harnesses the expertise of veterans and gives them back a sense of community, purpose and mission, all while helping people suffering from the devastating effects of natural disasters.
Most recently, Wood was the recipient of the 2018 ESPYS Pat Tillman Award for Service. According to the Pat Tillman Foundation website, the award "honors an individual with a strong connection to sports who has served others in a way that echoes Pat's legacy."
"Know your neighbor, love your neighbor, help your neighbor," said Wood in an interview with ESPY. "Doing that is the best tribute we can pay to Pat Tillman."
It's easy to see why The Sentinel of Liberty might have chosen to become exactly like Wood, who, instead of fighting Hydra, works to defeat veteran isolation and suicide. He creates tactical multi-dimensional solutions that benefit the greater good.
2. Army veteran Major Mike Erwin, founder of Team Red, White, and Blue.
Erwin founded Team RWB in 2010 while he was an Army captain. He is currently a member of Team RWB's board of directors. He served on active duty for 13 years, including three deployments to Iraq and Afghanistan. In addition to Erwin's work with Team RWB, he is president of The Positivity Project and chief executive officer of The Character & Leadership Center. He is also co-author of the book, Lead Yourself First: Inspiring Leadership Through Solitude.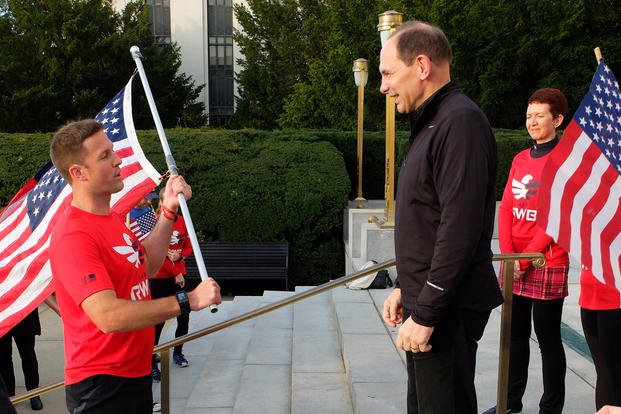 Military veterans often struggle with their transition to civilian life because they've lost their community and sense of purpose. Team RWB's mission is to reconnect veterans with a community of like-minded civilians and veterans through physical activity to create "quality relationships and experiences that contribute to life satisfaction and overall well-being."
Erwin knew (and research proves it) that building community and camaraderie helps veterans live a happier life. When veterans are living their best lives, it has a ripple effect through their jobs, families, and the lives of other veterans.
Erwin has received numerous awards and recognition for his efforts, including landing on HillVets' Non-profit Innovators list.
He shuns the limelight and instead shifts the focus to the thousands of volunteers who make Team RWB a success.
That's why Captain America might also have chosen to start a veteran-focused NGO like Team RWB, helping to bridge the gap between the military and civilian worlds while improving the health and well-being of veterans.
The Next Step: Find the Right Veteran Job
Whether you want to polish up your resume, find veteran job fairs in your area, or connect with employers looking to hire veterans, Military.com can help. Sign up for a free Military.com membership to have job postings, guides and advice, and more delivered directly to your inbox.
Sound Off: What job do you think Captain America would have in real life?
-- Sean Mclain Brown can be reached at sean.brown@military.com. Follow him on Twitter at @seanmclainbrown.