For about 16 years, Army veteran Joe Meisch has been donating an invention of his own creation to military units and veteran recovery centers across America.
Meisch invented a one-of-a-kind device designed to massage the temples to relieve the pain created by temporomandibular disorders -- the contact between the teeth, jaw joints and facial muscles -- that can cause locked jaws, difficulty chewing and pain and swelling in the face and are linked to traumatic brain injuries, PTSD and other military-connected traumas.
Ever since building his first Temple Massager, he's been giving them away to veterans free of charge. Until now, he's done it all from his wages as a construction worker. He just couldn't bring himself to make his fellow veterans pay for the device, he said. He's given away 3,500 of the devices and declined to discuss how much each costs to produce. His costs aren't what matters most.
"I served with two guys who gave all," Meisch says. "I looked at my brothers and sisters coming back from serving, and they, like me, need care. I've had people trying to tell me to offshore it to make it a cheap sale, but I get angry and frustrated at that. I decided that there would be no one who could ever stop me from giving it away for free."
Now he's landed a $50,000, six-month, Phase 1 small business innovation contract with the Air Force, which will distribute the device to treat a variety of ailments as a drug-free therapy.
The birth of Meisch's product is tied to his own years in service, he said. At the end of his 13-year Army career, he was suffering from the stress of his time as a combat engineer and from carrying the weight of losing fellow soldiers; Pvt. Curtis Young was killed in a training accident, and Sgt. 1st Class Michael Ottolini was killed in action in Iraq. Meisch was physically and mentally exhausted.
One day while driving in his car, he began to use his sunglasses to rub his temples. The relief he felt was noticeable, and he decided he would buy a temple massager as soon as possible, he said. The only problem with that plan, he found, was that temple massagers didn't exist. So he created his own.
To make a temple massager these days is a lot easier than when he first began 16 years ago. Meisch orders the molded plastic parts and ships them to his California-based workshop. Depending on how many orders he gets or his donation target, he might even enlist a few of his veteran friends to come help assemble these mechanical wonders.
The Temple Massager works by creating a powerful relaxation response for the user by stimulating the trigeminal nerve, the largest nerve in the cranium. Simply set the pressure on the handle of the device, then add a few drops of a favorite aromatherapy oil onto the pad, also located near the handle. The user then presses the massager over their forehead and brings it down to the temple area. Users can also tighten the device a little and bring it down the cheek and along the jawbone.
The letters and feedback he gets from those who have received one of his massagers to handle their pain is so overwhelmingly positive for Meisch, no one could take it away from him. He kept building them and donating them to units that needed them. For a veteran who has been creating these devices and donating them to veterans centers around the country, it has been a fulfilling experience with intangible rewards.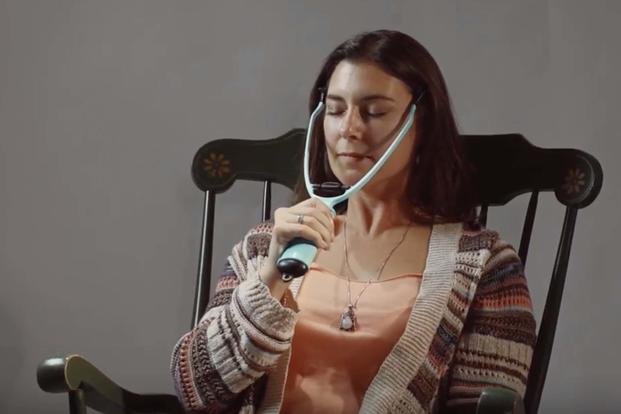 "It feels really rewarding," Meisch says. "I think about the feeling I get from all the letters and feedback I get from people who used the temple massager, and there's no amount of money that can buy you that feeling. The feeling of doing something so good for them is the kind of gold you can actually take to the grave. I'm grateful for that."
In addition to his new contract with the Air Force, Joe Meisch sells his Temple Massager on the Temple Massager website and if you buy one soon, he will donate another massager for every one sold on the site to Walter Reed National Military Medical Center. Each massager is priced at $69.95.
-- Blake Stilwell can be reached at Blake.Stilwell@Military.com.
Want to Know More About Veteran Entrepreneurs?
Be sure to get the latest news about vets and what they do after the military, as well as critical info about how joining the military can help you reach your goals -- not to mention all the benefits of service. Subscribe to Military.com and receive customized updates delivered straight to your inbox.