If you're hitting the road this summer for a move or vacation that includes a long drive, you may be dreading-dreading-dreading getting through those long days in the cars with your kids. That's why when my friend and organizing genius Dana told me about how she keeps her car sanity I listened -- and knew I had to share her road trip hacks for kids with you.
Dana and her Air Force husband are parents to six kids 7-years-old and under, four of which they adopted while at their last duty station. Now on their way to a new duty station halfway across the country, they are experts in car chaos management.  
Here are her brilliant hacks. 
7 Genius Road Trip Hacks for Kids
Aim for a drive time of six to nine hours a day. Depending on how you road trip that may seem like not enough hours in the car, but you have to know your limits. Little kids are happier if you give them a chance to wiggle. Set reasonable expectations for how far you can travel on any given day and still have your sanity intact. 
Schedule bathroom breaks. Dana says bathroom breaks are non-negotiable and planned in advance. "We stop 60 min after meals and 90 min the rest of the time for bathroom breaks. Everyone goes, every single time. We plan our next stop as we're leaving our current one so we don't get stuck in the middle of nowhere without a bathroom."
Have a stop routine. After their scheduled stops she distributes snack bags, which she has prepacked and keeps handy in the car. "These are snacks we don't normally eat, so it feels exciting," she said.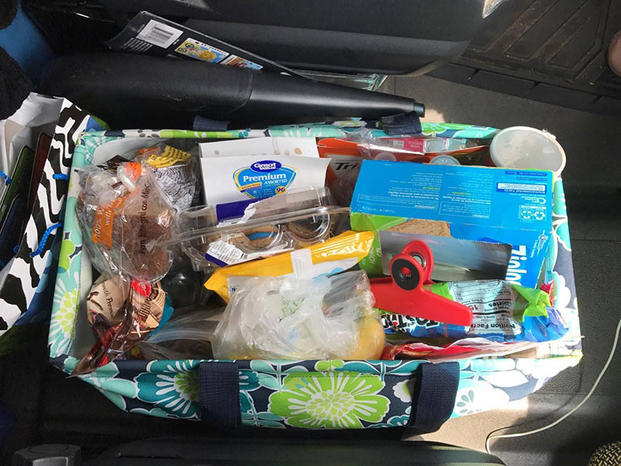 Dana pre-stages snacks to hand her kids after rest stops (Courtesy photo.)
Have a breakfast game. Everyone is grumpy when they're hungry, but the morning routine can be such a struggle to get under control when you're trying to hit the road. Dana says on the short car days they take time for breakfast at the hotel, hitting it as soon as it opens. On days they are trying to get more miles they eat breakfast in the car. On long days they aim to leave the hotel at 5 a.m. so they can be done with the day's driving by dinner time.
Have an in-car entertainment plan. Yeah, ok -- most of us probably didn't grow-up with DVDs playing endlessly in the car. But let's be honest, the whole thing is a huge blessing. Dana lets her kids watch endless movies during the drive, scoring options from the $5 movie bin at Walmart. They put in a new movie when they hand out the snack bags after stops. They also keep a tote bag packed with activities attached to the front of each child's seats.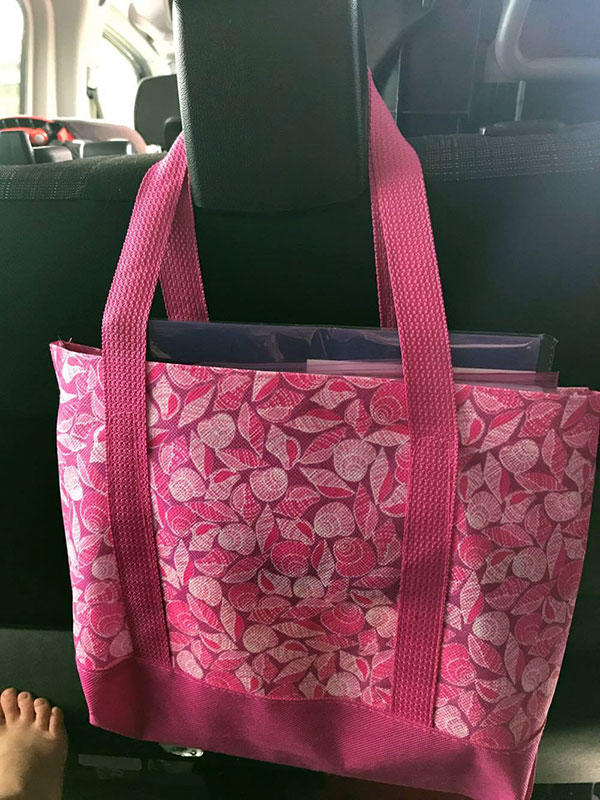 Tote bags keep kid-specific activities organized and accessible. (Courtesy photo.)
Keep the car tidy. With that many kids taking out stuff and eating snacks, the car becomes a wreck. Dana has her kids put away their activities and clean-up trash at every spot. They also have a shoe bin in the car. Instead of hunting for shoes at every stop, the kids put their shoes in them when they get in the car, and know right where they are when they get out again.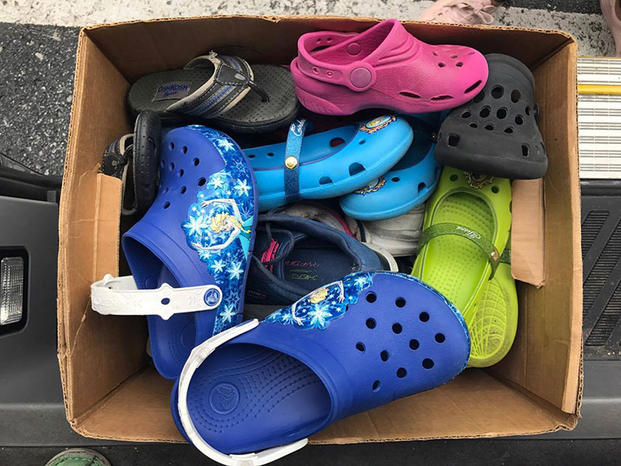 Keeping kid shoes in one place means the family always knows where they are. (Courtesy photo.)
Offloading at the hotel. Instead of hauling in everyone's stuff during each hotel stop, they keep a carry-on sized bag for kids and adults with 2 outfits, PJs and toiletries that can be taken out at each stop. Once they check-in, the kids hit the pool to shake-off all the wiggles stored during drive time. (Looking for hotel discounts? Check out the Military.com discount page.)
Keep Up with the Ins and Outs of Military Life 
For the latest military news and tips on military family benefits and more, subscribe to Military.com and have the information you need delivered directly to your inbox.