The Armed Forces Network has announced a new streaming app that will offer a wide variety of free video programming to eligible service members, their families and retirees living overseas. AFN Now will launch this fall and be available via Apple, Google Play, gaming devices and smart TVs.
The programming will be commercial-free, but the Defense Department will use short breaks in the programming to deliver important command information to viewers.
"[Our audience] can already get their own music. They can already get their own entertainment, but they can't get information on their careers. They can't get information on their local community, and that is what we deliver that nobody else can," Erik Brazones, an AFN operations policy officer, said to Military Families Magazine. "Netflix doesn't care about force protection conditions, but the people that are overseas do."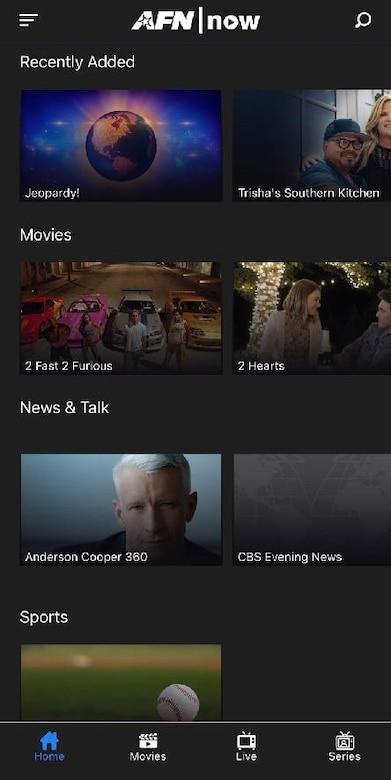 The service will feature on-demand sports programming from Major League Baseball, Major League Soccer, the NHL, NASCAR and IndyCar. AFN is hoping to add the NFL, NBA and Ultimate Fighting Championship before launch or shortly after. 
Since its launch during World War II, the Armed Forces Network has always been good at convincing Hollywood and the media business to give service members access to its best and most expensive product. That great array of content means that the AFN has to work to make sure that only eligible viewers can watch its programming, so don't expect to do Netflix-style password sharing with the AFN Now app.
Users must authenticate themselves by entering their required identification and having it compared against the Defense Enrollment Eligibility and Reporting System (DEERS). This is the same system used to access AFN's satellite service, so most users should be familiar with the login drill.
Overseas streamers should have on-demand access to 90%-95% of the content available via the satellite service, an impressive percentage when you consider how complicated international streaming rights can be. For television series, the service will use the same "rolling five" format familiar to users of cable television on-demand services. 
"It's a rolling kind of catch-up service," Karreem Lowe, the AFN Broadcast Center's director of television, told Military Families Magazine. "Meaning episodes one through five -- once episode six premieres, episode one will drop off."
AFN Now may be yet another benefit for service members to consider when deciding whether to reenlist. You're not going to get this kind of free sports, free news and free entertainment when you're a civilian.
Keep Up With the Best in Military Entertainment
Whether you're looking for news and entertainment, thinking of joining the military or keeping up with military life and benefits, Military.com has you covered. Subscribe to the Military.com newsletter to have military news, updates and resources delivered straight to your inbox.