American-born actor Steven Seagal is still pals with Russian President Vladimir Putin, and the leader celebrated their relationship by bestowing the government's Order of Friendship on the 70-year-old action star.
The award is said to recognize Russian citizens who have contributed to the betterment of Russia's relationship with foreign countries.
The two bros have a long history. Seagal was a vocal supporter when Russia annexed Crimea in 2014 and was later awarded Russian citizenship in November 2016 as recognition of his support for the government's policies.
There was a bit of a scandal in 2022 when podcaster Joe Rogan got taken in by a fake news report and reported that Seagal was fighting alongside Russian troops during the invasion of Ukraine. The story was illustrated by an image of an enormous Seagal all geared up for one of his many recent straight-to-video action pictures.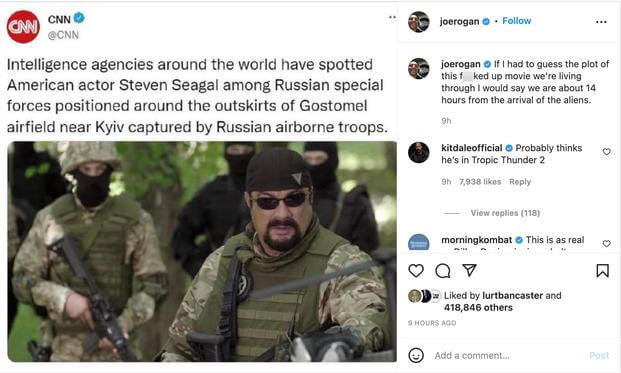 Seagal visited the troops in the Russian-held town of Olenivka in August 2022 to offer his support for the men on the front lines of Putin's invasion of Ukraine. The actor's encouragement didn't seem to turn the tide in the war, as Russia continues to fight a year after Putin launched the attack.
Seagal was a martial arts trainer in Los Angeles who first became a movie star because his client, Mike Ovitz, then the most powerful agent in the business, decided that his workout buddy had the skills to be the next Arnold Schwarzenegger.
Ovitz was mostly correct on that front, and Seagal went on to star in the classic action pictures "Above the Law," "Hard to Kill," "Under Siege" and "Executive Decision." His performance as former Navy SEAL Casey Ryback in the two "Under Siege" movies was so convincing that many fans still think Seagal is a former SEAL himself when he actually spent the Vietnam War years hanging out at a dojo in Fullerton, California.
As Seagal's mainstream movie career slowed down in the 21st century and he started to make seemingly interchangeable action movies, the actor also started doing weird stuff in real life that suggested he believed he was a real-life badass instead of just a guy who played one in the movies.
He teamed with Maricopa County, Arizona, Sheriff Joe Arpaio as a special deputy and joined the force as it cleaned up the Phoenix area, a mission that included driving a tank during a raid on a cockfighting ring back in 2011. Seagal, of course, brought along a camera crew to film a reality show about his law enforcement adventures.
He was later asked to train Serbian special police forces in 2015, even though he'd packed on the pounds and was no longer the martial arts fighting machine that had so impressed Ovitz during the 1980s.
After he started making the kind of micro-budget movies that film in Bulgaria or Romania, Seagal and Putin started hanging out, and the former Hollywood resident has become one of the biggest supporters of Russian foreign policy.
Keep Up With the Best in Military Entertainment
Whether you're looking for news and entertainment, thinking of joining the military or keeping up with military life and benefits, Military.com has you covered. Subscribe to the Military.com newsletter to have military news, updates and resources delivered straight to your inbox.