World War II veteran Joe Turkel was never nominated for an Emmy or an Oscar, never saw his name above the title and walked away from the screen at age 63 in 1990, but he played some of the most memorable roles in screen history. Turkel died on June 27, 2022, at age 94.
Turkel joined the Merchant Marine at age 17 in 1944, the Army in 1946 and served in the European Theater of Operations. Like many veterans of his era with post-war acting ambitions, he moved to Hollywood after an honorable discharge and found his way into the movies and television.
Over the next 40 years, he made guest appearances on programs as diverse as "The Andy Griffith Show," "The Lone Ranger," "The Adventures of Rin Tin Tin," "Dragnet," "The Untouchables," "The Rat Patrol," "Combat!," "Bonanza," "Ironside," "Land of the Giants," "S.W.A.T.," "Kojak," "Police Story," "Fantasy Island" and "Miami Vice."
There were movie appearances in the 1965 WWII drama "King Rat," the 1975 disaster movie "The Hindenburg," the 1967 mobster movie "The St. Valentine's Day Massacre" and future President Ronald Reagan's final lead role in a motion picture, the 1957 WWII drama "Hellcats of the Navy."
That's an impressive list of credits, but there are a handful of roles that made this soldier a cinematic legend.
Lloyd the Bartender -- "The Shining" (1980)
Turkel is one of the few actors to appear in multiple movies with director Stanley Kubrick, including his eerie performance as Lloyd the bartender at the remote Overlook Hotel. Jack Nicholson's performance as writer Jack Torrance walks a line between possession and insanity. Is Lloyd real, Jack's hallucination or a ghost conjured from the past?
Dr. Eldon Tyrell -- "Blade Runner" (1982)
Turkel's next movie was Ridley Scott's sci-fi classic "Blade Runner," a movie panned at the time that's since claimed its place as one of the greatest movies of all time. Turkel plays Dr. Eldon Tyrell, the scientific visionary who created the bioengineered replicants that Deckard (Harrison Ford) is tasked with hunting down and "retiring" from service.
Tyrell is a fictional predecessor to the kind of arrogant tech visionary that has come to be celebrated over the last 40 years. Don't think that Elon Musk doesn't see himself when he screens "Blade Runner," and that he doesn't have just a bit more security in place so he can avoid Tyrell's fate.
Pvt. Pierre Arnaud -- "Paths of Glory" (1957)
As great as those two films are, Turkel's best movie may be Stanley Kubrick's World War I drama, "Paths of Glory." Turkel plays Pvt. Pierre Arnaud, one of the three soldiers sentenced to death for "cowardice" on the front lines during World War I. WWII Navy vet Ralph Meeker and Timothy Carey are the other two men serving under WWII Navy vet Kirk Douglas, who spends the movie blaming senior officers for sending his troops into a battle where they're sure to be slaughtered for no legitimate military objective.
Tiny -- "The Killing" (1956)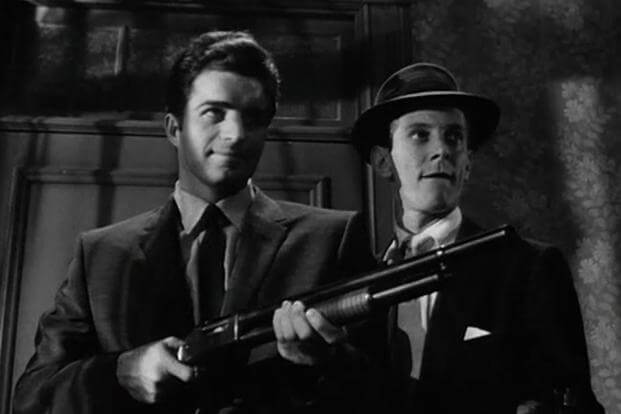 Turkel got his big break in this 1956 film noir directed by Stanley Kubrick. WWII Marine veteran Sterling Hayden stars as Johnny Clay, a desperate man who sets up a $2 million heist from a racetrack. Clay's team includes a military sniper played by Timothy Carey. Turkel turns up as Tiny, a henchman to Val Cannon, played by Vince Edwards. Tiny and Val try to rob the robbers, and an epic gun battle ensues with a completely impossible amount of ammo fired.
Gunner's Mate 2nd Class Bronson -- "The Sand Pebbles" (1966)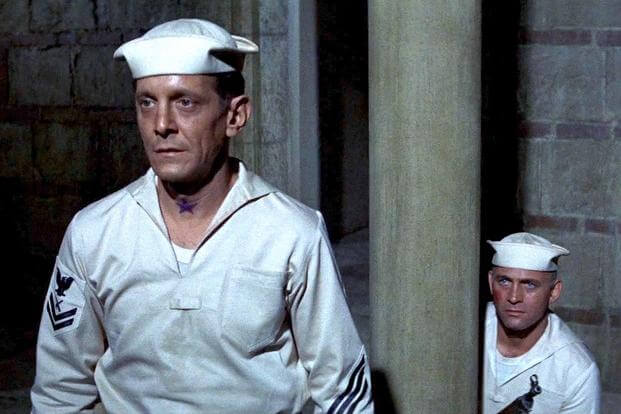 Marine veteran Steve McQueen stars in this military drama about a U.S. Navy ship deployed to China in 1926. Turkel plays alongside McQueen and Air Force veteran Gavin MacLeod (as Signalman 2nd Class Crosley) as sailors sent on a mission to rescue a missionary and a school teacher. The three veterans have excellent acting chemistry, but it's not hard to guess which one gets the big dramatic ending.
Related: 7 Iconic Roles Played by Air Force Vet Gavin MacLeod
Keep Up With the Best in Military Entertainment
Whether you're looking for news and entertainment, thinking of joining the military or keeping up with military life and benefits, Military.com has you covered. Subscribe to the Military.com newsletter to have military news, updates and resources delivered straight to your inbox.