More than 340,000 active-duty men and women serve in the U.S. Navy. Opportunities range from serving on surface ships or submarines to working in the fields of electronics, engineering, computer technology, nuclear propulsion and aviation, to serving in special operations or intelligence while potentially traveling the world.
Related: Contact a Recruiter
Requirements to Join the Navy
Enlisted Sailor Requirements
Enlisted sailors are the backbone of the Navy, making up about 83% of the service. Each member has his or her own specialized training and fills a role within his or her unit.
Navy requirements to join as an enlisted sailor are as follows. You must:
Be between 17-41 years old. (The Navy age limit was raised to 41 from 39 in the fall of 2022.) Seventeen-year-olds need parental consent. Age requirements for officer programs vary.
Have a high school diploma or GED equivalent
Meet the physical, mental and moral standards of the Navy
Hold U.S. citizenship or be a legal permanent resident
Earn a minimum score on the Armed Services Vocational Aptitude Battery (ASVAB) test
Pass the Military Entrance Processing Station (MEPS) medical exam
Read More: Joining the Navy: Overview
Commissioned Officer Requirements
Officers, which make up about 17% of the Navy, are the branch's leaders. Commissioned officers handle a variety of duties at sea, in the air and ashore. They guide enlisted sailors and provide them with their assignments and orders on the job.
To join the Navy as an officer, you must:
Be at least 19 years old generally, but age requirements for officer programs vary.
Have a four-year degree from an accredited university
Meet the physical, mental and moral standards of the Navy
Hold U.S. citizenship
Earn a minimum score on the Officer Aptitude Rating (OAR) and Aviation Selection Test Battery (ASTB)
Pass the Military Entrance Processing Station (MEPS) medical exam
There are several ways to become a Navy officer. Two possible routes are:
The U.S. Naval Academy (USNA), which accepts high school graduates and provides the education and training necessary to make them commissioned officers by the time they graduate. Those who graduate from the academy serve for at least five years in the Navy.
The Naval Reserve Officers' Training Corps (NROTC), which allows students to enroll in elective leadership and military courses at colleges and universities.
There are also direct commissioning programs for other qualified candidates. You can go through Officer Training Command (OTC), which includes:
Officer Candidate School (OCS), a 12-week course open to those who already have a four-year degree.
Officer Development School (ODS), designed to provide newly commissioned Navy officers with the basic information required to understand naval culture.
Finally, individuals with certain specialized skills and abilities may be eligible for a direct commission to become an officer. This typically includes fields such as law and medicine. Joining the Navy this way requires attending the Direct Commission Officer Indoctrination Course, a two-week program designed to train newly commissioned officers.
Read More: How to Become a Naval Officer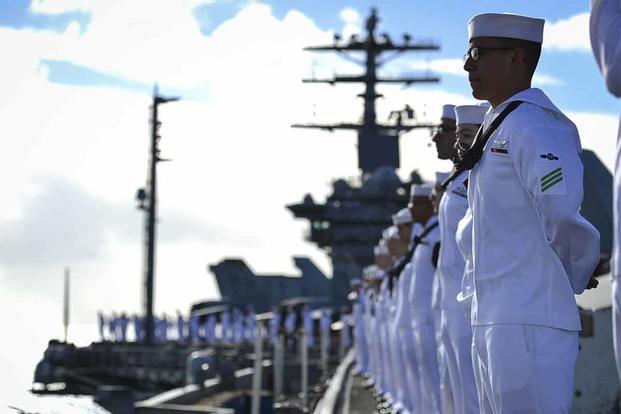 How to Join the Navy
Contact a Navy Recruiter
The Navy recruitment process begins with working with a Navy recruiter. Recruiters know the ins and outs of the service and can help you navigate the process and make important decisions along the way.
There is no obligation when working with a recruiter. They will help you decide whether the Navy is right for you, and will help shed light on which job opportunities within the service might be of interest if you sign up.
Take the ASVAB
The Armed Services Vocational Aptitude Battery (ASVAB) is an aptitude test that helps sailors narrow down which field of work is best suited for them. It is designed to evaluate skills in several areas, including math, science, language and technical knowledge such as electronics, automotive and mechanical abilities.
The maximum ASVAB score is 99. For enlistment into the Navy, you must get a minimum ASVAB score of 31, although in some cases, a 26 is permitted.
Pass Your Physical Exam
Once an applicant has taken the ASVAB and passed with a qualifying score, the recruiting process moves on to a medical exam at the Military Entrance Processing Station (MEPS).
The basic physical examination includes alcohol and drug testing; a urine check for indicators of glucose, protein, pregnancy and other health indicators; an HIV test; a vision test, including color perception; an ear exam and hearing test; blood pressure and pulse rate; an orthopedic and neurological demonstration and exam; plus an overall exam of the main body systems and organs.
Navy weight requirements are based on height and gender. For example, a 5'9" man can weigh no more than 186 pounds. View the Navy weight rules by height and gender here.
Navy Boot Camp
One of the best-known aspects of the Navy sign-up process is boot camp, formally known as Recruit Training Command, which takes place at the Great Lakes Naval Training Center north of Chicago.
Lasting about 10 weeks, boot camp is designed to transform a recruit into a sailor, not only physically but mentally. Boot camp involves intense physical fitness training. You'll also learn about Navy values and traditions, teamwork, seamanship, firearms, firefighting and shipboard damage control.
Your Navy paychecks begin during boot camp. Newly enlisted sailors usually start out at the E-1 pay grade (earning about $23,000 in 2023) and may also be eligible for additional bonuses and allowances.
Read More: Navy Boot Camp Timeline at a Glance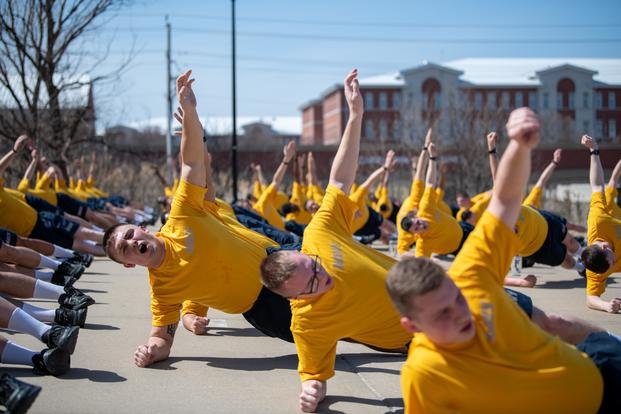 Taking the Physical Readiness Test (PRT)
The Navy's Physical Readiness Test (PRT) is designed to measure both cardiovascular fitness and muscular endurance.
Recruits must earn an overall score of 60 points on the PRT, which consists of push-ups, sit-ups and running.
Navy Fitness Standards
Requirements are adjusted based on age and gender. For example, as a minimum requirement to pass the PRT at boot camp, you must complete:
Men ages 17-19:
50 sit-ups in 2 minutes
42 push-ups in 2 minutes
1.5-mile run in 12:30
Women ages 17-19:
50 sit-ups in 2 minutes
19 push-ups in 2 minutes
1.5-mile run in 15:30
Read More: Navy Physical Readiness Test (PRT) Overview
Choose Your Navy Job (NEC)
Once you've completed boot camp, it's time for your Navy job training to begin. This is officially done through the Navy Enlisted Classification (NEC) system.
There are more than 150 different jobs in a variety of fields, including aviation, information warfare, medical, nuclear, security, special operations, submarine and more.
Read More: ASVAB Scores and Navy Jobs
Take the Oath of Enlistment
To be sworn into the Navy, you will take the Oath of Enlistment, which is a pledge to defend the Constitution throughout your military career. If you are entering as an officer, you'll instead take the officer's oath.
Benefits of Joining the Navy
Joining the Navy comes with a variety of benefits.
Money and Pay
When you join the Navy, your paycheck grows as you gain more experience and rise up the ranks. The service also offers a variety of allowances that increase your total compensation. These include free or reduced-cost health care, food, housing, education and more.
Bonuses
Full-time recruits can earn a variety of bonuses for enlisting in certain jobs, including for hazardous duty, advanced skills like aviation or high-demand roles such as health care. Learn more about Navy enlistment bonuses here.
Education
Recruits who attend college can join the Naval Reserve Officers' Training Corps (NROTC), which helps pay for tuition and other expenses. Other options under the GI Bill help sailors with a wide variety of career training.
Additionally, the Navy offers a Tuition Assistance program for active-duty and Reserve members to help pay for school or professional training.
There are also specialized college programs including the Civil Engineer Collegiate Program, Nurse Candidate Program (NCP), and the Nuclear Propulsion training program (NUPOC).
For post-graduate studies, the Navy offers master's-level coursework, Ph.D. programs or fellowship opportunities through the Naval Postgraduate School in Monterey, California; as well as several medical education programs.
For those with outstanding student loans, repayment and cancellation programs are available.
Learn more about the Navy's educational benefits here.
Skills and Training
There are 251 Naval Education and Training Command (NETC) sites. NETC takes recruits from "street to fleet" by providing training in the skills, operational knowledge and combat readiness needed to serve.
For sailors seeking specific credentials, the Credentialing Opportunities On-Line (COOL) program offers help with certifications and licenses related to their military occupation and civilian careers. These credentials can help in the job hunt after your Navy career ends.
Health Care
Health-care benefits when joining the Navy represent a savings of thousands of dollars per year. The Navy Health Care system offers health insurance coverage through its own fleet of doctors, nurses, dentists and surgeons. Sailors and their families have access to all military medical and dental facilities, as well as opportunities to be covered by outside providers when needed.
Navy Reserve sailors and their families are also eligible for coverage under the Tricare health insurance program.
Other Benefits
Sailors can receive allowances toward housing if they live off-base.
Travel benefits include 30 days of paid vacation, low-cost standby flights, priority boarding on most airlines and low-cost lodging at military facilities.
On bases worldwide, sailors can take advantage of recreational facilities like bowling alleys, movie theaters and private beaches.
Read More: Learn About Navy Benefits
Content previously published on Military.com and content from Navy.com were used in compiling this report.
Interested in Joining the Military?
We can put you in touch with recruiters from the different military branches. Learn about the benefits of serving your country, paying for school, military career paths, and more: sign up now and hear from a recruiter near you.