Rocky River Reservation is a woodland park located just outside of Cleveland. Inside the park, visitors will find a statue of a small Yorkshire Terrier sitting inside a World War II-era GI helmet. This statue marks the final resting place of Smoky, a combat veteran and frequent visitor to military hospitals in the Pacific Theater of World War II.
Smoky was a mascot, personal pet and perhaps the world's first emotional support dog for wounded troops. Her gravesite and marker, built by a Vietnam veteran and unveiled in 2005, is dedicated to the animals of all wars who made life easier while supporting their comrades in arms.
The tiny Yorkshire Terrier was first found in the jungles of New Guinea in March 1944. Allied forces from the United States, Britain, Australia and the Netherlands had been fighting on the island since the Japanese first invaded in 1942. By 1944, the tide had turned against the Japanese, but fighting was still fierce.
An American GI named Ed Downey was in New Guinea working to move a Jeep out of some mud when he heard a whimper from a nearby foxhole. Downey retrieved the pup from the hole and kept it, but not for long. Looking to get back into a poker game, he sold Smoky to Cpl. William A. Wynne for two Australian pounds, the equivalent of $6.44, around $109 in today's dollars.
Wynne knew how to train dogs from his pre-war work at home in Cleveland. She weighed four pounds and was only seven inches tall, but the corporal found the tiny dog to be "uncommonly adventurous, tough, and smart." She would need it; she survived 18 straight months of World War II combat.
Like many soldiers, Smoky's discipline helped keep the little pup alive. She learned more than 200 hand signals and commands. She ate C-rations, slept in Wynne's tent and was carried in his backpack wherever he went. As a member of the 5th Air Force's 26th Photo Reconnaissance Squadron, this meant Smoky survived more than 150 Japanese air raids in New Guinea and flew 12 rescue and photo reconnaissance missions.
Smoky's resilience extended to life aboard ship. She survived Japanese kamikaze attacks, a typhoon on Okinawa and even managed to warn Wynne of an incoming attack while aboard a landing craft. An attack on his LST (landing ship, tank) that day killed the eight men standing near him, but Smoky had warned Wynne to take cover.
Her most important contribution came when the 26th Photo Reconnaissance Squadron was sent to Lingayen Gulf, Luzon during the U.S. invasion of the Philippines in January 1945. The unit was constructing an airbase under heavy enemy bomb attacks and needed to run a cable through a 70-foot long pipe that was only eight inches in diameter.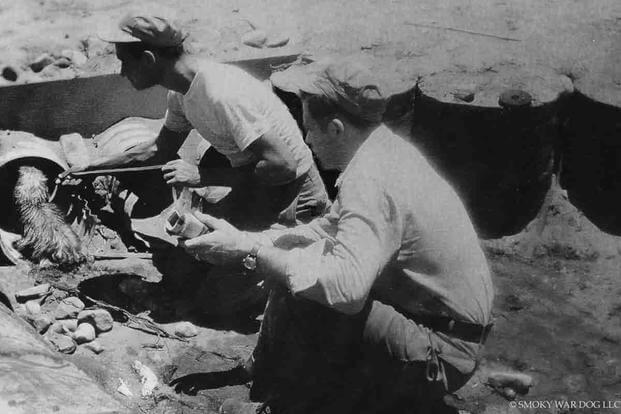 The effort would have required work crews to dig up the taxiway around 40 American aircraft over the course of three days. In that time, they would have been constantly exposed to incoming enemy attacks. It also would have closed the runway for the duration. They tied the wire to Smoky's collar and sent her through the pipe, completing the task in minutes instead of days.
What Smoky learned during her combat career also provided entertainment for the troops and the wounded in hospitals all around the Pacific Theater. One day, Wynne saw an ad in Yank Magazine, the Army's weekly publication for U.S. troops, looking for the best unit mascot. He took a photo of Smoky in his GI helmet and sent it in. She would be crowned "Champion Mascot in the Southwest Pacific Area."
When the war ended, all U.S. troops were ordered to leave their animals before coming home. Wynne wasn't about to abandon Smoky. He smuggled her to the United States in a bag meant for his oxygen mask. When he returned to Cleveland, they brought Smoky's wartime hospital act to veterans hospitals stateside until 1954.
Smoky died in February 1957 at age 14, and Wynne buried her in a World War II .30 caliber ammunition box in Rocky River Reservation. For the next 50 years, it remained unmarked until Vietnam veteran Jim Strand, who knew where Smoky lay, began raising money to build the monument that marks the site today.
Strand recreated the image of Smoky in Wynne's helmet, the photo that won her the mascot championship, and dedicated the memorial to "Dogs of All Wars." At age 74, William Wynne, who became a photojournalist after the war, penned a 1996 book about Smoky, called "Yorkie Doodle Dandy: A Memoir." Wynne died in 2021 at age 99.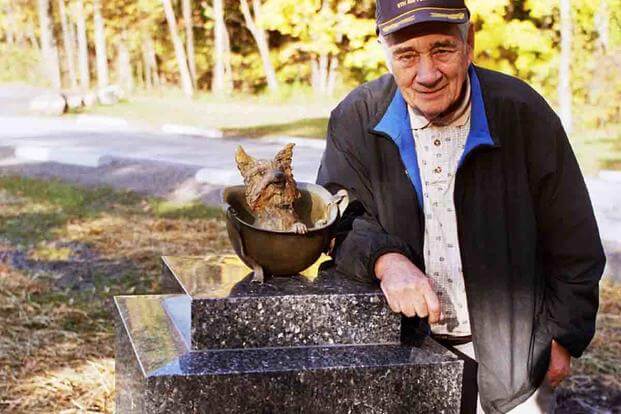 The Smoky story doesn't end there. The next year, Smoky became one of the first war dogs to be awarded the Animals in War & Peace Distinguished Service Medal for her World War II service as a mascot, pal and the world's first therapy dog.
-- Blake Stilwell can be reached at blake.stilwell@military.com. He can also be found on Twitter @blakestilwell or on Facebook.
Want to Learn More About Military Life?
Whether you're thinking of joining the military, looking for post-military careers or keeping up with military life and benefits, Military.com has you covered. Subscribe to Military.com to have military news, updates and resources delivered directly to your inbox.