Like any other Marine, Chesty XVI, the Marine Corps' Devil Dog mascot, has been promoted after six months of honorable, satisfactory service. Unlike every other Marine, Navy Secretary Carlos Del Toro dressed him for the event.
Chesty XVI is an English bulldog, the mascot of the United States Marine Corps. He took over for his predecessor in a relief and appointment ceremony in May 2022. Lance Cpl. Chesty XV was a little too rambunctious, so the Corps decided to make him a terminal lance after a four-year enlistment.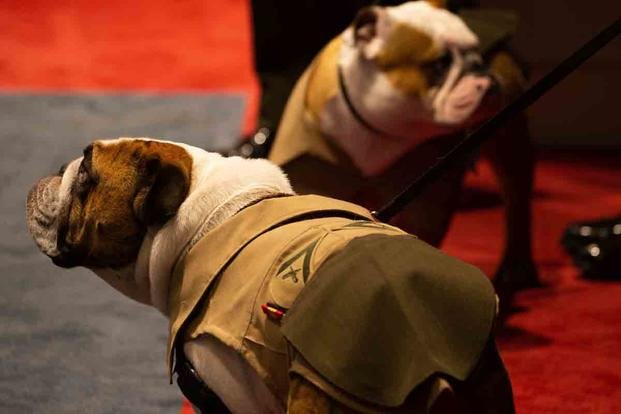 Chesty XV isn't the only mascot who's caused a scene. Sgt. Chesty XIII snarled at Defense Secretary Leon Panetta's golden retriever in 2012. Cpl. Chesty VI was demoted to private in 1979 for destruction of government property and disobeying a direct order. He was NJP-ed a year later for biting two corporals. Chesty II went AWOL on multiple occasions.
So far, the Marine Corps says Chesty XVI is a much more disciplined Marine, hence his promotion to private 1st class.
Bulldog mascots have been a morale-boosting fixture for the Marine Corps since 1957, when the first Chesty debuted. The Devil Dogs have been named "Chesty" ever since, in honor of the most famous Marine, Lt. Gen. Lewis B. "Chesty" Puller Jr.
The mascot tradition began in 1922, when two-time Medal of Honor recipient Maj. Gen. Smedley Butler adopted an English bulldog he named "Jiggs." In the 1920s, the real Chesty Puller was already a decorated veteran of the U.S. occupation of Haiti, and would return to the United States to become a commissioned officer.
Jiggs would be the highest ranking mascot ever, serving as Sgt. Maj. Jiggs until his death in 1927. The Corps continued with the beloved tradition, and introduced a successor, "Jiggs II." The Jiggs line would end after Jiggs II died in 1937. For the next 20 years, the Corps would name its mascots "Smedley" to honor the man who started the tradition.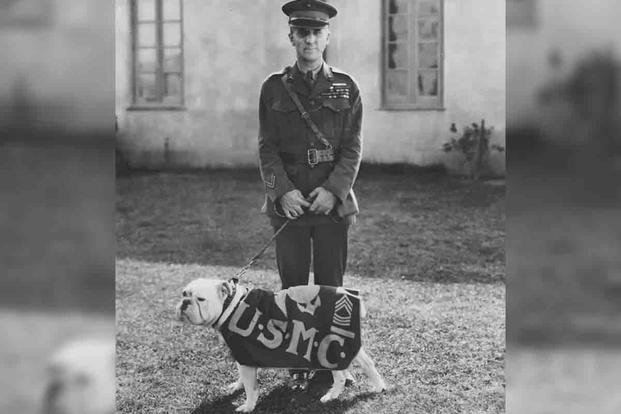 During the Jiggs era, the human Chesty Puller redeployed to Nicaragua after a brief stint in the U.S. and earned his second of five Navy Crosses. He would return from Nicaragua and serve in China before World War II. His leadership, daring and bravado during World War II and the Korean War would make him one of the most legendary Marines who ever wore the uniform.
READ: 7 Reasons Why Marines Love Chesty Puller So Much
Chesty XVI is the 16th Marine Corps Devil Dog to bear the Chesty name. Like the top dog Marines that came before him, his role will be participating in parades, ceremonies and morale-boosting activities -- hopefully with some military bearing.
As for Chesty XV, his transition from the military will be smooth and easy. The American Kennel Club says that there's often a long line to adopt a former Marine Corps mascot.
-- Blake Stilwell can be reached at blake.stilwell@military.com. He can also be found on Twitter @blakestilwell or on Facebook.
Want to Learn More About Military Life?
Whether you're thinking of joining the military, looking for post-military careers or keeping up with military life and benefits, Military.com has you covered. Subscribe to Military.com to have military news, updates and resources delivered directly to your inbox.