For history buffs, there's nothing better than a surprise on "Antiques Roadshow." Every once in a while, someone drops by with a personal story better than anything found in the history books.
In Season 25 of the show, available on the PBS video app, the appraisers revisited a trip to Orlando, Florida in 2007 when they got a visit from none other than Cecil Stoughton, the first-ever official White House photographer, who documented the personal and public lives of President John F. Kennedy and his family.
He brought a number of photographs to the appraisers on "Antiques Roadshow," including a private photo of the Kennedy family along with perhaps one of the most famous photographs of the 20th Century.
Stoughton began his career in World War II as an officer with the Army Signal Corps' Motion Picture Unit. He was later transferred to the White House Army Signal Agency on the day of Kennedy's inauguration in 1961. It was Stoughton who began the tradition of documenting the lives of the First Family, both in public and behind closed doors.
Related: A Vietnam Vet Is Literally Floored by the Value of His Rolex on 'Antiques Roadshow'
The presidential photographer was present in Kennedy's 1963 motorcade in Dallas, Texas where the 35th President was assassinated. Stoughton was in the fifth car from the front of the motorcade.
"I heard three very distinct reports," Stoughton tells the appraiser Francis J. Wahlgren from Chicago's Hindman Auctions. "Sounded like rifle shots. Didn't know where they came from. A few minutes later, I was standing outside the operating room door there. I had seen Vice-President Johnson leaving the hospital and I asked where he was going."
"The president is going to Washington," came the reply.
Stoughton knew then that it meant President Kennedy had died. The photographer then grabbed his camera and departed for Air Force One.
It was Army photographer Stoughton who took the now-famous photograph of Lyndon B. Johnson being sworn in as President aboard Air Force One. Jaqueline Kennedy, still covered in her husband's blood, was by his side. It was the only photo of the event.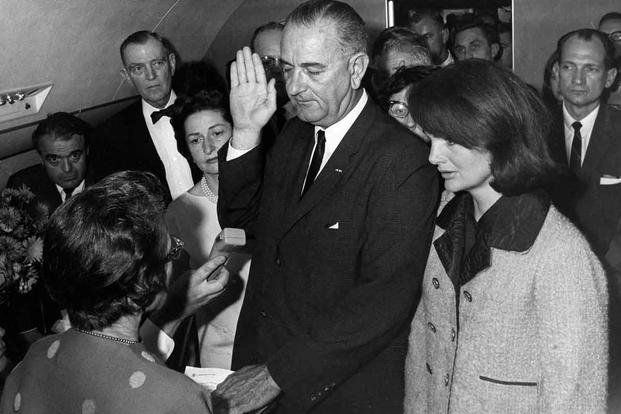 Stoughton brought an original print of that photo, signed and inscribed by President Johnson to be appraised by Wahlgren. Not only that, he also brought an original print of Johnson signing the now-famous photo for Stoughton.
Aside from bringing an original print of that famous photo, Stoughton also brought personal photos he took of the Kennedy Family in 1962, signed by the president and the first lady, a Christmas gift from Jacqueline Kennedy.
Wahlgren valued the photo aboard Air Force One at $50,000. The personal photo of the Kennedy Family was valued at $25,000. Stoughton, 87 years old at the time of the show's 2007 filming, would die on Nov. 3, 2008 from complications surrounding emphysema, diabetes and pneumonia.
-- Blake Stilwell can be reached at blake.stilwell@military.com. He can also be found on Twitter @blakestilwell or on Facebook.
Want to Learn More About Military Life?
Whether you're thinking of joining the military, looking for post-military careers or keeping up with military life and benefits, Military.com has you covered. Subscribe to Military.com to have military news, updates and resources delivered directly to your inbox.