Despite the troubled history between native tribes and the U.S. government, American Indians have served in every major American conflict in the country's history. They also enlist in the U.S. military at five times the national average of other demographics. It's a good thing, too, because without native warriors like Pascal Poolaw, American military history might look entirely different.
Poolaw would become the U.S. military's most decorated veteran, serving in World War II, the Korean War and the Vietnam War. During his service, he earned 42 medals and citations, including four Silver Stars, five Bronze Stars and three Purple Hearts, one for each war in which he fought.
Poolaw was born into the Kiowa Nation in 1922, at a time when American Indians weren't even considered natural-born citizens of the United States. Indigenous people wouldn't have the right to natural-born citizenship until Congress passed the Indian Citizenship Act in 1924. Poolaw's military story isn't just about his country, however; it's also about his dedication to family
He first joined the Army in 1942, following his father and two brothers who were already fighting in World War II. By 1944, he was fighting with the 4th Infantry Division in Europe. While assaulting the Siegfried Line in Belgium, then-Staff Sgt. Poolaw noticed a strong German counterattack threatening his machine gun squad.
Pushing his men forward, he began tossing grenades at the advancing enemy while under heavy returning fire. The effort dispersed the Germans and saved his unit. After repelling the German assault, his company continued its attack on the Siegfried Line. He was awarded his first Silver Star for making a stand against a concentrated enemy formation. Poolaw was also wounded in the effort, receiving his first Purple Heart.
When the Korean War broke out in 1950, Poolaw was still in the Army and was sent to Korea with Army's 25th Infantry Division. The 25th Infantry Division was one of the units that cut off the approaches to the port city of Pusan early in the war, preventing the communists from pushing United Nations forces into the sea and capturing Korea.
After the Incheon Landing put 40,000 U.S. and allied troops behind the communist lines in September 1950, the 25th broke out of what was then known as the Pusan Perimeter. Poolaw was there. Although the bulk of the enemy forces fell apart in disarray from the UN's one-two punch, there were elements of stiff resistance. Poolaw was with a company of men against that kind of resistance.
On Sept. 19, 1950, Sgt. 1st Class Poolaw of Company C, 1st Battalion, 27th Infantry Regiment volunteered to lead a squad against a numerically superior force dug in at the top of a hill. His squad surprised the enemy's perimeter, fighting a brutal hand-to-hand engagement while the rest of C Company followed and captured the position. Poolaw was awarded another Silver Star, but he was far from finished in Korea.
By April 1951, fighting was centered on or near the 38th Parallel, where the war had ground into a bloody stalemate. At Chongong-ni, then-Master Sgt. Poolaw's platoon was pinned down by automatic weapons fire, mortars and whatever else the communists could throw at them.
To relieve the pressure on his men, Poolaw advanced under this onslaught, firing his rifle in the open terrain. Poolaw distracted the enemy, drawing all their fire on himself. As he moved, his platoon maneuvered to a better vantage point and returned fire on the enemy position, and he was awarded a third Silver Star.
His courage under fire in Korea earned him a battlefield promotion to second lieutenant and later a promotion to first lieutenant. He returned to the United States shortly after, where his four sons, all of whom would serve in the military, were growing up fast. In 1962, Poolaw retired from the Army after 20 years of service and four years in combat.
But Poolaw wasn't away from the Army for long. The United States was soon involved in another war, this time in Vietnam. His sons were old enough to serve and three of them would fight in Vietnam. In 1967, Pascal Poolaw Jr. lost his right leg to a land mine there. Shortly after, his son Lindy received a draft notice and would soon be on his way to Vietnam. The elder Poolaw decided to reenlist and serve one more time.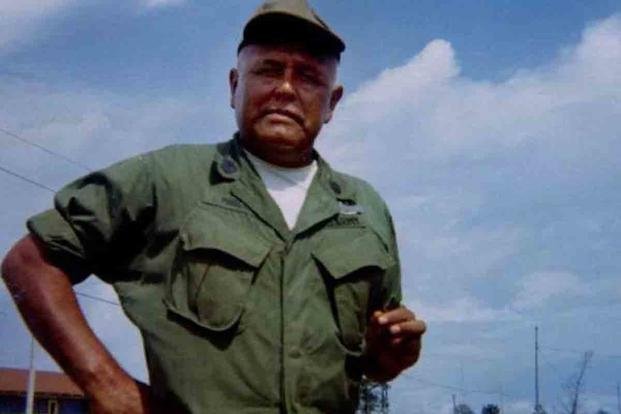 To ensure he would see action in Vietnam, Poolaw resigned his commission, became a non-commissioned officer once more and volunteered to serve in combat, all in an effort to keep Lindy out of the war zones. He missed deploying with his son by one day.
Deploying to Vietnam with the 26th Infantry Regiment in May 1967, he was named first sergeant of his company. A few months later, he was on a search and destroy mission as part of Operation Shenandoah II in Loc Ninh. It was an attempt to secure South Vietnam's Highway 13 as it was being repaired for use by American and South Vietnamese forces.
The company was moving through a rubber plantation as it was ambushed by the Viet Cong. The ambush began with accurate sniper fire, but the unit was soon engulfed by claymore mines, rockets, small arms and automatic weapons. Outnumbered and outgunned, Poolaw tried to organize the lead squad to establish a base of fire and move wounded troops.
Already wounded in the initial ambush, Poolaw was hit by incoming Viet Cong fire as he attempted to pull one of his wounded soldiers to safety. He succumbed to the wound that day, Nov. 7, 1967, at the age of 45. He posthumously received his fourth Silver Star and third Purple Heart.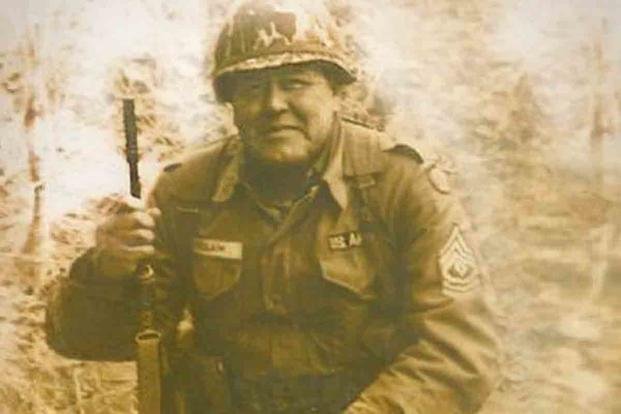 Irene Poolaw, his wife of 37 years, said in his eulogy: "He has followed the trail of the great chiefs. His people hold him in honor and highest esteem. He has given his life for the people and the country he loved so much."
-- Blake Stilwell can be reached at blake.stilwell@military.com. He can also be found on Twitter @blakestilwell or on Facebook.
Want to Learn More About Military Life?
Whether you're thinking of joining the military, looking for post-military careers or keeping up with military life and benefits, Military.com has you covered. Subscribe to Military.com to have military news, updates and resources delivered directly to your inbox.