You may have heard the term "senior spouse" in relation to the spouse of a unit commander, sergeant major or general officer.
But since spouses don't have rank, and some senior leaders are newly married, the senior leader's spouse isn't always the go-to for questions regarding military life.
Over the last decade, the military spouse community has been trying out other terms to define this group of spouses whose service members are past the midcareer point but not yet retired. The one that seems the most palatable is "seasoned."
But even with that term, there are questions about who, exactly, it includes. Is there a rank requirement for the service member to reach before the spouse is considered seasoned? Does it require a certain number of deployments, moves or years before you can call yourself seasoned? The discussion on who is seasoned and who can call themselves such has left us idling in the weeds, instead of addressing the issues that affect this group of spouses.
Pride & Grit founder Jennifer Pasquale has steered the conversation toward seasoned spouses and their unique challenges by creating a community full of them. She defines a seasoned spouse simply as someone who is starting to think about what transition out of the military looks like.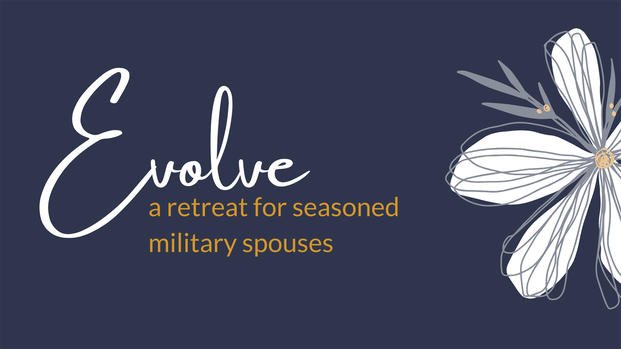 "Someone in the latter part of service, not necessarily people who are transitioning soon or have a date on the calendar, but it's just people that are starting to kind of consider loosely, 'What does that look like? What is that going to be for my family? What is that going to be for me?'" Pasquale said.
She explained that, whether you are the spouse of a service member at the 16-year mark or the 32-year mark, the questions are similar and resources are hard to find.
So in 2021, Pasquale did something about it. And now her solution is back for 2022.
The two-day virtual Evolve retreat is the first of its kind geared specifically toward seasoned spouses. The event will focus on personal identity through both life as a seasoned spouse and in the face of transition out of the military.
About 100 spouses based in seven countries attended the 2021 inaugural retreat, Pasquale said.
Over the course of two days, participants will hear from keynote speakers and work through breakout sessions via a printed workbook.
Speakers on day one include Dr. Patrice Carter, a board certified life coach and military spouse; Jenn Whitmer, a leadership coach; Tammy Meyer, a certified life coach and military spouse; and Leah Brown, a certified facilitator with the Dare to Lead coaching program designed by shame and leadership researcher Brene Brown.
On day two, spouses will dive into their CliftonStrengths personality profile with Pasquale, who is a certified Gallup Certified CliftonStrengths coach. That session will focus on leveraging those strengths in understanding your identity.
For 2022, the retreat also includes a one-day, in-person element for those who live in or want to travel to the Washington, D.C., area. While the sessions will still be virtual, in-person attendees will have the chance to network and connect with each other.
Pasquale's goal is to have spouses leave the retreat with a 360-degree view of themselves, their strengths and their weaknesses. She hopes they can use that information to move forward and figure out what is next.
The retreat is sponsored by USAA.
Registration for the Evolve Retreat is open and limited, in order to keep the breakout sessions practical. The retreat has four registration options. A virtual one-day, Saturday-only ticket costs $97 while an in-person, one-day Saturday ticket costs $107; a two-day virtual ticket costs $137 for early purchasers, then goes up to $157 after March 6. A two-day ticket with day one held in person and day two held virtually is $147 for early purchasers, then goes up to $167.
Tickets include access to a private Facebook group, networking and exclusive access to the Pride & Grit podcast. Participants will also be eligible for giveaways. Those who purchase the two-day ticket will complete CliftonStrengths, included in the cost of their ticket.
Keep Up with the Ins and Outs of Military Life
For the latest military news and tips on military family benefits and more, subscribe to Military.com and have the information you need delivered directly to your inbox.
​