If every job came with a basic training period and the reasonable expectation of upward mobility in an emerging career field, veteran unemployment -- and perhaps all unemployment -- could be a thing of the past.
Instead, separating veterans often find themselves starting over in a new career field filled with entrenched experts, and, depending on the industry, no clear way to advance their own careers.
Clean energy is an emerging area where that could all change, and the solar industry wants hard-working, knowledgeable veterans to fill its ranks. In fact, it wants veterans so badly, the industry has set up a 12-week training program to get them in the door.
Renewable energy is the fastest growing energy sector in the United States and the size of the renewable energy workforce tripled between 2000 and 2018. Solar Power produces more than 11% of America's energy, according to the Center for Climate and Energy Solutions, but by 2050, it's projected to create almost half the power needed in the United States.
And they're going to need good people to generate that power.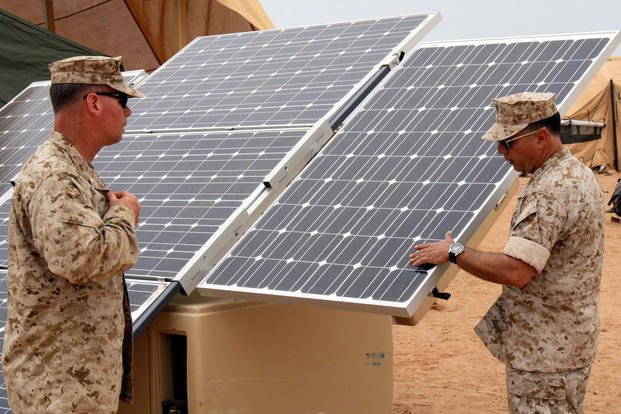 The Solar Foundation, a nonprofit organization dedicated to advancing solar energy worldwide, has created a pipeline program for veterans called the Solar Ready Vets Network. Funded by the U.S. Department of Energy Solar Energy Technologies Office, the program uses a two-pronged approach to fill the jobs of tomorrow with today's soldiers, sailors, airmen and Marines.
Solar Ready Vets is the first prong in the initiative. It's a fellowship program that selects military members to place in a 12-week, on-the-job training program that not only helps them learn the industry, but helps transition them to civilian life.
Those troops will be pulled from bases in areas with high solar energy demands and placed into a pipeline of training designed by the North American Board of Certified Energy Practitioners and the Solar Energy Industries Association.
The second prong is the Solar Opportunities and Readiness Initiative, which focuses on veterans who are no longer in the military, but are interested in solar careers. This is a program that not only seeks to train veterans but also helps get them credentials for later. All you have to do to get started is fill out the form on the foundation's Solar Ready Vets page.
Working within the U.S. government means the SOAR program could lead to a nationwide apprenticeship program, fast-track certain certifications for veterans, create a network of veterans in solar power and expand the GI Bill to cover certification costs.
While these are initiatives planned for the future, the program is a part of the U.S. Chamber of Commerce Foundation's Hiring Our Heroes effort to help provide veterans and their spouses with meaningful jobs. Hiring Our Heroes places veterans in civilian jobs through fellowships and events meant to break down the barriers that might keep a veteran from entering a new industry.
Jobs in solar power aren't just technicians installing panels or repairing solar batteries. The renewable energy industry needs managers, executives, researchers and other skilled professionals to fill out its ranks -- and veterans know a little something about rank.
Like most first-time jobs after leaving the US military, veterans new to the field might have to work their way back up from the bottom once more, but there is a wide range of companies and specializations available to those interested in a renewable energy career.
Officials with the Solar Foundation said when it comes to training and hiring veterans they are for leaders.
"Veterans are leaders and can help inspire confidence in the industry and navigate our most pressing challenges," Abigail Ross Hopper, president and CEO of the Solar Energy Industries Association said in a statement. "We're thrilled to work with solar companies to make even more employment opportunities available to Americans that have sacrificed the most."
Veterans who want to learn more and businesses that want the dedication and talent of veterans in these two initiatives should check out the Solar Foundation website to learn more.
-- Blake Stilwell can be reached at blake.stilwell@military.com.
Want to Know More About Post-Military Careers?
Be sure to get the latest news about post-military careers as well as critical info about veteran jobs and all the benefits of service. Subscribe to Military.com and receive customized updates delivered straight to your inbox.