Retired U.S. Army Sgt. Michael Verardo suffered two separate improvised explosive device attacks while deployed to Afghanistan in April 2010. After the second on April 24, he was listed as "death imminent," but a field blood transfusion saved his life. Ever since, he celebrated the 24th of April as his "alive day."
Many military veterans celebrate their own "alive day," the day they might have died in combat but didn't. For some of those, it's also a day of mourning, because they might have lost a fellow service member on the same day.
Verardo's alive day is about to become a statewide holiday, as the North Carolina state legislature is set to approve unanimously a law recognizing April 24 as Wounded Heroes Day.
To celebrate the inaugural Wounded Heroes Day, the Independence Fund is inviting 18 wounded veterans and lawmakers to Halifax Mall Lawn at the North Carolina General Assembly in Raleigh to speak and celebrate its passage. The Independence Fund is a nonprofit organization dedicated to helping wounded veterans overcome injuries and improve the quality of life for them and their families.
"Wounded Heroes Day celebrates the incredible sacrifice that North Carolinians have made to advance peace around the world," says Sarah Verardo, CEO of the Independence Fund and Mike's wife. "North Carolina is home to some of the nation's finest fighting forces, and the heroes that reside in the state know the high price that is paid for freedom. Wounded Heroes Day ensures that their sacrifices are remembered for decades to come."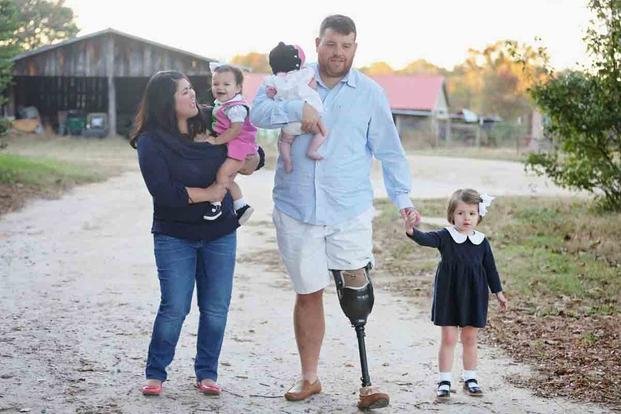 Sgt. Verardo was deployed to Afghanistan with Bravo Company, 2-508 Parachute Infantry Regiment, 82d Airborne Division. An estimated 60% of that unit would receive a Purple Heart, and 24 soldiers would be sent home as casualties. Verardo has undergone 120 surgeries and requires close medical care at home, including speech, visual, physical and occupational therapies.
He's one of more than 155,000 wounded veterans in North Carolina, and while the state has no shortage of patriotism, it recognized it still had more work to do to help its veterans. The North Carolina Assembly also is expected to pass the No Veteran Left Behind Act (NVLB) on the same day, April 21, 2021.
No Veteran Left Behind is a pilot program designed to meet particular needs of North Carolina's wounded vets. Verardo says the legislation will rely on innovative public and private partnerships at all levels of government to address North Carolina veterans' most persistent issues, mainly mental health and substance abuse. It will make it easier for agencies to work together to face these problems alongside community partner organizations, like the Independence Fund.
The partnerships will review North Carolina counties' response to veterans in crisis and produce an updated data collection process map. The Independence Fund will provide pilot counties in the state with improved training and services for veterans who are dealing with mental health and substance abuse issues.
"NVLB aims to transform the stigma associated with a mental health crisis and to start by asking a simple question during a mental health emergency: 'Did you serve?'" Verardo says. "By increasing dialogue around the unique issues our veterans face, NVLB will work to decriminalize and de-escalate mental health emergencies for veterans."
North Carolina is home to more than 100,000 active-duty service members and more than 600,000 veterans. The pilot program will begin with the counties with the highest number of at-risk veterans, but Verardo thinks it's a concept every state should consider.
"NVLB should be replicated in states across the country by honing in on local veteran issues," she says. "This will vary not only state to state, but within each state. By focusing on the individualized veteran population, each state can make good on the tremendous debt we owe our veterans."
-- Blake Stilwell can be reached at blake.stilwell@military.com. He can also be found on Twitter @blakestilwell or on Facebook.
Want to Know More About Veteran Jobs?
Be sure to get the latest news about post-military careers as well as critical info about veteran jobs and all the benefits of service. Subscribe to Military.com and receive customized updates delivered straight to your inbox.