Scars and Stripes Coffee has a unique name, but each part of it comes with a special meaning. It's a company run almost completely by veterans, many of whom joined the company right after coming out of the military.
The "Scars" part is an acknowledgment that veterans, by and large, have scars, many of which they don't talk about. "Stripes" comes from Isaiah 53:5: "... and with his stripes, we are healed." As for coffee, that's a universal means of coming together, hopefully over Scars and Stripes Coffee.
That's how Chad Watts, cofounder of Scars and Stripes Coffee and the only civilian in the company, describes its name. Watts isn't a veteran, but has been a contractor at the Oklahoma City VA Medical Center for a long time. Over that time, he grew to understand and appreciate veterans on another level.
"I grew up across from Tinker Air Force Base as a kid, and I thought those guys and gals in uniform were just giants. It was super cool," Watts tells Military.com. "For 15 years now, I got to interact with veterans, and I noticed they really light up around other veterans."
Around 2018, Watts was talking to Brad Dean, a coworker who also serves in the Oklahoma National Guard, about what veterans do to reunite and reconnect. Out of that conversation came an idea for a way to reconnect veterans to the tribe mentality and to each other while providing for an income.
"I enjoy being around veterans, and I wanted to give them a 'thank you' for being the backbone of this country," Watts says. "I thought about how to transfer that at a granular level and maybe teach somebody how to go out, communicate in a civilian world, to talk about their mission or their product and then show them what I know.
Scars and Stripes Coffee was born soon after.
"If you can do it, it kind of makes everything else better in life because you're able to put yourself in someone else's shoes," he says. "If you can constantly do this, I can surround you with a healthy group of veterans, your tribe again. Then you're gonna have a better relationship with your kids, your spouse and your coworkers, because now you have that camaraderie back again."
Becoming a sales representative for Scars and Stripes is fairly simple. A veteran can register for the company on the website, and -- once accepted -- will take a few easy tests to gauge where they are in life, their goals, their needs and their mindset, among other things. Then, they are assigned a kind of "life coach," according to Watts, one who will help the veteran develop themselves.
"When you join the military, you take the ASVAB, right? We do kind of the same thing," Watts says. "It's our onboarding process, finding out what they want to be and what their aptitude is. Then we train them if they demonstrate the ability; if they don't, we train them more."
The company then puts its new veteran sales reps through sales training based on their specific abilities and what they can talk about. Then they have an in-depth product training course.
Depending on the results of their tests and training, they can then go out and start selling, either with a unique URL on the website or by purchasing the product wholesale from the company and selling it with the product in hand.
"It's not multi-level marketing; it's single-level, direct marketing," says Watts. "Everyone has their own link [to the Scars and Stripes website], and with that link, they can go and sell to anyone they want. At the end of the month, we pay a 20% commission."
Scars and Stripes' mission is to always give 20% of the sales back to the veteran salesforce, something Watts says will never change.
For newly transitioning veterans, it provides a company structure that will feel much more familiar than most civilian jobs. Scars and Stripes uses a rank structure similar to the military's: team member, squad leader, platoon sergeant and first sergeant. Everyone starts out at the bottom, but can advance by meeting their duties and other milestones.
The URL allows each veteran to make orders, shipments and track their sales. They also get first-person training with their squad leader, who teaches them the ropes of selling the product, just like the military's on-the-job training regimen. Leaders are expected to coach their people on both their sales performance and mental health.
Further training is available in areas like building a business plan, developing operating agreements, setting up an LLC, understanding tax laws, developing and maintaining a business pro forma and more.
"If we can create a sense of belonging, of recognition through rank structure, accountability of brother and sister and earned income, then we can effectively change, not just tens of lives, but hundreds and thousands of lives," Watts says.
Watts and Dean had their first full year in business in 2019. The COVID-19 pandemic didn't hurt the business; it actually grew. Today, Scars and Stripes Coffee has a corporate headquarters, a full-time employee and 400 veteran salespeople across the country.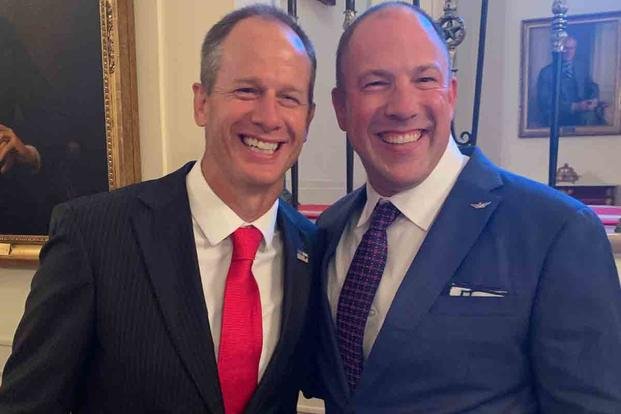 One of those sales reps is Jon Pellum, a 22-year Navy and Air Force veteran who retired in 2017. He joined the company in August 2020 after discovering it on another team member's Facebook page.
"I went to the website and learned more about the co-founders and the company," Pellum says. "Their mission is empowering veterans and trying to do something to bring down the rising suicide rate. I thought, you know, if I could be part of a company like this, that would make a huge difference for me as well as for others."
Pellum's business struggled at first due to coronavirus shutdowns and remote meetings, but he learned to sell at farmer's markets in February 2021, and has been busy ever since.
"It's been therapeutic to connect with other veterans or even customers that have family members that are veterans," Pellum says. "It's been really uplifting to connect with the community in this way. And it's really nice to be in an industry that makes people smile, you know?"
Watts has been working on Scars and Stripes Coffee for four years, but still keeps his work at the Oklahoma City VA Medical Center. He hasn't taken a single penny from the company. Salespeople like Pellum are part of the reason why.
"I give credit to the Holy Spirit. I am a very thankful guy," Watts says. "I've never really done anything where I'm unmotivated while getting paid zero dollars every day. ... I just get joy in seeing people be happy and productive in life. We are building something that can create an opportunity for not just hundreds, but tens of thousands, maybe hundreds of thousands one day. So that's what keeps driving me."
To learn more about Scars and Stripes Coffee or to inquire about joining the salesforce, visit the website.
- Blake Stilwell can be reached at blake.stilwell@military.com. He can also be found on Twitter @blakestilwell or on Facebook.
Want to Know More About Veteran Jobs?
Be sure to get the latest news about post-military careers as well as critical info about veteran jobs and all the benefits of service. Subscribe to Military.com and receive customized updates delivered straight to your inbox.