Peter Scott used to man the gun on a Humvee. A former U.S. Army counterintelligence agent, he left the military in search of his place in the civilian world. He found he needed room to grow.
Despite having no experience as a farmer and struggling with his own post-military mental health issues, Scott's calling turned out to be one of the oldest callings for former warriors: turning swords into plowshares.
He's the subject of the latest episode of the AARP series "Reporting For Duty," about the struggles veterans face after coming home and what they do to overcome those barriers. First launched in November 2021 as part of National Veterans and Military Families Month, it continues into 2022 with this story about a veteran helping veterans.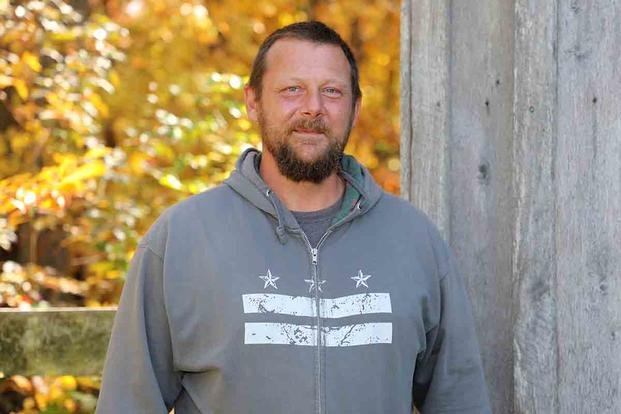 Scott left the military and founded Fields 4 Valor Farms, a nonprofit, farm operation. It offers a paid, 12-month apprenticeship program for vets at its Brandywine, Maryland, site and produces fruits, vegetables, chicken products and bee products for veteran families in the Washington, D.C., area.
A Massachusetts native, Scott has been an outdoor enthusiast his whole life. He joined the Army in 1999. After the 9/11 attacks on New York City and the Pentagon, he deployed to Afghanistan, where he worked to identify foreign operatives and terrorist organizations.
He was also on the Special Forces teams that intercepted terrorist efforts against Coalition forces. Scott accompanied U.S. Army Green Berets on combat patrols, house raids and helicopter insertions to further his counterintelligence missions. When he left the Army, it was time for an entirely new battle.
"When I got out of the service, PTSD was very much affecting my family life in a horribly negative way," Scott told AARP. "I had the choice to get help or lose my family."
Through a Department of Veterans Affairs inpatient program for combat PTSD, he got the help he needed, but he realized he was missing some of the shared experiences that military life and the veteran community offered. He wanted to do something he actually could tell people about, a far cry from the classified missions of his military service.
"I started getting into gardening, and it was ugly," Scott joked. "A home gardener, learning, you just plant everything all at once and it turns into a great big mess."
But Scott did manage to grow a lot of vegetables in his first garden haul. He brought an entire box of them to his local VA hospital. After the entire box disappeared surprisingly fast, he knew it was a significant gesture.
"It clicked the first time I gave away that box," he said. "That was the first time I felt good and purposeful since my time in the service, and that's how Fields 4 Valor was born."
In the United States,1.2 million veterans are on food assistance and 27% in Iraq and Afghanistan live food insecure, Scott said. He started Fields 4 Valor Farms in 2016, with two 30-foot planting beds to help take a small chunk out of those numbers. A year later, he was planting 10 beds. Now, he operates a seven-acre farm, which donated two tons of food in 2020.
Fields 4 Valor is now a free farmshare for veteran families in need. It also offers employment and volunteer opportunities for veterans. Families can sign up before the season starts, and once harvesting begins, those families will receive a weekly bag of fresh foods on their doorsteps.
The veterans who work on Fields 4 Valor Farms are either experiencing homelessness, or at risk of losing their housing. Interested veterans can also apply for its apprenticeship program. Eligible Post-9/11 veterans must be able to commit to two eight- to 10-hour days of farm work each week for 12 months. There is a weekly stipend of $150/week for 12 months of completed work. There are always volunteer opportunities available.
"We have other veterans who come out here to learn, experience and connect," Scott said. "They can feel some additional purpose in helping out their fellow veterans. And the people we serve also know it's veterans growing it for them."
The application deadline for 2022 has passed but will start again soon. To learn more about the Fields 4 Valor Apprenticeship, visit the apprenticeship website. Visitors mail any questions about the apprentice program or requirements for receiving food to admin@fields4valor.org.
AARP provides veterans with free resources, important information, timely programming and access to discounts to meet their unique needs on family caregiving, fraud/scams, work and jobs, and accessing military service benefits. For information on these free resources and more, visit www.AARP.org/Veterans.
-- Blake Stilwell can be reached at blake.stilwell@military.com. He can also be found on Twitter @blakestilwell or on Facebook.
Want to Know More About Veteran Jobs?
Be sure to get the latest news about post-military careers as well as critical info about veteran jobs and all the benefits of service. Subscribe to Military.com and receive customized updates delivered straight to your inbox.