LAS VEGAS -- Winchester Ammunition has a new hunting cartridge that's more potent than the .300 Blackout and the .223, company officials said.
The new .350 Legend centerfire rifle cartridge is "designed specifically for deer hunting at 250 yards; it carries more muzzle energy than a .30-30, a .300 Blackout and a .223," Dusty Gibson of Winchester Ammunition said at the annual range day ahead SHOT Show 2019.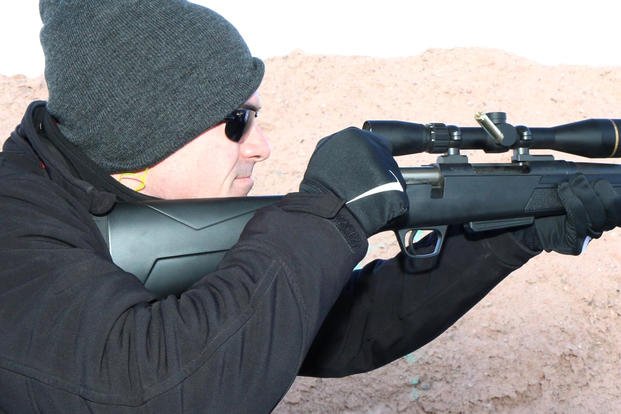 "It would also be great hog hunting," he said. "Overall, it's a very versatile cartridge; it's great suppressed and unsuppressed."
The .350 also has less recoil than the .243 Winchester, .30-30 and .450 Bushmaster, according to Winchester officials.
The .350 features a .223 diameter head on the straight-wall casing and a .357 caliber bullet, Gibson said. It will be available in 145-grain full-metal jacket for target shooting, 150-grain Extreme Point Bullet for deer hunting and a 180-grain Powerpoint, Gibson said.
It will work in a variety of platforms, from bolt action to AR-style rifles.
"We designed this cartridge to work in many different guns ... we anticipate a lot more guns to be available in the future," Gibson said.
-- Matthew Cox can be reached at matthew.cox@military.com.