When Senior Airman Daniel Proben's non-military friends ask about his Air Force job, he tells them that he refuels jets in midair.
Quizzical looks usually follow, prompting Proben -- an in-flight refueler with the 9th Air Refueling Squadron at Travis Air Force Base, California -- to explain further.
"I'll also say, 'They're about 40 feet away from us. We pass some fuel to them, so that they can remain in the air for a little bit longer,''' Proben said.
The confusion is understandable because commercial airplanes don't take on more fuel while 20,000-plus feet above the ground. In the military, it's common. 
In-flight refuelers, also known as boom operators, can be critical to a mission's success.
Tech. Sgt. Philip Gordon has been a boom operator for 8 and-a-half years and is stationed at Joint Base McGuire-Dix-Lakehurst, New Jersey. He has been a formal training unit, or FTU, instructor for five years, helping other boom operators to meet qualifications.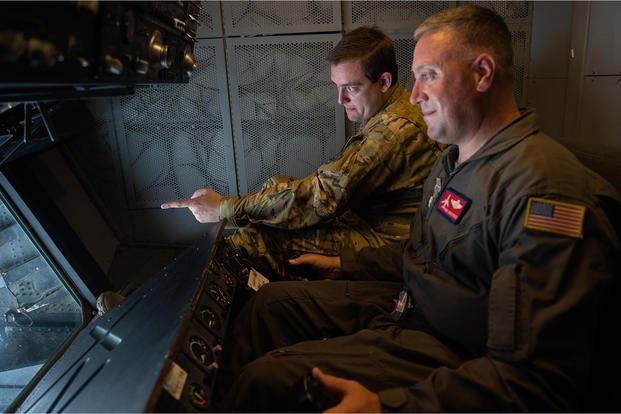 "If you deploy and the F-15 [Eagle] or the F-16 [Fighting Falcon] comes up and you refuel them, you feel like it's a normal day,'' Gordon said. "Their wings are full of bombs, and then they come up an hour later and their wings are empty. They just took out some of the bad guys, and they wouldn't be able to do that if we weren't there to refuel, because they only have an hour or two of gas.''
Tens of thousands of pounds of gas -- 10,000 pounds of fuel is equal to roughly 1,450 gallons -- can be pumped during the refueling process through one of two methods, depending on the aircraft. One utilizes a boom, which is a pole that extends from the refueling aircraft into a receptacle on the receiving aircraft. The other involves a probe on the receiver that latches on to a basket, or drogue, trailing the refueler on a hose, said Master Sgt. Paul McIntyre of the 50th Air Refueling Squadron at MacDill Air Force Base, Florida.
"It's most NATO and Allied aircraft we can refuel,'' said McIntyre, an in-flight refueler since 2012.
The Air Force operates three fleets of refueling tankers: the KC-10 Extender, KC-135 Stratotanker and KC-46 Pegasus.
While the KC-135s are stationed at bases in the U.S., including at MacDill, and overseas, the KC-10s are only at Joint Base McGuire-Dix-Lakehurst and Travis AFB. The KC-46s currently are at Altus Air Force Base, Oklahoma; McConnell Air Force Base, Kansas; Pease Air National Guard Base, N.H.; and Seymour Johnson Air Force Base, N.C., an Air Mobility Command spokesman said via email.
"The biggest appeal is the tangible impact that you can have when it comes to force projection and global mobility,'' McIntyre said. "No other country can do what we do with our tanker fleet.''
Training begins with tech school at Joint Base San Antonio-Lackland, where aircrew fundamentals and a basic boom operator course are taught. That is followed by survival, evasion, resistance and escape, or SERE, instruction at Fairchild Air Force Base, Washington. 
Depending on the aircraft, the refueler and receiver can be 40 feet apart -- or less -- at the point of contact. Gordon said accidents are rare but happen. The aircraft's cautious approach -- at the rate of one foot per second -- and the pilots' training contribute to the safety of the process, he added. 
There also is a standard emergency call: Break away.
"That will speed up the tanker, and that will slow down and make the receiver drop,'' Gordon said. "We practice it so much that the pilots, they're pretty much ready if it ever is called.''
A good in-flight refueler must be flexible because of how quickly schedules can change, Gordon and Proben said. The job can become intense and, because there is only one boom operator on a flight, they must think independently, the refuelers added. 
McIntyre mentioned that, like so many in the military, boom operators tend to be away from home for extended periods.
Still, boom operators form a tight-knit community. That camaraderie comes in handy during stressful situations. Proben's squadron even has a phrase they use: "Keep it Gucci.'' "[It] basically just means be super hard-working and awesome in everything that you do,'' Proben said. "I guess I would just say [to those considering becoming an in-flight refueler], 'Keep it Gucci.''' 
Want to Know More About the Military?
Be sure to get the latest news about the U.S. military, as well as critical info about how to join and all the benefits of service. Subscribe to Military.com and receive customized updates delivered straight to your inbox.