On Jan. 31, 1968, the Tet Offensive was in full swing as the North Vietnamese Army and the Viet Cong moved to take over the city of Hue. U.S. forces, including the 101st Airborne Division as well as the 1st Battalion, 327th Infantry and its Abu Company, rushed in to defend the city.
Sgt. Joe Artavia was one of the men sent to defend Hue. Artavia was walking point at the head of a patrol pursuing North Vietnamese Army assault forces when he and his men were ambushed. What happened next would come to define a city's special relationship with Vietnam veterans.
How It All Began
While taking a defensive position, Artavia saw one of his men was wounded and, without concern for his personal safety, quickly moved to pull the soldier from the barrage of fire. Artavia was mortally wounded in the attempt. For his acts of valor in combat, he was given the Silver Star and Purple Heart posthumously.
Four months before his death, he wrote a letter to his sister, Linda Patterson, asking her to rally people from his hometown of San Mateo, California, to write letters and send care packages. She did so and eventually succeeded in getting the city of San Mateo to officially adopt the 101st Screaming Eagles on March 4, 1968, just three weeks before Artavia was killed in action.
When Patterson learned of her brother's death, she vowed to go to Vietnam and meet the men who served with her brother and personally thank them.
For Patterson, the city's immediate support in helping her respond to her brother's request, especially one she didn't know would be his last for her, was integral to her working through her family's tragedy.
"That is what carried me through and kept my brother right alongside of me all these years," she said in an interview with the San Mateo Times.
Patterson Visits Vietnam
During Christmas 1968, 27-year-old Linda Patterson traveled to Vietnam and personally delivered San Mateo Christmas gifts to their soldiers. A medallion was cut with the city seal; it read "Adopted Son" on one side, and the soldier's name was engraved on the other.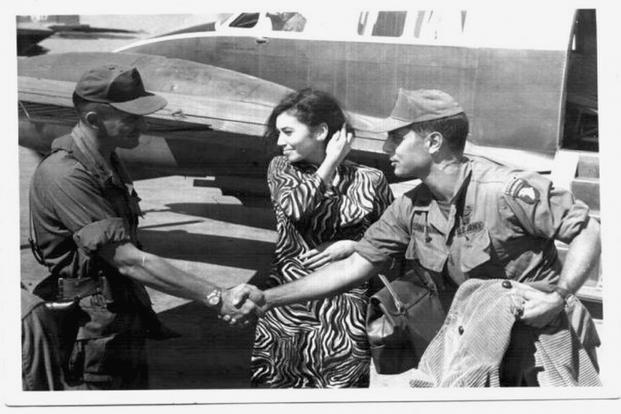 The trip took 10 days, while she waited at Camp Eagle for her brother's unit to cut through the jungle to reach her. Many of the men carry the medallions to this day.
"I was determined to deliver those medallions in person, cutting through any government red tape. Call it innocence or stupidity, I took out a personal loan for half my plane ticket, which was $500, receiving a matching donation from a women's sorority club which paid for my round-trip ticket to Vietnam," she said in an interview with the Army News Service. "All I had on me was a passport, 40 dollars in cash, and a letter of introduction from my mayor in case I ran into trouble."
ASA is Born
"That's why America Supporting Americans [ASA] happened," Patterson added. "I truly dedicated myself to saying America will never turn her back on our brave servicemen and women, regardless of one's political beliefs." One of her projects was a memorial wall to the first unit adopted.
On Aug. 9, 1974, Patterson was about to unveil a two-year-long project known as the San Mateo Memorial Room Wall. It was a display commemorating the first unit adopted. Letters, memorabilia, photos and artifacts tell the story of the city that stood up for one unit during the Vietnam War.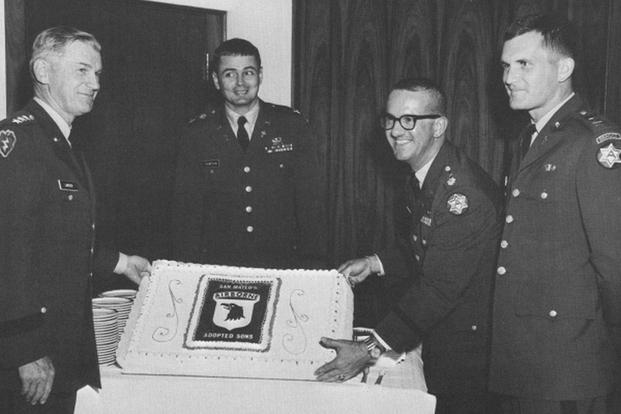 But it wasn't until Desert Storm that ASA took off. Senators and congressmen who had heard about what San Mateo had done during the Vietnam War for one unit encouraged community adoptions. Thankfully, Desert Storm ended in only one hundred days, but during that time, the country made an about-face and indeed rallied behind its soldiers.
"When the government officials realized that one city had done something during the Vietnam War, they turned to me and they sent out many letters," Patterson said. "I've got a file cabinet full of letters from congressmen and senators."
Mayors wrote Patterson and asked how to adopt a unit. She said it all "happened in a flash," setting on the road to get ASA incorporated as a nonprofit.
Today, she said, she still needs the same kind of response.
"Imagine if I had the support of those senators and congressmen again?" she asked. "Imagine if I had a little bit of support from people who could do the follow-up systems for me so I could travel and talk to service members on different bases, and cities, mayors and communities."
2018 marks the 50-year anniversary of the welcome home for their adopted sons. Many from Artavia's company, soldiers from Fort Campbell, Kentucky -- home base of the 101st Airborne Division (Air Assault) -- came out to attend San Mateo's celebration. They call it "Operation Eagle Visit."
"In one sense, I only had one unit to concentrate on when I went to Vietnam," Patterson said. "Today I have hundreds. I no longer have the personal connection I once had with my units, but instead, willingly give that up to my community leaders to carry their own community support. I'm inspired to hear their individual enthusiasm and community relationships becoming a family unit, their units and citizens. They report back to ASA and love sharing community involvement."
Patterson said she'll keep working toward seeing ASA connect even more towns with units.
"I know it's out there. I feel it, and I've gotten feedback from communities that say this is the best thing that ever happened to them," Patterson said. "My leaders in the communities are so proud of what they're doing, and they inspire others.
"My brother Joe said it best when he said, 'It would bring our morale as high as the clouds.' It has for me, and that can't get any higher."
For five decades, San Mateo has had a continuous relationship with the Screaming Eagles that includes sending letters and care packages to troops overseas, as well as visiting them at their Fort Campbell headquarters. Since that time, eight other San Mateo County cities have joined the armed forces adopt-a-unit program and forged a bond with the 101st Division.
The community's support of Alpha Company was overwhelming. At the end of the Vietnam War, San Mateo was the only city in the United States to hold a homecoming parade honoring returning veterans by opening their hearts and homes to the newly adopted members of the 101st.
To learn more about Americans Support America, go to http://www.asa-usa.org.
Want to Know More About the Military?
Be sure to get the latest news about the U.S. military, as well as critical info about how to join and all the benefits of service. Subscribe to Military.com and receive customized updates delivered straight to your inbox.