The highlight of pitcher Gene Bearden's six-year Major League Baseball career came on the final pitch of the 1948 World Series. Bearden, a Navy veteran, closed out a victory in Game 6 that gave Cleveland the championship against the Boston Braves.
The moment capped a seemingly improbable journey by Bearden from a severely wounded World War II hero to baseball champion. Several media outlets, including Military.com, have written retrospectives detailing how Bearden sustained debilitating head and leg injuries while on the USS Helena after it was torpedoed and sank during the Battle of Kula Gulf on July 6, 1943. The attack killed 168 people.
Articles written in 1948 and following years that mentioned Bearden's injuries told of multiple surgeries, the insertion of a plate in Bearden's head and other hardware in his knee. Bearden reportedly endured a lengthy rehabilitation.
All of that has turned out not to be true, according to research by Chevrons and Diamonds, a website chronicling the military's bond with baseball. Documents collected by the group revealed Bearden never was assigned to the Helena and couldn't have been on the ship that fateful day, said M. Shawn Hennessy, a writer and researcher for the site.
Whether this was a case of stolen valor went with Bearden to the grave.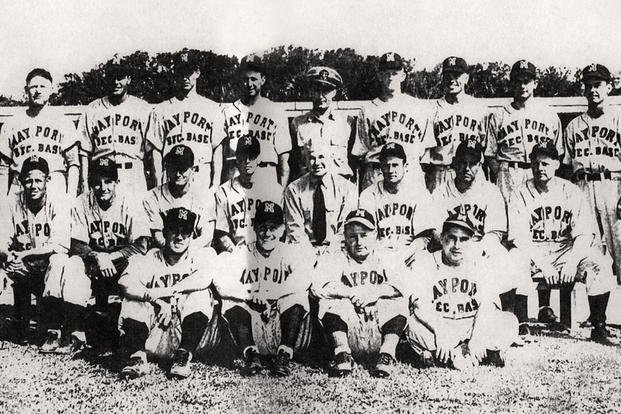 "Motivations are a hard thing to assign to a guy who is not around to defend himself, but it seems that was apparent," Hennessy told Military.com. "It certainly got him the coverage."
Bearden died in 2004 at age 83.
Among the details Chevrons and Diamonds discovered:
Muster sheets, or rolls, for the Helena on Fold3 -- an online resource for original military records -- and Ancestry.com did not provide any indication that Bearden served on the ship. The USS Helena Association does not list Bearden among the wounded or survivors of the attack.
Bearden was listed on the crew of the USS SC-1330, a Navy submarine chaser, beginning on May 29, 1943 -- less than six weeks before the Helena sank. A fireman second class, Bearden served on the SC-1330 until he was transferred to a base in Mayport, Florida, in early October that year.
Bearden joined the Mayport Navy Section Base Bluejackets baseball team for the 1944 season, calling reports of the severity of his injuries and a lengthy hospital stay and rehabilitation into question.
If Bearden were injured during his service, Hennessy said, it could have occurred when the SC-1330 collided with a Coast Guard cutter on June 29, 1943, about seven miles north of Great Isaac Light in the Bahamas. According to an official report cited in Chevrons and Diamonds' story, though, "there was no loss of life nor serious injury to personnel." Bearden was discharged in early 1945.
"A sub-chaser collision with a Coast Guard cutter is not a story of war heroism," Hennessy said. "It's a story of survival. There'd be no Purple Hearts given, because it's not a combat-related situation. But would [Bearden's story] take on a much grander feel coming from the Helena, a ship that was torpedoed in a pretty grueling battle? Yeah, it would. It would have a lot more weight."
Chevrons and Diamonds became interested in Bearden after it obtained a signed baseball of the 1953 and '54 Seattle Rainiers minor-league team. Bearden played for the Rainiers in 1954, one year after his major-league career ended, and was one of the players who signed the ball. After learning of Bearden's backstory, Chevrons and Diamonds dug deeper.
As Bearden's story began to unravel, a key question remained: How did the story originate? After its post questioning Bearden's service ran, Chevrons and Diamonds found its answer when it learned of a May 9, 1948, story in the Cleveland Plain Dealer.
"Somebody pulled me out," Bearden told the newspaper of his supposed time on the Helena. "They told me later it was an officer. I don't know how he did it. The ship went down in about 17 minutes. All I know is that I came to in the water some time later."
Why Bearden embellished his wartime service is unknown. After all of his research, Hennessy, a Navy veteran, is still left wondering.
"We look at things from the perspective that these guys served, and they had every reason to be proud of what they did, even if they were in the supply chain or if they were on a hospital ship or even in a hospital away from the lines," Hennessy said. "Everybody played a role, and what gets my interest -- why would a guy like Gene Bearden pad his service?"
– Stephen Ruiz can be reached at stephen.ruiz@monster.com.
Editor's note: A previous version of this story and headline incorrectly stated Gene Bearden's connection to the Helena and the severity of any wartime injuries he might have received, inadvertently contributing to the misinformation about his record.
Want to Learn More About Military Life?
Whether you're thinking of joining the military, looking for post-military careers or keeping up with military life and benefits, Military.com has you covered. Subscribe to Military.com to have military news, updates and resources delivered directly to your inbox.