Before Arthur MacArthur was 20 years old, he had already fought in several significant Civil War battles and survived being shot in the chest, his life likely spared by a packet of letters and a Bible placed close to his heart. 
Almost two decades before his more famous son, Douglas, was born, MacArthur was a war hero and the recipient of the Medal of Honor for his actions at the Battle of Missionary Ridge.
"I'm surprised more people don't know about him,'' James Zobel, an archivist and historian at the MacArthur Memorial museum in Norfolk, Virginia, told Military.com.
Arthur MacArthur always wanted to be a soldier. When he was only 16 and living in Wisconsin, he approached several company commanders from one regiment that passed through Milwaukee in July 1861, pleading to join. He was declined by all, with one politely telling him that he should focus on being a better student than soldier. MacArthur is said to have replied, "I propose to do both, sir."
A year later, MacArthur lied about his age and, with the help of his father, a judge, was appointed the adjutant of the 24th Wisconsin Volunteer Infantry. A military career that lasted until 1909 started inauspiciously as MacArthur's abilities -- his youth and eagerness conspiring against him at times -- were doubted by superiors. MacArthur was determined, though, and began to prove himself, starting at the Battle of Perryville in Kentucky in October 1862 and then at the Battle of Stones River in Tennessee a few months later.
Then came Missionary Ridge on Nov. 25, 1863. Coming off being defeated soundly at Chickamauga, Union troops were surrounded as Confederate Gen. Braxton Bragg's forces lay siege to Chattanooga, Tennessee. Bragg's intent was to cut off the Union's supply lines and force it to surrender. 
Soldiers were starving, with rations limited to "four cakes of hard bread and a quarter pound of pork every three days." 
Maj. Gen. Ulysses S. Grant -- recently placed in command of all Union forces in the West -- acted decisively, replacing Gen. William Rosecrans with Gen. George Thomas, and opening the Cracker Line to get more food to the troops.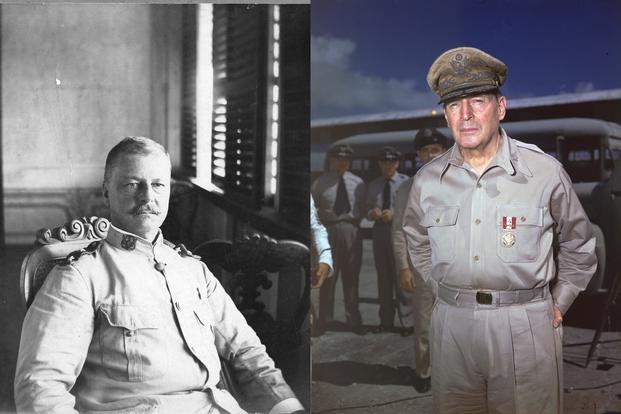 Grant had another big concern. Worried about Gen. William T. Sherman's forces north of Missionary Ridge, he sought to relieve pressure on them by providing a distraction. Grant commanded Gen. Thomas Wood's men to attempt to seize the Confederate rifle pits at the base of the ridge. They weren't instructed to go any farther, but once they left themselves vulnerable to enemy artillery, staying put was not advisable.
Against orders, they charged up Missionary Ridge. 
"Grant and those guys didn't want it to happen," Zobel said. "They only wanted to go to the lower part of [the ridge], but then they started taking all those potshots, and everybody was like, 'Oh, we can't even sit here. We have to go up this thing.'" 
During the charge, the standard bearer of the 24th Wisconsin Volunteer Infantry went down -- accounts vary about whether he was killed or not -- and dropped the unit's flag. Fueled by instinct and adrenaline, MacArthur, an 18-year-old first lieutenant recently hospitalized with typhoid fever, grabbed the flag and ran full speed at the Confederates. After one hour of intense battle, MacArthur was the first Union soldier to summit Missionary Ridge.
"Alone between the two erupting lines, [MacArthur] was wounded twice on his way to planting the regiment's flag in almost the exact midpoint of the Confederate fortifications,'' according to the nonprofit American Battlefield Trust. "The men of the 24th surged after him and 15,000 more Union troops took heart and followed, rising up and smashing the Confederate center."
Missionary Ridge was the culmination of three battles on successive days that put Chattanooga and its key rail lines in Union hands and helped lay the groundwork for Sherman's Atlanta Campaign a year later. One southern soldier referred to the setback as "the death-knell of the Confederacy." 
As for MacArthur, he was brevetted as a colonel in 1864, earning the moniker "the Boy Colonel." Besides his wounds at Missionary Ridge, MacArthur was injured during the Atlanta Campaign and was shot in the shoulder and knee at Franklin, Tennessee, in 1864.
MacArthur was bestowed the Medal of Honor for his actions at Missionary Ridge in 1890. He died while speaking at a reunion of the 24th in 1912. He was 67.
"At the podium he began, 'Your indomitable regiment ...' before collapsing," according to one account. "Moments later, he was dead. The old men of the 24th wrapped his body in the flag hanging on the wall, the flag he had carried to the top of Missionary Ridge as a teenager."
-- Stephen Ruiz can be reached at stephen.ruiz@military.com.
Want to Know More About the Military?
Be sure to get the latest news about the U.S. military, as well as critical info about how to join and all the benefits of service. Subscribe to Military.com and receive customized updates delivered straight to your inbox.