The Army on Friday released an updated counseling form -- effectively an employee evaluation -- marking the first significant change in more than 40 years.
The new DA Form 4856 could dramatically shift discussions around professional development and help leaders better track their formation's training.
It replaces the old form used since the 1980s, which provided minimal guidance. The new DA 4856 loosely resembles the noncommissioned officer evaluation support form and even has a section that measures how well soldiers balance work and their personal life.
Read Next: 9 Soldiers Killed as Pair of Helicopters Crash in One of the Army's Deadliest Training Accidents
Previously, at the center of counseling sessions were "Key Points of Discussion," an open-ended box in which the leader counseling the soldier would simply write down the topic and there was little direction outside of a relatively brief regulation.
Instead, this new version of DA 4856 is dynamic and can change templates on the fly based on the type of counseling being performed. An NCO counseling a soldier can click on the PDF for different types of circumstances, whether the counseling is intended for a performance review or whether the soldier is recommended for promotion.
You can access the new DA Form 4856 here.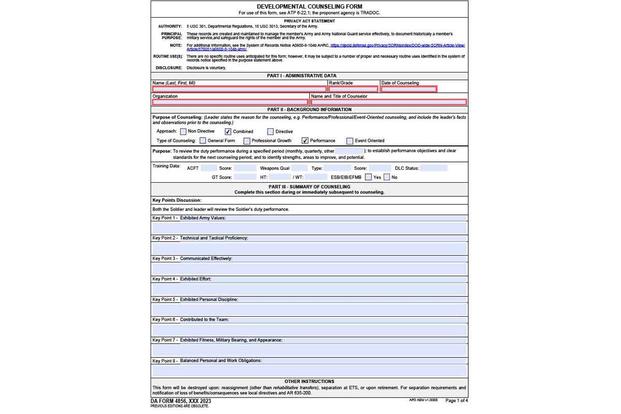 Performance reviews, for example, measure the soldier's communication skills, team effort, technical and tactical proficiency, and balance of personal and work obligations, among other things.
"The language in the form gives leaders a solid baseline to conduct a counseling session. We even included open-ended questions, as outlined in ATP 6-22.1, so those conversations with subordinates could be more collaborative. This approach is especially helpful when conducting professional growth counseling," Sgt. Maj. Timothy Nellessen, the top enlisted leader of the Center for Army Profession and Leadership, said in a statement.
The updated counseling form comes as the service is refining how it trains its noncommissioned officer corps, long considered the backbone of the U.S. military. By contrast, military experts have pointed to Russia's lack of a significant NCO element in leadership as contributing to its struggles in its campaign to capture Ukraine.
Army planners are eyeing several initiatives to develop its enlisted leadership, including lengthening NCO academies and putting a stronger emphasis on combat training for soldiers outside of front-line units.
"Every Soldier deserves quality counseling and feedback that help them develop and grow into future leaders," Sergeant Major of the Army Michael Grinston, the service's top enlisted leader, said in a statement.. "The new, dynamic form gives our young leaders doctrinally sound information to guide counseling sessions and make those conversations more productive."
-- Steve Beynon can be reached at Steve.Beynon@military.com. Follow him on Twitter @StevenBeynon.
Related: Time in the Field, Longer School. The Army's Basic Leader Course May Get a Big Overhaul.