The strip mall was mostly empty at 10 a.m. on a Monday. It sat in an unimpressive part of town with a mostly unimpressive roster of businesses. At the corner end of it sat the Armed Forces Recruiting Center, all five branches of the US military accounted for in four tightly packed offices. Shades covered windows for the Army, Navy, Air Force, and Space Force but not those of Marine Corps Recruiting Sub-Station (RSS) Reseda. Its windows were mostly clear and its door ajar — both a show of force to their Department of Defense brothers next door and a metaphor for their "open door policy." The Marines were open for business.
"Have you had any major surgeries?" Staff Sgt. Cristian Cepeda said into one of the office's phones. "Anything medically that would disqualify you?"
A caller was eager to come into the office and begin the process of becoming a Marine. Cepeda had grabbed the phone just as he walked into the office, still in his civilian clothes after an early-morning medical appointment, but quick to shift to his list of basic questions.
"We have to ensure there aren't any obvious disqualifiers before having you come into the office," Cepeda told the candidate. "I don't want to waste either of our time."
Cepeda asked about the caller's criminal and medical history, education, and physical fitness. There was no sense of foreplay in Cepeda's approach, straight to the point but with a salesman's finesse. It wasn't aggressive or dismissive, just respectful of the candidate's time without the bullshit.
Then, a hiccup: A year earlier, the candidate had tried to join the Navy but got cold feet and backed out. In one sense, this news made Cepeda's life easier. The recruit had already been background-checked and medically qualified. But it was also a sign of weakness in one of the Marines' core values: commitment.
Cepeda told the caller to come in at 1:30 p.m. As he hung up, a smile came across his face.
"That phone hasn't rang in three months," Cepeda said with a chuckle.
Cepeda had been a recruiter for just over a year, after a series of high-profile assignments. His cubicle was covered with photographs, achievements, and other memorabilia Cepeda had collected during his time at the US Embassy in South Africa as a Marine security guard and working in the Navy and Marine liaison office to the US House of Representatives. Still, he said, the last year in Reseda had been the most challenging of his career.
"This is the hardest job I've had since I joined," Cepeda said.
Across from his cubicle, Cepeda and the other recruiters kept a post board with about 20 snapshots of their prospects — mostly men, but a few women, mostly just out of their teens, but a few close to 30, from nearly every racial group in the melting pot of Los Angeles' San Fernando Valley. Every month, the recruiters in Reseda needed roughly five recruits to join the Marines, a quota they call "making mission," their contribution to the roughly 36,000 new recruits the Corps needs every year from across the country.
Finding them, says Cepeda and recruiters everywhere, has gotten harder.
A Most Difficult Year
The Marine Corps is calling 2022 the most difficult recruiting year in a generation. Testifying to the Senate Armed Services Committee in April, the Marine Corps' top manpower official said street-level recruiters like Cepeda face unprecedented challenges. "While we are on track to make our accession goals, this is arguably the most challenging recruiting year since the inception of the all-volunteer force," Lt. Gen. David Ottignon, the Marine Corps' deputy commandant of manpower, told lawmakers.
Other branches are faring worse. In July, with just two months left in its fiscal year, Army recruiters had met only 52% of the service's annual recruiting goal and were facing a shortfall of up to 15,000 recruits, according to Army Secretary Christine Wormuth. Well-qualified young people now enjoy a booming job market and more avenues for affordable college than previous generations. Meanwhile, requirements for military service disqualify many others who do have interest. Army Chief of Staff Gen. James McConville told Congress in May that only 23% of Americans between 17 and 24 years old are even qualified to enter the military without a waiver.
And for the first time in 20 years, recruiters say, they are selling a military at peace.
"Warfighter-types don't want to join when there's no war," said Staff Sgt. Nick Grandy, a recruiter in Reseda with Cepeda. A communications Marine assigned to Special Operations Command-Pacific before becoming a recruiter, Grandy had joined RSS Reseda at roughly the same time Cepeda did in 2021.
At the heart of the Reseda office is a large picture board, with snapshots of candidates pinned across it. On the left half are the current recruits that Cepeda, Grandy, and the others at RSS Reseda have their eyes on, all in various stages of qualification.
"He is all about the warrior mentality," Cepeda said, pointing to one of the photos, then moving to another, "and this [candidate] wanted to become a pilot after seeing Top Gun."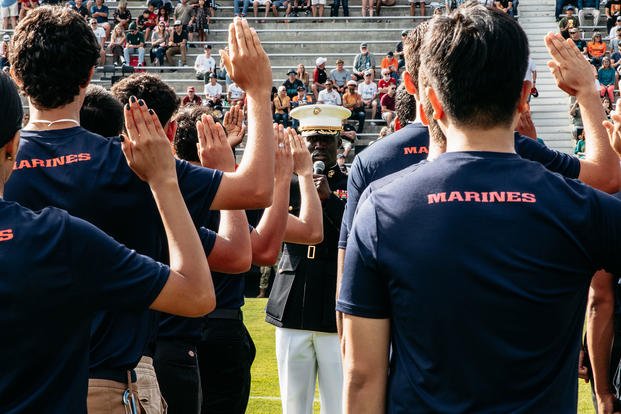 Cepeda knows the entire board, reciting each candidate's ambitions and motivations. The detailed attention was more than a salesman's trick. He has a genuine interest in the candidates as people.
"Ultimately we are looking for Marines we would want to work with," Cepeda said.
RSS Reseda has only missed mission in one month since Cepeda arrived, when a recruit was medically disqualified late in the month by doctors at a regional Military Entrance Processing Station, or MEPS. That single month, however, still hovers over their heads.
"As far as I can tell, we are the only ones who hold this as a mission," Cepeda said.
Some of the candidates on the board were already contracted, waiting for their ship date to boot camp, while others were still in the application stage, working to get qualified for service, a feat more difficult than most imagine.
One hurdle is often the Armed Services Vocational Aptitude Battery, or ASVAB, a general-knowledge test that all recruits take.
"After the ASVAB, the main thing that gets people is medical," said Cepeda.
Snags in a candidate's medical history have always been a thorn in the side of recruiters. But in the digital age, the days of pencil whipping, nodding, and winking through paper records are gone. Instead, all recruits progress through a system known as the Military Health System GENESIS, the bane of modern recruiters' woes.
"GENESIS has disqualified so many potential candidates," lamented Grandy.
GENESIS is an electronic medical record, designed to follow a service member's entire career, making it easier to eventually transition to care under the VA. The problem for recruiters is its connection to nonmilitary records. Previous records can't be "lost" or even innocently misplaced. Disqualifying injuries, conditions, or treatments can't be overlooked in GENESIS, and any gaps have to be filled in before a recruit can ship out.
But while there has always been an expectation of attrition throughout the recruiting process, the real issue, say the RSS Reseda recruiters, is that, no matter what the standards, there are fewer interested candidates.
Marine Corps Assistant Commandant Gen. Eric Smith said Marines need to improve their pitch. "We are all collectively not doing a good enough job communicating the virtue of military service," Smith said.
Marines at RSS agree.
"Most of the potential candidates nowadays were born after 9/11," Grandy said. "A lot of times they have a negative view of the military and the wars being fought."
"I see it as a lack of knowledge," Cepeda added.
12:15 p.m.
The walkway outside Pierce College bookstore was busy with students. Cepeda moved among them with familiar ease, his sharply pressed uniform drawing their eyes as he walked across the campus in Woodland Hills, a few miles west of Reseda.
"Did you get that shirt from a Marine?" Cepeda asked a student walking by with a blank olive drab t-shirt.
"No, I got it at Target," the student replied.
The hook was set. Whether or not the student had received the shirt from a Marine was inconsequential — an exchange was initiated. Cepeda transitioned through topics, smooth as butter, asking about the student's field of study, interests, motivations, and why he was in school. Cepeda was in his element, positive and engaged, an answer for every question, a question for every moment, in a well-choreographed conversational jiujitsu.
In the end, this one would say no. Unfazed, Cepeda moved on to other students on campus.
"It's really about leaving a positive impression," Cepeda said. "Even if they aren't interested in joining, they may have friends who are. If they have a negative experience with you, they will tell their friends the Marines are a bunch of assholes."
"How's it going, Staff Sergeant?" a student said, approaching Cepeda with a knowing look. The student was a Marine reservist, who knew Cepeda from previous campus visits. A lifetime resident of Reseda, the Marine had enlisted to aid in his goal of becoming a Los Angeles police officer.
"I get my tuition paid for and I get experience in the Marines that will hopefully help me" join the LAPD, the reservist said.
"Free" tuition programs have long been a popular lure for recruiters. The GI Bill and tuition assistance and other programs offer the promise of college without debt for at least four years of service — a fair trade for most.
Or at least it once was.
"We are competing with things like the LA Promise, or companies like Amazon and Starbucks," Cepeda said.
The LA Promise — or the Los Angeles College Promise program — offers waived tuition for the first two years of community college for students from Los Angeles high schools. While certain standards and grades have to be maintained, LA Promise is a no-strings-attached tuition program — no four-year military commitment required.
And nationally, huge corporations with deep pockets like Amazon and Starbucks are opening easier paths to higher education for workers, with tuition assistance and other programs.
In spite of the competition, Cepeda remains confident in the offerings of the Marine Corps. Business cards in hand, he moved from student to student, giving his best pitches. The students' responses varied, the most committal of which was "I'll think about it." But several said they would hold on to the business cards in case "a friend was interested."
Just before Cepeda left campus, a former student at one of the high schools in Cepeda's district hustled over to say hello.
"He was initially interested," Cepeda recalled about the student, "but his dad was against it. It happens sometimes."
An under-18 candidate must get their parents' written consent, and many are hesitant.
"A lot of people just have a misconception of the military, especially the Marines," Cepeda said. Popular culture's depiction of the military, on top of the Marines' reputation as the "toughest of the tough," scares some parents.
The on-campus well appeared to be dry for the day, but recruiters like Cepeda know that it's a numbers game. Not everyone who will talk to you is interested, and even the ones who are might not be qualified. But the more people you talk to, the more possibilities there are.
"We are always expected to do more with less," Cepeda said of the Marine Corps, "and that is truest in recruiting."
1:15 p.m.
Cepeda walked back into the office with just enough time to devour three tacos he had hastily bought at a taco truck nearby. The morning caller was scheduled to arrive in 15 minutes. On the other side of Cepeda's cubicle, Grandy worked his way through a stack of phone numbers of potential candidates who'd expressed interest during prior school campus visits.
"We follow up the campus visits with a phone call to see if they are serious," Grandy said between calls. "You don't know what to expect, could be their parents' phone number, or they might not ever answer. It's a numbers game."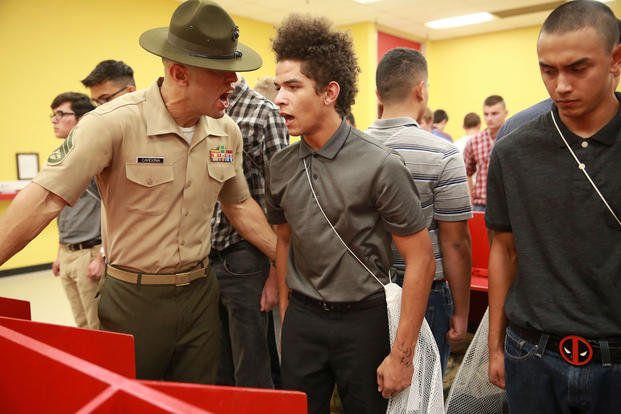 RSS Reseda is responsible for 50 of these calls each day, a metric tracked by headquarters at Recruiting Station Los Angeles. Additionally, the recruiters input their canvassing numbers and online direct messages to show the efforts of the team.
"Quotas change from month to month, but it was five candidates contracted for August," Cepeda said.
Every month has established "phase lines," or deadlines, recruiters use to measure their progress. Being behind on their phase lines means the recruiters must work harder, longer hours beyond their typical 12-hour days, plus weekends.
But for Marines, the long hours are a necessary evil. Recruiting duty is considered a special-duty assignment, along with boot camp drill instructor and Marine security guard. Any Marine hoping to be promoted to senior enlisted ranks must take some special duty.
1:35 p.m.
"I'm looking for Staff Sgt. Cepeda," a man in his early 20s said, standing in the doorway of RSS Reseda.
Cepeda looked up and asked the man if he was the caller from that morning.
"Yes, Staff Sergeant."
"All right, come on in."
Cepeda opened a binder on his desk as the man sat.
"We got all of your info from MEPS, but since it's been a while since you were there, we need you to take the practice ASVAB," Cepeda said.
Cepeda led the man into a small room, empty except for a desk and single computer. Cepeda explained the test and stepped back out into the hallway. The results would be totaled instantaneously and could prematurely end the process if the score was too low — unlikely, given the man's prior candidacy with the Navy, but there were never any certainties.
After about 15 minutes, the candidate emerged from the room, his score sufficient to get most jobs in the Marine Corps, and more importantly, allowing him to move on in the contract process. Back at the cubicle, Cepeda reconfirmed his answers from the earlier phone call but quickly moved toward the elephant in the room.
"Are you committed this time around?" Cepeda asked bluntly. There was less charm, less recruiter fast talking in his questioning.
"Yes sir!" the candidate answered.
9 p.m.
The office was mostly silent as time drew nearer to closing. RSS Reseda already had made mission for the month, but Marines of RSS Reseda weren't letting up.
Eventually the other recruiters departed, leaving Cepeda alone to finalize the station's numbers for the day. He was also trying to get ahead for a few days of leave later in the week. He planned on a few days in his hometown of Las Vegas, but that was about all you could hope for in this line of work. After all, had RSS Reseda missed quota, there would have been no leave.
Cepeda finally closed up shop just after 10 p.m. RSS Reseda already had a few solid prospects for September. While he wanted to enjoy the victory of August, he knew that the only way to ensure continued success was to keep his foot on the gas.
"In recruiting, you gotta be on all the time."
Tom Wyatt is an intern at Coffee or Die Magazine. He is an active duty Naval Special Warfare Boat Operator and a proud father living in San Diego, California. Tom is a budding reporter, looking to pursue journalism and fiction writing upon exiting the Navy.
Read the original article on Coffee or Die Magazine. Follow Coffee or Die on Instagram.